The Big Bang
iPhone 6 Plus vs. Galaxy Note 4: The Big Bang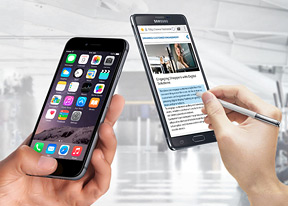 Introduction
Apple did what was once the unthinkable while predictable Samsung delivers again. Right or wrong, this is a fight of old versus new, the Galaxy Note is in its fourth generation while the iPhone 6 Plus is Apple's first phablet ever.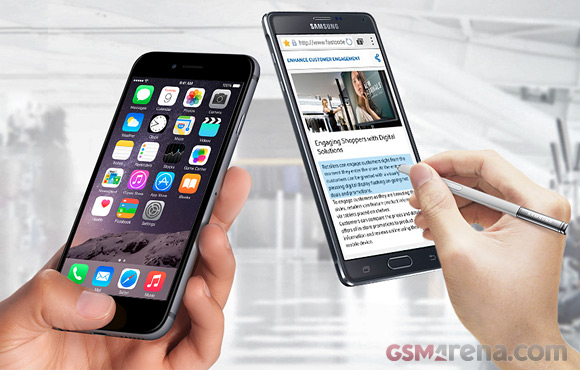 Samsung's release cadence dictates that the Galaxy Note is the H2 flagship, keen to assert its superiority over an already feature-rich Galaxy S. iPhones come once a year, even the first-time iPhone 6 Plus phablet. The situation is similar though, the Plus is better equipped than the vanilla iPhone 6.
Apple iPhone 6 Plus over Galaxy Note 4:
Thinner - 7.1mm vs. 8.5mm
Phase-detection autofocus
Slo-mo video - 240fps mode vs. 120fps mode
64GB and 128GB versions
Tap-to-scan (no swipe) fingerprint sensor
Dual-LED flash vs. single LED
Samsung Galaxy Note 4 over iPhone 6 Plus:
Bigger, sharper display - 5.7" QHD vs. 5.5" 1080p
Higher resolution still camera - 16MP vs. 8MP
Better video recording - 2160p (stereo sound) vs. 1080p (mono)
Expandable storage
General-purpose NFC
Heart rate and blood oxygen saturation sensors
Better front-facing camera - 3.7MP/1440p vs. 1.2MP/720p
Bigger, user-replaceable battery
Faster LTE (on Snapdragon version only)
Optional dual-SIM
Samsung is known for its feature-rich (some would say "overflowing"), utilitarian designs but it's slowly coming around to metal designs with the Alpha and now the Galaxy Note 4. It's just a metal rim, so the user-replaceable battery and microSD card slot are intact.
The screen size also remained unchanged (5.7") to keep the device manageable single-handedly, but resolution increased to QHD. The defining feature of the Note series, the S Pen, was also improved and Samsung included optical image stabilization (OIS) to the list of camera specs.





Apple iPhone 6 Plus and Samsung Galaxy Note 4 getting ready for a fight
The biggest change for Apple is the screen - after years of keeping just about the same size and sharpness, the company took the plunge. The design language changed more than it did for the Galaxy and is now smooth and rounded like an iPod Touch, it's impressively slim too. It's the OIS-enabled camera that is the other advantage over the vanilla iPhone 6.
With bigger screens, both phones and their respective platforms (iOS and Android + TouchWiz) have their ways of boosting usability.
M
Samsung galaxy note s4 is more better than iphone 6s plus
S
You're are not alone. Typing this on a note 4. Changed the battery for the second time last week. Not my primary device though. Use sparingly these days