The Big Bang
iPhone 6 Plus vs. Galaxy Note 4: The Big Bang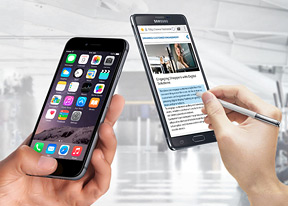 Display
For software reasons, Apple stuck with multipliers of its original 320 x 480 pixels resolution. The iPhone 5 stretched out the screen to 16:9, leaving apps with a black bar until they were updated. The iPhone 6 Plus is the first to break away from the HVGA legacy and moves to an industry-standard 1080p resolution with a "desktop class" image scaler for apps that don't support the new screen yet.
Apple's bet is that the higher pixel density - 401ppi, better than Retina's 326ppi - is enough to hide upscaling artifacts. Truth be told the gamble has worked well enough, text remains readable even at small font sizes.
The screen itself is an IPS LCD with excellent colors, contrast and viewing angles. It's protected by the new Ion-strengthened glass. Apple claims it's tougher than Gorilla Glass 3, which we can't feel in our fingertips but what we can feel are the chamfered edges, which make side-swipes smooth as butter.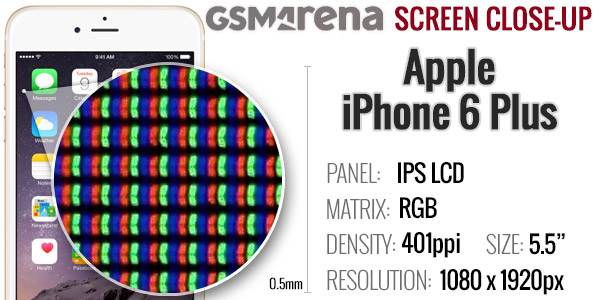 Samsung saved its first phone QHD screen for the Galaxy Note 4, while keeping the screen size from the Note 3. The result is an impressive 515ppi, a number that melts away the difference between PenTile and RGB matrices (for the record, the Note 4 has a PenTile Super AMOLED screen).
Colors are a matter of taste and Samsung gives you an option of multiple screen modes that adjust both saturation and the white balance. Viewing angles and contrast are perfect, as can be expected from an advanced OLED display. Samsung continues its relationship with Corning (those two have a joint venture) and uses Gorilla Glass 3. The glass has chamfered edges too, but the sharp metal rim makes off-screen swipes a bit less comfortable.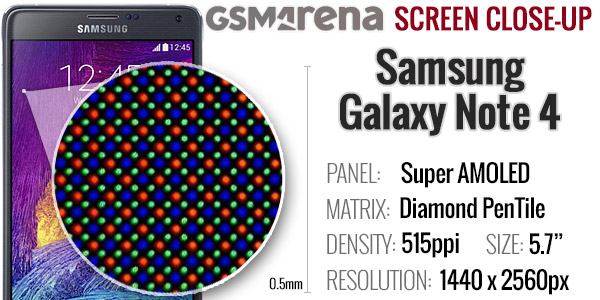 Perhaps due to the increased resolution, the Galaxy Note 4 screen is not the brightest AMOLED Samsung has produced recently, it tops out at 400nits. That doesn't compare too well against the 700nits or so of the iPhone 6 Plus. The LCDs employed by Apple are top quality too, with an impressive 1361:1 contrast ratio.
Display test
50% brightness
100% brightness
Black, cd/m2
White, cd/m2
Contrast ratio
Black, cd/m2
White, cd/m2
Contrast ratio
Samsung Galaxy Note 4
0
291
∞
0
399
∞
Apple iPhone 6 Plus
0.17
208
1197
0.52
705
1361
Samsung Galaxy S5
0
274
∞
0
529
∞
Sony Xperia Z3
-
-
-
0.65
866
1333
LG G3
0.14
109
763
0.72
570
789
HTC One (M8)
0.2
245
1219
0.46
577
1256
Maximum brightness is usually only used in broad daylight and it turns out the Galaxy Note 4 doesn't need all that much. In our sunlight legibility test it showed an impressive result, virtually equal to the likes of the Note 3 and the iPhone 5 - and better than the brighter Galaxy S5's screen.
The Apple iPhone 6 Plus doesn't do as well as its smaller sibling and while its result is certainly good enough, you'll have to bump up the brightness on a sunny day.
Sunlight contrast ratio
Nokia 808 PureView
4.698
Samsung Galaxy Note 4
4.033
Apple iPhone 5
3.997
Samsung Galaxy Note 3
3.997
Apple iPhone 6
3.838
Samsung Galaxy K zoom
3.675
Nokia Lumia 930
3.567
Apple iPhone 5s
3.565
Samsung Galaxy S5
3.549
Alcatel Idol X+
3.527
Apple iPhone 5c
3.512
Samsung Galaxy Alpha
3.509
Samsung Galaxy Note 3 Neo
3.487
Motorola RAZR MAXX
3.42
Samsung I9300 Galaxy S III
3.419
Nokia Lumia 925
3.402
Gionee Elife S5.5
3.386
Samsung I9505 Galaxy S4
3.352
Samsung Omnia W
3.301
Samsung Galaxy S5 mini
3.174
Samsung I9000 Galaxy S
3.155
Samsung Ativ S
3.129
Samsung I9190 Galaxy S4 mini
3.127
Samsung Galaxy S4 zoom
3.118
Nokia N9
3.069
Apple iPhone 6 Plus
3.023
Samsung Galaxy Note
2.97
Samsung Galaxy Premier
2.958
Sony Xperia Z1
2.95
HTC One S
2.901
Samsung I8730 Galaxy Express
2.861
BlackBerry Q10
2.856
Samsung I9100 Galaxy S II
2.832
Samsung Galaxy S II Plus
2.801
BlackBerry Z30
2.79
Sony Xperia ZR
2.672
Huawei Ascend P1
2.655
Sony Xperia Z3
2.618
Sony Xperia Z3 Compact
2.616
Sony Xperia T3
2.609
BlackBerry Passport
2.595
Nokia Lumia 900
2.562
Motorola Moto G 4G
2.546
HTC One Max
2.537
Nokia Lumia 720
2.512
HTC One
2.504
Motorola Moto G
2.477
Sony Xperia Z
2.462
Xiaomi Mi 4
2.424
Samsung Galaxy S III mini
2.422
Lenovo Vibe Z2 Pro
2.416
LG G Flex
2.407
HTC One (M8)
2.371
Motorola RAZR i
2.366
Sony Xperia ZL
2.352
Samsung Galaxy Note II
2.307
HTC One (M8) for Windows
2.291
Oppo Find 7a
2.279
Alcatel One Touch Hero
2.272
Apple iPhone 4S
2.269
HTC Desire 600 dual sim
2.262
Nokia Asha 311
2.25
LG Nexus 5
2.228
Samsung Galaxy mini 2
1.114
The Galaxy Note family is not only the bestselling phablet, but it's also the last bastion of the stylus. It's a feature that didn't quite catch on but much of the Note experience is centered around the S Pen and we certainly find it useful in daily usage.
The new S Pen and the screen digitizer are more accurate, with increased sensitivity to pressure and even the angle of the stylus. Hand-written notes turn out great even if you don't have the best handwriting (and we must admit after so much on-screen and hardware keyboards, our penmanship has waned).





The S Pen is the defining feature of the Galaxy Note series
The Galaxy Note 4 screen is extra-sensitive and can detect the S Pen from a distance (hover is used in parts of the UI), but also gloved fingers.
Winner: Samsung Galaxy Note 4. A slightly bigger screen fits into about the same frame and it's sharper to boot. On a more practical note, the sunlight legibility is better and the S Pen grows on you.
The Apple iPhone 6 Plus has a top-notch screen, though early, upscaled apps don't use it to its full potential and the sunlight legibility isn't as good as the iPhone 6.
Connectivity
With 2G and 3G connectivity practically maxed out, it's the LTE that matters. Here the Samsung Galaxy Note 4 comes in two versions - Cat. 6 (300Mbps) with the Snapdragon chipset and Cat. 4 (150Mbps) with the Exynos chipset. Both upload at 50Mbps.
The Apple iPhone 6 Plus has a Cat. 4 modem, but it supports HD Voice with Voice-over-LTE (VoLTE). There's HD Voice support on the Galaxy Note 4 as well, but for both handsets you'll need carrier support for the feature to work.
Both devices also support Wi-Fi calling (aka UMA), which can use a Wi-Fi connection to place voice calls. You need carrier support for this to work and a generous carrier will let you use any Wi-Fi hotspot, no matter which country you are in (great for calling home from abroad).
In terms of local connectivity, both devices can use the latest Wi-Fi 802.11ac standard, if you have the router for it. Otherwise it's dual-band a/b/g/n. The Galaxy Note 4 supports Wi-Fi Direct (and Samsung's similar alternative) for sending files between devices, while Apple uses its proprietary Air Drop system.
For Bluetooth the Galaxy supports the latest v4.1 standard, while the iPhone offers v4.0, both support Low Energy. That mode is used for wearables - smartwatches, sport bands, etc. - but the Samsung Galaxy Note 4 also offers ANT+ for wider support of sport accessories.
The other important wireless standard is NFC, which enjoys full support on Android, while Apple only piggybacks it for its Apple Pay system and nothing else.
Wired connectivity is handled by USB 2.0 but with different connectors. Samsung dropped the faster USB 3.0 and now uses a standard microUSB 2.0 port with MHL support, while Apple sticks to its proprietary Lightning adapter (which can be plugged in two ways).


USB 2.0-based wired ports: proprietary Lightning adapter and standard microUSB 2.0
Both can be turned to HDMI via an adapter, though Lightning seems limited to 1080p, while MHL will get out full UHD TV resolution. How else are you going to watch those 2160p videos you shot? Well, wireless Miracast is an option, which works with Smart TVs, Chromecast (and similar) sticks and the new Android TV. The iPhone 6 Plus can do wireless screen mirroring too, but only if you have an Apple TV hooked to your HDTV.
While on the topic of multimedia, the Galaxy Note 4 has an IR blaster for digital equipment at home. The app is mostly limited to A/V tech, but you can install third-party apps too.


The IR blaster is transmit-only, it can't learn commands from existing remotes
Winner: Samsung Galaxy Note 4. Several small wins secure the victory: the 300Mbps LTE option (if your carrier even supports it), full NFC 2160p video over MHL, IR blaster, ANT+. You can dismiss each individually as something you won't use, but things pile up.
The Apple iPhone 6 Plus is the best connected iPhone yet (on par with the 6), things like the 150Mbps LTE and Wi-Fi 802.11ac, which we consider standard on Android flagships were not available on the iPhone 5s. The property limits of Apple's walled garden are easily seen in the proprietary Lightning adapter and the lobotomized NFC though.
Battery life
Apple continues to push for thinner devices, even when some users are calling out "it's thin enough, give us more battery!" Still, with Apple's complete control of the hardware and software ecosystem, it has always managed to provide great battery life out of relatively few milliamps.
Still, with its first time phablet-sized screen that has more pixels than the regular Retina screens every milliamp counts. And the count shows the Samsung Galaxy Note 4 has a 10% advantage with 3,220mAh versus 2,915mAh. The Note's battery is easy to swap out for a fresh one too.
Anyway, our battery test show the 10% difference in the Endurance rating - the Galaxy Note 4 gets 87 hours, while the iPhone 6 Plus gets 79 hours. Note that we used the Snapdragon 805 version of the Galaxy phablet.
Phablets are known for their great battery life and these two don't disappoint though a clear winner emerges quickly. It starts with a 5 hour lead in the Talk time test. Not that you'll ever talk for 24+ hours straight, but this just means voice calls don't have much of an impact to the overall battery life.
Talk time
Lenovo Vibe Z2 Pro
33:20h
Huawei Ascend Mate2 4G
33:19h
Nokia Lumia 1520
28:34h
HTC One (M8) for Windows
28:34h
Samsung Galaxy Note 4
28:34h
Sony Xperia Z1
26:53h
LG G3
25:54h
Samsung P6800 Galaxy Tab 7.7
25:45h
LG G Pro 2
25:37h
LG G Flex
25:19h
Sony Xperia T2 Ultra
25:16h
LG G2
25:15h
Huawei Ascend Mate
25:12h
Alcatel Hero
25:02h
Oppo N1
25:01h
Samsung Galaxy Note 3 Neo
24:52h
Sony Xperia Z Ultra
24:23h
Apple iPhone 6 Plus
23:49h
Sony Xperia Z3
23:13h
Samsung P6200 Galaxy Tab 7.0 Plus
22:42h
Huawei MediaPad 7 Vogue
22:16h
Nokia Lumia 1020
22:13h
Samsung Galaxy Core LTE
22:13h
Sony Xperia Z2
22:13h
Nokia Lumia 1320
22:13h
HTC One Max
22:13h
Samsung ATIV SE
22:05h
Samsung Galaxy S5
21:20h
Motorola RAZR MAXX
21:18h
LG Optimus G Pro E985
20:45h
Sony Xperia Z1 Compact
20:42h
Motorola DROID RAZR MAXX
20:24h
Motorola RAZR i XT890
20:07h
Huawei Ascend Mate7
20:06h
Oppo Find 7
20:03h
HTC One (M8)
20:01h
BlackBerry Q10
20:00h
OnePlus One
19:56h
Samsung Galaxy Grand 2
19:55h
Samsung Galaxy Mega 6.3 I9200
19:54h
Sony Xperia SP
19:49h
Sony Xperia T3
19:48h
HTC Butterfly S
19:14h
Oppo R819
19:03h
Asus PadFone X
18:45h
Xiaomi Mi 4
18:15h
Samsung Galaxy Note 3
18:12h
LG G2 mini
18:11h
Oppo Find 7a
18:11h
Samsung I9505 Galaxy S4
18:03h
Sony Xperia ZR
17:48h
HTC One (E8)
17:47h
Samsung Galaxy Note II N7100
16:57h
HTC Desire 700 dual sim
16:56h
Samsung Ativ Odyssey I930
16:41h
Samsung I9295 Galaxy S4 Active
16:40h
LG Nexus 5
16:40h
Sony Xperia Z3 Compact
16:40h
Sony Xperia M2
16:40h
Nokia Lumia 930
16:40h
Sony Xperia M2 Aqua
16:39h
Motorola Moto E
16:38h
Motorola Moto E Dual SIM
16:38h
Sony Xperia Z
16:03h
Samsung Galaxy K zoom
16:01h
Samsung Galaxy S4 zoom
15:32h
LG Optimus G E975
15:30h
Sony Xperia ZL
15:22h
Nokia Lumia 720
15:17h
Xiaomi Hongmi 1S
14:51h
HTC Desire 816
14:46h
Alcatel Idol X+
14:41h
BlackBerry Q5
14:31h
Sony Xperia E3
14:28h
Oppo Find 5
14:17h
LG Nexus 4 E960
14:17h
Nokia Lumia 620
14:17h
Motorola Moto G 4G
14:17h
Pantech Discover
14:17h
Huawei Ascend P6
14:17h
Nokia Lumia 635
14:17h
Nokia Lumia Icon
14:15h
Motorola Moto X
14:06h
Motorola Moto G
13:41h
HTC One
13:38h
Huawei Ascend P7
13:36h
Nokia Lumia 520
13:33h
HTC One X+
13:31h
Sony Xperia C
13:29h
Xiaomi Mi 3
13:28h
Samsung Galaxy Alpha
13:20h
Samsung Galaxy Grand Neo
13:20h
Nokia Lumia 630
13:20h
Samsung I9190 Galaxy S4 mini
13:10h
HTC Desire 616 dual sim
13:00h
Samsung Galaxy Grand I9082
12:45h
LG Optimus GJ E975W
12:39h
HTC First
12:31h
Motorola DROID RAZR M
12:31h
Sony Xperia M
12:31h
Sony Xperia L
12:30h
Huawei Ascend P1
12:30h
Nokia Lumia 928
12:27h
Apple iPhone 6
12:23h
Samsung Galaxy S5 mini
12:18h
Samsung Galaxy S III I747
12:18h
HTC Butterfly
12:18h
Samsung Galaxy Note N7000
12:14h
HTC One mini
12:04h
Samsung I8530 Galaxy Beam
11:58h
HTC Desire 600 dual sim
11:58h
Samsung Galaxy Core I8260
11:52h
Gionee Elife S5.5
11:32h
HTC Desire 500
11:31h
Samsung Galaxy Premier I9260
11:30h
HTC DROID Incredible 4G LTE
11:25h
Asus PadFone 2
11:20h
Nokia X
11:13h
HTC DROID DNA
11:07h
HTC One SV
11:07h
Samsung S8600 Wave 3
11:07h
LG Optimus L9 P760
11:07h
HTC Windows Phone 8X
11:07h
Samsung I9105 Galaxy S II Plus
11:06h
HTC Desire X
11:03h
Meizu MX3
11:02h
Samsung I9500 Galaxy S4
11:01h
Apple iPhone 5s
10:46h
Nokia XL
10:45h
Apple iPhone 5c
10:18h
Samsung I9300 Galaxy S III
10:15h
Samsung S7710 Galaxy Xcover 2
10:03h
HTC One V
10:00h
Samsung Galaxy Express I8730
10:00h
Meizu MX 4-core
10:00h
HTC One mini 2
09:58h
HTC One X
9:57h
HTC One S C2
9:42h
HTC One S
9:42h
Samsung I9103 Galaxy R
9:40h
Samsung Galaxy Ace 3
9:32h
HTC Sensation XL
9:30h
Sony Xperia J
9:14h
Acer CloudMobile S500
9:05h
Nokia Lumia 710
9:05h
Nokia Lumia 810
9:05h
Motorola ATRIX HD MB886
9:04h
HTC Vivid
9:02h
Nokia Lumia 920
8:56h
Nokia Lumia 610
8:51h
HTC Rhyme
8:48h
LG Optimus 3D Max P720
8:42h
Apple iPhone 5
8:42h
This gives you more battery juice for things like browsing where the Samsung Galaxy Note 4 scores another victory with 1 hour and 40 minutes lead. We put the brightness sliders on both phablets at 50% but the Galaxy Note 4 is brighter at that setting (290nits vs. 210nits) so you can squeeze out more out of the Note 4.
Web browsing
Huawei Ascend Mate2 4G
16:41h
Sony Xperia Z3 Compact
14:52h
Huawei Ascend Mate7
13:53h
Samsung Galaxy S5 mini
13:14h
Sony Xperia C
12:45h
Nokia Lumia 1520
12:40h
Sony Xperia Z1 Compact
12:37h
HTC One (M8) for Windows
12:31h
HTC Desire 700 dual sim
12:30h
Sony Xperia T2 Ultra
12:17h
Sony Xperia Z3
12:03h
Nokia XL
11:54h
HTC Desire 816
11:48h
LG G2
11:42h
Sony Xperia Z2
11:32h
HTC One Max
11:20h
Sony Xperia ZR
11:20h
HTC Butterfly S
11:07h
Asus PadFone X
11:07h
LG G2 mini
11:02h
Nokia Lumia 1320
10:58h
Motorola Moto G 4G
10:52h
Samsung Galaxy Note 4
10:44h
Apple iPhone 6
10:29h
Nokia Lumia 630
10:18h
BlackBerry Q5
10:04h
HTC One (E8)
10:02h
Nokia Lumia 635
10:00h
HTC One
9:58h
Apple iPhone 5s
9:58h
Apple iPhone 5
9:56h
Samsung Ativ Odyssey I930
9:54h
Sony Xperia M2
9:48h
Sony Xperia E3
9:48h
Samsung I9190 Galaxy S4 mini
9:47h
OnePlus One
9:46h
Samsung Galaxy Note 3 Neo
9:43h
Alcatel Hero
9:40h
Samsung Galaxy Core LTE
9:37h
Samsung Galaxy S5
9:36h
LG G Pro 2
9:31h
Xiaomi Mi 4
9:31h
LG G Flex
9:31h
Sony Xperia T3
9:23h
Samsung Galaxy Tab Pro 10.1 LTE
9:16h
Motorola RAZR MAXX
9:12h
Samsung Galaxy K zoom
9:10h
HTC One (M8)
9:06h
Oppo N1
9:05h
Apple iPhone 6 Plus
9:05h
Samsung Galaxy Grand 2
9:05h
Apple iPhone 5c
9:05h
Motorola Moto G
9:04h
Samsung Galaxy Note 3
9:04h
Samsung Galaxy S4 zoom
8:51h
Samsung Galaxy Note II N7100
8:48h
Motorola Moto E Dual SIM
8:42h
Motorola Moto E
8:42h
BlackBerry Q10
8:42h
Sony Xperia M2 Aqua
8:38h
Samsung Galaxy Alpha
8:25h
Asus PadFone 2
8:20h
Nokia Lumia 810
8:20h
Samsung Galaxy Mega 6.3 I9200
8:17h
Motorola Moto X
8:17h
Huawei Ascend Mate
8:17h
HTC One mini
8:12h
Xiaomi Mi 3
8:04h
Nokia Lumia 610
8:01h
HTC One X+
7:56h
Samsung Galaxy Grand Neo
7:43h
Lenovo Vibe Z2 Pro
7:42h
Motorola DROID RAZR M
7:42h
Sony Xperia E dual
7:42h
Samsung I8190 Galaxy S III mini
7:38h
Nokia Lumia 720
7:37h
Samsung I9295 Galaxy S4 Active
7:35h
Samsung I9505 Galaxy S4
7:24h
Motorola DROID RAZR MAXX
7:23h
Huawei MediaPad 7 Vogue
7:23h
HTC Radar
7:17h
Nokia Lumia 520
7:15h
Huawei Ascend P7
7:13h
Samsung ATIV SE
7:12h
LG Optimus GJ E975W
7:11h
Samsung Galaxy Grand I9082
7:09h
Samsung Galaxy Express I8730
7:09h
Oppo Find 7a
7:09h
Meizu MX3
7:09h
Sony Xperia M
7:09h
Motorola RAZR i XT890
7:06h
Sony Xperia J
7:06h
Samsung I9500 Galaxy S4
6:58h
Apple iPhone 4s
6:56h
Samsung P6800 Galaxy Tab 7.7
6:54h
Xiaomi Hongmi 1S
6:54h
Samsung Galaxy Core I8260
6:54h
HTC One V
6:49h
Sony Xperia E
6:40h
LG G3
6:40h
Sony Xperia L
6:40h
BlackBerry Curve 9380
6:40h
Samsung I9105 Galaxy S II Plus
6:40h
HTC DROID DNA
6:40h
LG Optimus G Pro E985
6:40h
Samsung Galaxy Premier I9260
6:40h
Motorola ATRIX HD MB886
6:40h
HTC First
6:39h
Samsung Galaxy Ace 3
6:38h
Sony Xperia Z
6:37h
Samsung S7710 Galaxy Xcover 2
6:35h
HTC Desire 600 dual sim
6:34h
HTC One mini 2
06:33h
HTC Desire 500
6:31h
Huawei Ascend P6
6:30h
Samsung I9300 Galaxy S III
6:27h
BlackBerry Z10
6:27h
HTC Butterfly
6:24h
Sony Xperia SP
6:18h
Samsung Galaxy S III I747
6:16h
Samsung Focus S I937
6:15h
HTC One SV
6:15h
Nokia Lumia 510
6:13h
Sony Xperia ZL
6:04h
Samsung Galaxy mini 2 S6500
6:03h
Samsung P6200 Galaxy Tab 7.0 Plus
6:02h
Samsung Rugby Smart I847
5:53h
A decisive victory comes in the video playback test - both devices have large, 1080p screens that let you view FullHD footage at 1:1. Here the Galaxy Note 4 wins by over 50% with a whopping 17 and a half hours, while the iPhone manages the still-respectable 11 hours.
Video playback
LG G Flex
19:57h
Huawei Ascend Mate2 4G
18:01h
Samsung Galaxy Note 4
17:25h
Motorola RAZR MAXX
16:35h
Sony Xperia Z3 Compact
15:03h
Motorola DROID RAZR MAXX
14:17h
Huawei Ascend Mate7
14:04h
Samsung Galaxy Note 3
13:32h
Samsung I9190 Galaxy S4 mini
13:12h
Nokia Lumia 1020
13:12h
Sony Xperia T2 Ultra
13:12h
HTC One Max
13:11h
Sony Xperia C
12:53h
Samsung Galaxy Premier I9260
12:51h
Nokia Lumia 1520
12:31h
Samsung I9505 Galaxy S4
12:30h
BlackBerry Q5
12:28h
Huawei Ascend Mate
12:18h
Sony Xperia Z2
12:16h
Samsung Galaxy Tab Pro 10.1 LTE
12:10h
Sony Xperia Z3
11:47h
Samsung Galaxy Note 3 Neo
11:38h
Samsung P6800 Galaxy Tab 7.7
11:37h
Samsung I9500 Galaxy S4
11:29h
Samsung Galaxy Note II N7100
11:27h
OnePlus One
11:23h
HTC One (E8)
11:16h
HTC One (M8) for Windows
11:15h
Apple iPhone 6 Plus
11:15h
Oppo N1
11:15h
BlackBerry Q10
11:15h
HTC One (M8)
11:14h
Samsung Galaxy S5
11:05h
Samsung Galaxy S5 mini
11:02h
Asus PadFone X
11:01h
HTC Desire 816
10:34h
Apple iPhone 5s
10:31h
LG G2 mini
10:23h
Apple iPhone 5
10:12h
Samsung Galaxy K zoom
10:08h
Samsung ATIV SE
10:07h
Sony Xperia M2
10:04h
HTC First
10:03h
HTC One
10:02h
Sony Xperia Z1 Compact
10:01h
Motorola Moto X
10:01h
Nokia Lumia 635
10:00h
Samsung Galaxy Express I8730
10:00h
Nokia Lumia 630
10:00h
Samsung I9105 Galaxy S II Plus
10:00h
LG G3
9:57h
Sony Xperia T3
9:56h
Nokia 808 PureView
9:53h
Sony Xperia M
9:49h
Alcatel Hero
9:49h
Samsung I8530 Galaxy Beam
9:42h
Samsung Rugby Smart I847
9:34h
Samsung Galaxy S4 zoom
9:30h
LG G2
9:28h
HTC One S C2
9:28h
HTC One S
9:28h
Xiaomi Mi 3
9:28h
Samsung I9300 Galaxy S III
9:27h
Apple iPhone 6
9:24h
Apple iPhone 4s
9:24h
Samsung Galaxy mini 2 S6500
9:22h
Sony Xperia M2 Aqua
9:21h
Oppo Find 7a
9:19h
Nokia Lumia 1320
9:17h
HTC Butterfly S
9:03h
Motorola DROID RAZR M
9:00h
Sony Xperia E
9:00h
Samsung Ativ Odyssey I930
8:59h
Sony Xperia Z Ultra
8:45h
BlackBerry Z10
8:44h
Samsung Galaxy Grand 2
8:41h
LG Optimus G Pro E985
8:40h
Nokia N9
8:40h
Samsung Galaxy Mega 6.3 I9200
8:34h
HTC Butterfly
8:28h
Sony Xperia E3
8:26h
Samsung Galaxy Note N7000
8:25h
LG Optimus GJ E975W
8:15h
Samsung Galaxy S III I747
8:14h
HTC One X+
8:11h
Samsung Galaxy Grand I9082
8:11h
Motorola RAZR i XT890
8:11h
Sony Xperia J
8:11h
Huawei Ascend P7
8:10h
Samsung Galaxy Alpha
8:05h
Samsung I9100 Galaxy S II
8:00h
Samsung Focus S I937
7:55h
Samsung S8600 Wave 3
7:52h
HTC Desire 500
7:50h
Samsung I8190 Galaxy S III mini
7:46h
Sony Ericsson Xperia neo V
7:45h
Apple iPhone 5c
7:41h
Huawei Ascend P1
7:38h
Asus PadFone 2
7:38h
Nokia Lumia Icon
7:34h
Samsung Galaxy S Blaze 4G T769
7:33h
Samsung S7710 Galaxy Xcover 2
7:30h
Samsung Galaxy Note I717
7:30h
HTC DROID DNA
7:30h
Sony Xperia ZR
7:30h
Samsung Galaxy Core I8260
7:30h
Lenovo Vibe Z2 Pro
7:29h
Sony Xperia SP
7:27h
In the end, it's the iOS' efficient standby that allows the iPhone 6 Plus to remain this close to the Galaxy. Android has more lax multitasking rules, which enables plenty of helpful background services but that does have an impact on battery life.
Ultimately, you can get three days of moderate usage with both devices, but under heavy use the Galaxy Note 4 will easily outlast the iPhone 6 Plus.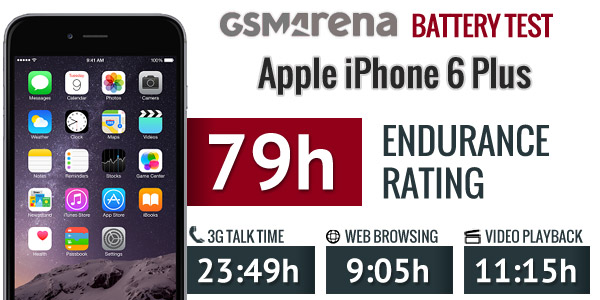 Winner: Samsung Galaxy Note 4. It won all three tests by good margins and while its standby is not the most efficient, the Galaxy Note 4 battery is a long distance runner. And you can have two if you want.
The Apple iPhone 6 Plus numbers are good on their own but heavier usage impacts battery more than it does the Galaxy and the only option to extend it is a bulky battery pack.