How bad were the issues with iOS 8.0.1? Perhaps as bad as the iOS 5 rollout, when many people downloaded the hefty 800MB update only to find out it won't install (failing with an unhelpful "error 3200"). And they had to use an updated iTunes to make things even more frustrating.
iOS 6 and 7 reached 50% adoption in a little over a week after they launched. Meanwhile iOS 8 is staying closer to the iOS 5 trajectory and is currently under 40% nearly three weeks after its introduction. Of course, the iOS 8.0.1 issues saw many people hold off on updating but 8.0.2 has fixed that. Maybe people decided to wait a bit more in case new issues are revealed.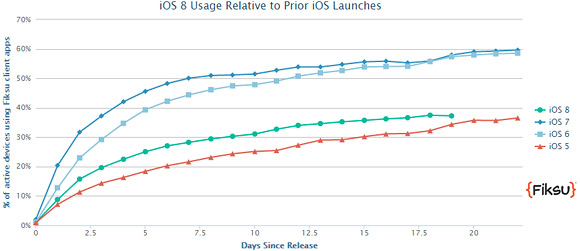 The adoption of the new iPhones is very polarizing. One the one hand the iPhone 6 shot up, crossing the 2% mark in just five days, while previous models took as long as twenty days. On the other hand the big iPhone 6 Plus is staying close to iPhone 5c adoption rates. Of course, the 5.5" iPhone is suffering from availability issues, which undoubtedly contribute to the sluggish sales.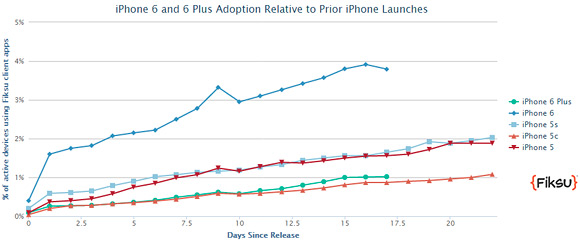 Of course, those are relative numbers and there are more iPhones out there now than when the iPhone 5c launched. Still, it shows that Apple users have limits on how much of a screen bump they'll tolerate.
P
I recently purchased iPhone 6 Plus. Being a hardcore Android user, it is bit hard in getting adjusted to iPhone ecosystems. But it's great to have both the devices on my hand (iPhone 6 Plus and Galaxy S5). Love the technology bro. No need ...
?
Well past actually. Samsung is losing market share because they by far hold the largest margin of market share. And the competition has become great. Many other brands caught up in technology and are gaining major brand awareness. So ob...
D
Yeah slightly up compared to last year sales of the same period. But not up to success of apple.LOL
ADVERTISEMENTS