Online retailer XtremeGuard has the Apple iPhone 6 covered with screen protectors. The listings have both the rumored 4.7" as well as the 5.5" iPhone 6 models.
The site offers protectors for the iPhone 6 and 6c but interestingly thinks that Apple will release 4 models - an iPhone 6 with a 4.7" and 5.5" display and the iPhone 6c with the two screen options as well.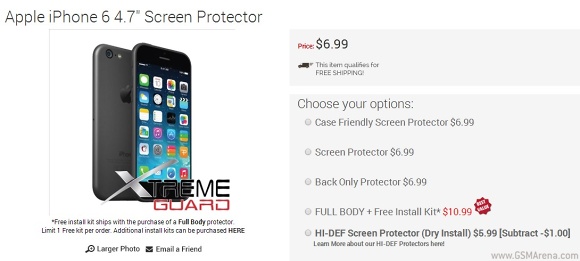 We find this unlikely but we'll see. Keep in mind that we've seen this very same render before but it still could mean that it's a close approximation of what's to come.
The design is more or less set in stone as of now with most leaks pointing to the same one with rounded, slimmer edges and a thinner frame.
The screen is expected to be Sapphire-coated, pointed out by many a source already and we expect Apple to unleash the new iPhone on September 19.
Hat tip to Amandeep!
F
i want one put i don't want to pay that price
?
Screen protector business is still going strong because a lot of consumers are not aware of even Gorilla glass, what more sapphire displays. It's a habit from the olden days of plastic displays which scratched easily.
D
I get the matt screen protectors, you know to keep the screen clean, fingerprint free… But I really don't see any point in the glossy ones!!!