It's not exactly a secret that the iPhone 6's display is going to be made out of sapphire for extra scratch resistance. Now UBS Research's first quarter preview on GT Advanced Technologies, which is the company that's been contracted by Apple to create all of the sapphire for the iPhone 6 display, shows that they've begun shipping sapphire screens to China.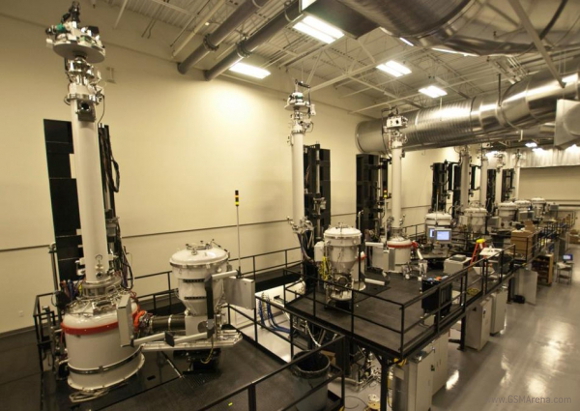 Here's what their research had to show:
"Checks find GT's Arizona factory likely started producing sapphire last month. Our own checks found that for the first time GT shipped some small quantities of sapphire made in its Arizona fab to one of Apple's partners in China who is in charge of making sapphire covers. Our checks find the amount of ingots it sold into China last month was only about 2,200kg which would be in line with our estimate of about 100 sapphire furnaces turned on and running (our checks find 100 furnaces were targeted for installation in 4Q13). We believe GT is still on schedule in Arizona, where we estimate GT was to install another 400-500 sapphire furnaces in 1Q14 and 900-1,000 in 2Q14. GT confirmed last week that it received a 3rd prepayment from Apple recently (we estimate the 4th and last prepayment will be made in May) which also gives us confidence that its Arizona sapphire factory for Apple is tracking on schedule."
Analyst Matt Margolis believes that "approximately 100,000 to 115,000 sapphire screens could be produced from 2,200 kg of sapphire ingots". GT will be selling each sapphire screen for $8.50-$10 a unit. This makes GT's prices significantly cheaper 25% to be exact) than Apple's previous sapphire supplier.
Overall, GT is estimated to score anywhere from $600m-$800m, with about 80% of their sales coming from Apple alone.
GT Advanced has enough equipment to produce 100 million iPhone displays a year, if they should desire to make that many. Seeing as the next generation iPhone is going to have a purportedly 5" screen, it might be a big enough change that'll make the iPhone fly off the shelves in a frenzy like never before.
?
Big thanks to competitive science and technology. Well,we are moving forward. Beautiful ones are yet to be born.
T
Well to be fair, Apple haven't done anything significant to the iphone since the 4S- the iphone 5s is still leagues behind top end android handsets, both ones that were around when it was released and also the newer ones, so for them to be releasing ...
D
You don't think Android will introduce 64-bit chips sometime this year? Even Qualcomm was taken back by such an advancement. 64-bit processors are able to access more RAM, but that's not their only benefit - they can grab data in twice as large...