iPhone 6 SE (not iPhone 7) runs Geekbench, scores more than the iPhone 6s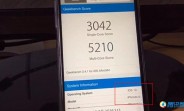 OK, so that purportedly leaked iPhone 6 SE retail box from earlier may have been Photoshopped. But that doesn't mean Apple won't call the new handsets it unveils next month 6 SE and 6 SE Plus instead of iPhone 7 and iPhone 7 Plus. For months most rumors have referred to this year's Apple devices iPhone 7 and 7 Plus, but because they aren't expected to feature a big redesign compared to their predecessors, the company may not use that moniker after all.
To somewhat confirm this theory comes a person in China who claims to have gotten his hands on a prototype of the next iPhone. He apparently was able to run Geekbench on it, and the handset's results can be seen in the picture below. You can also just barely spot the fact that the benchmark refers to it as iPhone 6 SE, and not iPhone 7. It runs iOS 10 as you'd expect.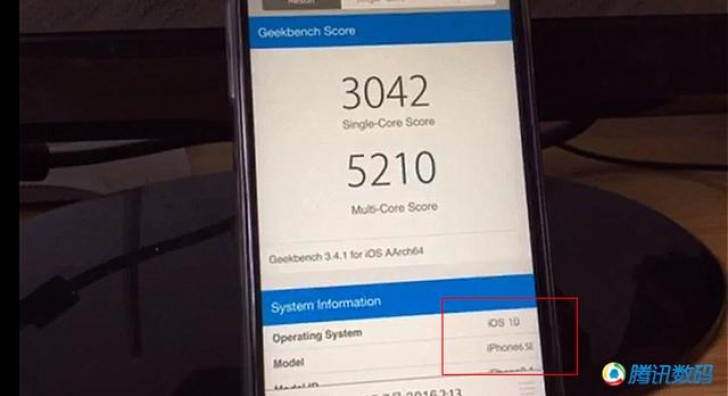 The iPhone 6s scored 4,427 points in our Geekbench multi-core testing, and 2,542 in the single-core test. So this iPhone 6 SE clearly sports a newer chipset, since it's able to achieve 5,210 and 3,042, respectively. That's in line with past mumblings revealing that this year's iPhones will have the A10 chip.
Further details about the upcoming iPhone 6 SE have also been leaked today by the same source. It looks like the much-rumored capacitive Home button won't happen in 2016, as the prototype still has a physical button. The True Tone display tech from the iPad Pro 9.7 has, however, made it to the new iPhone. The screen sizes and resolutions are unchanged in the new generation from the iPhone 6s and 6s Plus, unsurprisingly.
Once again, the bigger model is said to come with a dual rear camera arrangement, but this won't emulate the setup seen in the Huawei P9 and Honor 8 where one sensor captures a black and white image and the other shoots full color. Instead, the iPhone 6 SE Plus is apparently going to have a solution in line with what LG's chosen for the G5, with the two cameras having different focal lengths.
Finally, the person reportedly in possession of the iPhone 6 SE prototype says Apple will continue to sell the 6s generation once the new 6 SE phones come out. However, only the silver and gray colors will remain on sale after that point, with the gold and rose gold options becoming exclusive to the new devices.
Source (in Chinese)
D
Bruh. I'm not a droidsheep. I don't really mind if device X or device Y wins. Just the fact that each person will go for what they love. apple lovers for Apple. and Android lovers for android. each goes for what they like. thus why I called for peace...
D
Hm... there's also RAM calculation. storage read/write ratios. S.C. processing. M.C. processing. Main thread... But yeah. CONSIDERING apple made it like android. NO ANDROID would win. that's what I meant.
D
Looks like Apple rename and slapped A9X onto it.
ADVERTISEMENTS