We are less than 12 hours from the iPhone 6 launch event now and the leaks haven't stopped coming. The latest one show the phone's specifications, benchmark scores, and even some camera samples.
In terms of specs, the 4.7-inch model is said to have an odd 1334x750 resolution but does not seem to have a sapphire crystal cover (which might be reserved for the bigger model). It's also running on the new Apple A8 SoC with a dual-core CPU clocked at 1.4GHz and 1GB of RAM.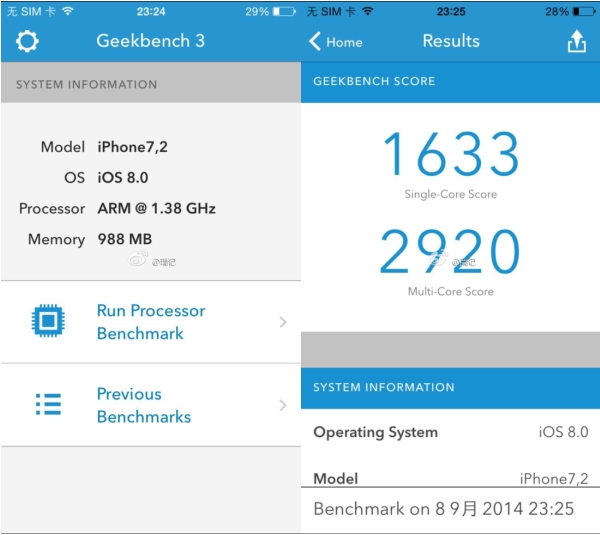 There are also Geekbench 3 scores for us to ponder over, with 1633 and 2920 for single core and multi core respectively. In comparison, the iPad Air, which is the current fastest iOS device, scores 1476 and 2678 respectively, so the new phone is definitely faster, just not all that much.
Lastly, there is a camera sample, which has been compared to the previous 5s image and also the LG G3. The iPhone 6 camera seems to have the same 8 megapixel resolution but image quality is definitely improved over the 5s. The G3, although the shots are not exactly the same, seems to have even better image quality, though.
As usual we'd take all this with a pinch of salt. Also, the device, if legit, would be a pre-production unit, so some things could change in the final version.
D
buy even now the quality is amazing and will be on iphone 6 plus
?
How do you feel now knowing that you were wrong and that the rumors panned out to be true?
k
unfortunately the iPhone 6 is far than the samsung s5 n samsung note 4 ,good by iPhone for good.