Three kings
iPhone 6 vs. Galaxy Alpha vs. Xperia Z3 Compact: Three kings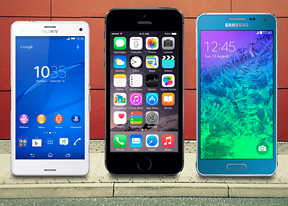 Introduction
We're looking for the best phone with a sub-5" screen. At a time when the best features seem to only come with the largest display, there's a strange, almost rebellious feel to it. No need to tell you, we're enjoying it. The Apple iPhone 6, Samsung Galaxy Alpha and the Sony Xperia Z3 Compact are probably having the time of their life too. These three are not just exceptions to the rule. They're making their own rules.
It's a sad reality for those who prefer compact - not small! - phones. Each year manufacturers come out with new features but like a movie sequel they feel compelled to go bigger than last time. It's how we ended up with 5.5" monsters being called "phones" (we can name several 5.5-inchers off the top of our heads, they are that popular).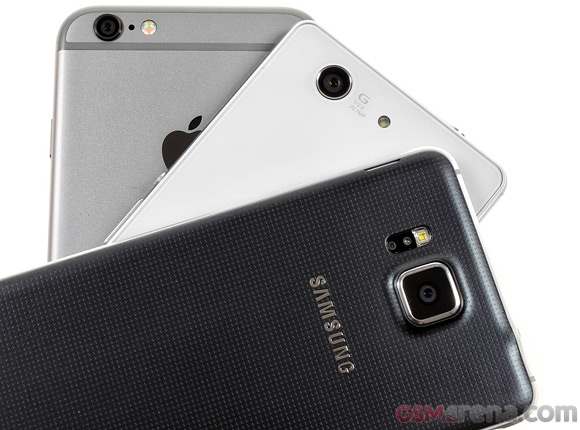 The Sony Xperia Z1 Compact opened up a whole new niche early this year by squeezing flagship specs in a smaller body. And it was only just starting - Sony came up with the Xperia Z3 Compact, which is easily one of the best-equipped phones out there, regardless of size.
Samsung couldn't bother beefing up the mini and started from scratch. The Galaxy Alpha put metal back in Samsung's lineup, shaving off some thickness and weight along the way. It all worked out just fine and the new design was shared by the almighty Galaxy Note 4.
Apple took pride in having the best small phone for years but even Cupertino had to admit 4 inches just wasn't enough. The Apple iPhone 6 is the golden mean between the old 4" design and Apple's first phablet, the 5.5" iPhone 6 Plus. The aluminum unibody get even more refined.
In a three-way fight punches will be flying left and right so let's introduce the contestants before the commotion starts. Each phone has a few features the other two can't match, and that works the other way around too.
Sony Xperia Z3 Compact
Best features
Biggest weaknesses

Big, high resolution sensor: 1/2.3", 20.7MP
IP68 rating: dust tight, waterproof beyond 1 meter for over 30 minutes
Front-facing stereo speakers
Big 2,600mAh battery, 2x the battery life
Lowest price of the bunch
Most compact of the three

Glass and plastic exterior
Smallest storage out of the box: 16GB (but it's cheaply expandable via a microSD)
No fingerprint scanner
Apple iPhone 6
Best features
Biggest weaknesses

Aluminum unibody
Phase-detection autofocus
240fps video (at 720p)

Low still camera resolution
No 2160p video, mono sound
Non-expandable storage and the cheapest 16GB version is barely enough
Relatively large body for the screen size
Samsung Galaxy Alpha
Best features
Biggest weaknesses

Thinnest and lightest of the three
Screen with best sunlight legibility of the three
Heart rate monitor

No TV out
Lowest battery rating (by a small margin)
Comes with 32GB non-expandable storage, no storage options
Sony pulled out all the stops and the Z3 Compact is the cheapest of the three, with the iPhone 6 on top and the Galaxy Alpha sitting in the middle. The company resolved the biggest outstanding hardware issue - the ample bezels - but it remains to be seen if it can address the biggest issue ahead of it, that the Xperia brand is nowhere near as popular as iPhone or Galaxy.
The Apple iPhone is a household name, many casual users say "iPhone" when they mean "smartphone." It reached this status with consistent quality and measured updates, there are no leaps in iPhone features.
Samsung is the only company that can challenge Apple in brand recognition right now and it's making the most of it. The Galaxy Alpha isn't one of the dozens lookalike Galaxies though. The tentative step towards a premium build is a big one for utilitarian Samsung.
If you're wondering why LG and HTC are not in the fray, the answer is that they don't have flagships in this class - the HTC One mini 2 is a midrange device (we recently compared it to the Galaxy Alpha) and the LG G3 mini is yet to be unveiled.
H
HNG was captured by Galaxy Aloha Xperia Z3 Compact iPhone 6
D
iPhones are made to break??!! Every phone breaks and iPhone 6 isn't the only phone which bends and you clearly don't mind that the Note7 explodes when you charge it, if you are lucky it wont explode
?
The Z3 Compact just lasts 14 months? I have my iPhone 5 since april 2013, that's 44 months and it still works pretty good (only one mic and lower volume button are defective and would also still be good if I treated it better). I could easily last an...