Three kings
iPhone 6 vs. Galaxy Alpha vs. Xperia Z3 Compact: Three kings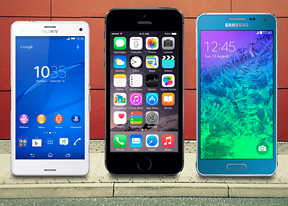 Display
It's two LCDs versus an AMOLED, all three around the same size. Samsung the only company that consistently uses AMOLED displays on its flagships - no wonder since it's making them in-house.
The Galaxy Alpha packs a 4.7" Super AMOLED with 720p resolution and 312ppi pixel density. It's a diamond-pattern PenTile matrix so the actual sharpness isn't quite as high as it sounds on paper. If you know what to look for you can notice some fuzziness in high-contrast areas but it's nothing major and it's more of a nitpicking.
Both Apple and Sony stick to LCD, specifically IPS LCD for some great side viewing angles. Compared to SuperAMOLEDs, LCDs tend to be brighter but have lower contrast, and then there's the whole color accuracy debate.
The Apple iPhone 6 has a 4.7" display with the unusual resolution of 750 x 1,334px or just over 720p, giving it the 326ppi pixel density. Note that apps that don't support the new resolution will be upscaled from 640 x 1,136px, which would actually reduce the subjective image sharpness significantly.
The Sony Xperia Z3 Compact has the smallest display of the bunch, 4.6", with 720p resolution. The difference in surface area is pretty small, less than 5%, but the Sony is the only one with on-screen buttons, which makes more of a difference. They take up an extra 8% of the screen surface area.
Before we jump on to image quality, let's cover the available screen protection first. All three phones use various brands of shatterproof glass. The one on the iPhone 6 has a smoothly chamfered edge, which very pleasantly curves into the sides of the curved metal body of the phone.
The two LCDs in this fight are some of the brightest we've tested, hitting 720-740 nits. That gives them a very clear lead on the Super AMOLED, which tops out at 450 nits. The black levels on the LCDs stay acceptable even at full blast, the iPhone 6 manages a respectable 1,200:1 contrast ratio while the Xperia slips under 1,000:1. As usual the AMOLED screen offers the best contrast, which makes images really pop.
Display test
50% brightness
100% brightness
Black, cd/m2
White, cd/m2
Contrast ratio
Black, cd/m2
White, cd/m2
Contrast ratio
Samsung Galaxy Alpha
0
228
∞
0
456
∞
Sony Xperia Z3 Compact
-
-
-
0.77
725
942
Apple iPhone 6
0.17
207
1230
0.61
740
1213
Sunlight legibility is a function of the screen's brightness and reflectivity. The very bright iPhone 6 screen does very well here, coming in behind only a few phones, notably the iPhone 5 and Galaxy Note 3. Samsung's Super AMOLED assembly keeps reflectivity low so it achieves a very good result too, despite the deficit in brightness.
The Xperia Z3 Compact disappoints here, despite being one of the brightest screens it's very reflective too, earning it only an average mark.
Sunlight contrast ratio
Nokia 808 PureView
4.698
Apple iPhone 5
3.997
Samsung Galaxy Note 3
3.997
Apple iPhone 6
3.838
Samsung Galaxy K zoom
3.675
Nokia Lumia 930
3.567
Apple iPhone 5s
3.565
Samsung Galaxy S5
3.549
Alcatel Idol X+
3.527
Apple iPhone 5c
3.512
Samsung Galaxy Alpha
3.509
Samsung Galaxy Note 3 Neo
3.487
Motorola RAZR MAXX
3.42
Samsung I9300 Galaxy S III
3.419
Nokia Lumia 925
3.402
Gionee Elife S5.5
3.386
Samsung I9505 Galaxy S4
3.352
Samsung Omnia W
3.301
Samsung Galaxy S5 mini
3.174
Samsung I9000 Galaxy S
3.155
Samsung Ativ S
3.129
Samsung I9190 Galaxy S4 mini
3.127
Samsung Galaxy S4 zoom
3.118
Nokia N9
3.069
Apple iPhone 6 Plus
3.023
Samsung Galaxy Note
2.97
Samsung Galaxy Premier
2.958
Sony Xperia Z1
2.95
HTC One S
2.901
Samsung I8730 Galaxy Express
2.861
BlackBerry Q10
2.856
Samsung I9100 Galaxy S II
2.832
Samsung Galaxy S II Plus
2.801
BlackBerry Z30
2.79
Sony Xperia ZR
2.672
Huawei Ascend P1
2.655
Sony Xperia Z3 Compact
2.616
Sony Xperia T3
2.609
Nokia Lumia 900
2.562
Motorola Moto G 4G
2.546
HTC One Max
2.537
Nokia Lumia 720
2.512
HTC One
2.504
Motorola Moto G
2.477
Sony Xperia Z
2.462
Xiaomi Mi 4
2.424
Samsung Galaxy S III mini
2.422
LG G Flex
2.407
HTC One (M8)
2.371
Motorola RAZR i
2.366
Sony Xperia ZL
2.352
Samsung Galaxy Note II
2.307
Oppo Find 7a
2.279
Alcatel One Touch Hero
2.272
Apple iPhone 4S
2.269
HTC Desire 600 dual sim
2.262
Nokia Asha 311
2.25
LG Nexus 5
2.228
Nokia Lumia 820
2.193
HTC One (E8)
2.185
Nokia Lumia 920
2.17
HTC One X
2.158
Nokia N8
2.144
Nokia Lumia 620
2.142
Nokia 515
2.134
HTC Desire 500
2.129
Sony Xperia acro S
2.119
Xiaomi Redmi Note
2.119
Nokia Lumia 1020
2.103
Oppo Find 5
2.088
Sony Xperia SL
2.078
Nokia Lumia 630
2.056
BlackBerry Z10
2.051
Samsung I9295 Galaxy S4 Active
2.022
Apple iPhone 4
2.016
HTC One mini
2.003
Xiaomi Mi 3
2.001
Huawei Ascend P7
1.992
LG G2
1.976
OnePlus One
1.961
Oppo R819
1.957
Sony Ericsson Xperia ray
1.955
Sony Xperia Z2
1.944
Nokia Lumia 1320
1.941
HTC One mini 2
1.94
Samsung Galaxy Camera
1.938
Sony Xperia J
1.932
Acer CloudMobile S500
1.931
LG Nexus 4
1.926
LG G Pro 2
1.922
Samsung Galaxy Mega 6.3
1.913
Nokia Asha 308
1.911
HTC Butterfly 2
1.905
Sony Xperia T
1.894
HTC Desire X
1.878
HTC Windows Phone 8X
1.873
HTC Butterfly
1.873
HTC Butterfly S
1.867
Huawei Ascend P6
1.865
Huawei Ascend Mate
1.845
LG G2 mini
1.838
LG G3
1.82
Nokia Lumia 1520
1.813
HTC Desire 616 dual sim
1.797
Sony Xperia V
1.792
HTC Desire 816
1.783
Sony Xperia Z1 Compact
1.772
We mentioned colors before, mainly because AMOLEDs have a reputation for oversaturating. That's true but Samsung has added several modes to let you manage the exact level of saturation, you can pick between several settings until you find the one that suites you best.
Sony also have display tuning options, but those give you sliders so you can control the white balance. There's also a choice of X-Reality and Super-vivid image enhancing modes. Apple offers no screen calibration options.
Putting the phones side by side, the iPhone 6 screen is closest to the mark in terms of white balance (it's slightly warm). The Xperia Z3 Compact is close behind (a bit too cool), while the Galaxy Alpha has a noticeable yellow tint. We tried switching the color modes but those mainly affected color saturation and not the white balance.
For viewing angles, the iPhone 6 and Galaxy Alpha perform beautifully with no noticeable changes in color and contrast. The Xperia Z3 Compact screen did exhibit some shift but that's only under the widest of angles.
Before the conclusion of this chapter, there are just a couple of features left to cover. Both the Samsung and Sony phones have dedicated high-sensitivity touch modes so they can be operated with gloves. The Xperia Z3 Compact also has a double tap to wake feature, which is a personal favorite in our team.
Winner: Apple iPhone 6. It's the brightest, with the best legibility and with great colors and viewing angles. The chamfered glass is pleasant and the overall image quality is wonderful.
Runner up: Samsung Galaxy Alpha. The white balance is off, but you only notice when you have something to compare it to. The Super AMOLED does very well in direct sunlight and has stunning contrast, but it's not as bright as the LCDs.
Third place: Sony Xperia Z3 Compact. It's smaller both due to its diagonal and due to the omnipresent on-screen buttons, though the bigger issue is that it's just too reflective. It also has the biggest contrast shift when looked at a really wide side angle.
Connectivity
Connectivity - both wide area and local - has mostly evened out. There are still some differences between the three devices that might prove crucial for some. Note that the specs might differ by region, you should consult the specifications and your carrier for exact details.
The main market of the Apple iPhone is the US so it comes with both GSM and CDMA connectivity (plus TD-SCDMA for the Chinese version). The fastest connection is on LTE (again with TD-LTE for China), reaching theoretical speeds of up to 150Mbps downlink.
Apple has upgraded the call functionality so the iPhone 6 can use Voice over LTE (VoLTE), which offers high-quality audio with HD Voice, as well as Wi-Fi calling (also known as UMA this solves some reception issues). Of course, both need to be supported by your carrier.
The Samsung Galaxy Alpha and the Sony Xperia Z3 Compact are pure GSM devices. They have 150Mbps LTE as well though the Snapdragon 801 version of the Galaxy is rated at 300Mbps (not that you'd find such a carrier). The Xperia Z3 also supports VoLTE.
In terms of local connectivity, all three phones have dual-band Wi-Fi a/b/g/n/ac with hotspot support. Both iOS and Android have separate ways to send files over Wi-Fi, but iOS lacks native DLNA functionality. Bluetooth v4.0 with Low Energy mode is supported on all three devices, the Androids also have ANT+ for sports accessories.
NFC is available on all three phones though Apple has limited it to Apple Pay only. On the other two you can use it to pair devices, transfer files and read/write NFC tags.
GPS and GLONASS are available for positioning, the iPhone 6 and Xperia Z3 Compact have barometers to speed up the initial lock.
Finally, we come down to wired connectivity. Apple is sticking to its own standard, the Lightning port, which can be plugged-in two ways for added convenience. It serves the purposes of charging and transferring data and audio/video but you'll need Lightning cables and adapters and they usually cost more than their USB equivalents.
Sony and Samsung use the industry standard microUSB 2.0 port (Samsung is stepping back from microUSB 3.0). The main duties of the port are charging and data, but Sony has also added included MHL (for HDMI out) and USB On-the-go functionality to their port. Samsung has not, leaving the Galaxy Alpha with no wired TV Out option.
None of the three phones have IR blasters for what that's worth.
Winner: Sony Xperia Z3 Compact. It offers VoLTE and its microUSB port is equipped with MHL and USB OTG functionality. ANT+ and NFC are nice to have and the barometer is also a nice perk, which can speed location services in densely built areas.
Runner up: Apple iPhone 6. Having VoLTE, Wi-Fi calling and CDMA is valuable for US users, but Apple's reluctance to add proper NFC support, plus the proprietary port and the more expensive connectivity accessories keep the iPhone 6 from grabbing the victory. The addition of Wi-Fi 802.11ac and a barometer are welcome improvements though.
Third place: Samsung Galaxy Alpha. The 300Mbps LTE options will leave you looking for a carrier to use it on and no wired TV out is less than perfect.
Battery life
The current trend in smartphones is for razor-thin devices with enormous displays. This article rails against the massive screens but there's a case to be made against thin phones too - many people consider battery life more important than a slim profile (as long as it's kept under 9-10mm, of course).
The Sony Xperia Z3 Compact is the poster boy, being the thickest of the three but also enjoying a significant advantage in battery capacity. At 2,600mAh it has a good 40% more juice than the 1,810mAh and 1,860mAh batteries of the Galaxy Alpha and iPhone 6 respectively.
We should note that we're using the Exynos 5430 version of the Galaxy Alpha for these tests.
If you read our review of the Z3 Compact you'll know it's an absolute battery champ, falling behind only much larger devices. The iPhone 6 is not bad either, it helps that Apple gets to optimize both software and hardware (including a custom chipset). The Galaxy Alpha did surprisingly well for its battery capacity - Android is more resource hungry than iOS.
The Sony managed an impressive 16 hours 40 minutes of talk time on a single charge. That's 3-4 hours ahead of the other two and essentially means that talk time won't have much of an impact on your total battery life. The Galaxy Alpha beats the iPhone 6 by an hour here.
Talk time
Huawei Ascend Mate2 4G
33:19h
Nokia Lumia 1520
28:34h
Samsung Galaxy Note 4
28:34h
Sony Xperia Z1
26:53h
LG G3
25:54h
Samsung P6800 Galaxy Tab 7.7
25:45h
LG G Pro 2
25:37h
LG G Flex
25:19h
Sony Xperia T2 Ultra
25:16h
Huawei Ascend Mate
25:12h
Alcatel Hero
25:02h
LG G2
25:01h
Oppo N1
25:01h
Samsung Galaxy Note 3 Neo
24:52h
Sony Xperia Z Ultra
24:23h
Apple iPhone 6 Plus
23:49h
Sony Xperia Z3
23:13h
Samsung P6200 Galaxy Tab 7.0 Plus
22:42h
Huawei MediaPad 7 Vogue
22:16h
Sony Xperia Z2
22:13h
Nokia Lumia 1020
22:13h
Samsung Galaxy Core LTE
22:13h
HTC One Max
22:13h
Nokia Lumia 1320
22:13h
Samsung ATIV SE
22:05h
Samsung Galaxy S5
21:20h
Motorola RAZR MAXX
21:18h
LG Optimus G Pro E985
20:45h
Sony Xperia Z1 Compact
20:42h
Motorola DROID RAZR MAXX
20:24h
Motorola RAZR i XT890
20:07h
Oppo Find 7
20:03h
HTC One (M8)
20:01h
BlackBerry Q10
20:00h
OnePlus One
19:56h
Samsung Galaxy Grand 2
19:55h
Samsung Galaxy Mega 6.3 I9200
19:54h
Sony Xperia SP
19:49h
Sony Xperia T3
19:48h
HTC Butterfly S
19:14h
Oppo R819
19:03h
Asus PadFone X
18:45h
Xiaomi Mi 4
18:15h
Samsung Galaxy Note 3
18:12h
LG G2 mini
18:11h
Oppo Find 7a
18:11h
Samsung I9505 Galaxy S4
18:03h
Sony Xperia ZR
17:48h
HTC One (E8)
17:47h
Samsung Galaxy Note II N7100
16:57h
HTC Desire 700 dual sim
16:56h
Samsung Ativ Odyssey I930
16:41h
Sony Xperia Z3 Compact
16:40h
LG Nexus 5
16:40h
Nokia Lumia 930
16:40h
Samsung I9295 Galaxy S4 Active
16:40h
Sony Xperia M2
16:40h
Sony Xperia M2 Aqua
16:39h
Motorola Moto E Dual SIM
16:38h
Motorola Moto E
16:38h
Sony Xperia Z
16:03h
Samsung Galaxy K zoom
16:01h
Samsung Galaxy S4 zoom
15:32h
LG Optimus G E975
15:30h
Sony Xperia ZL
15:22h
Nokia Lumia 720
15:17h
Xiaomi Hongmi 1S
14:51h
HTC Desire 816
14:46h
Alcatel Idol X+
14:41h
BlackBerry Q5
14:31h
Motorola Moto G 4G
14:17h
Huawei Ascend P6
14:17h
Nokia Lumia 635
14:17h
Oppo Find 5
14:17h
Nokia Lumia 620
14:17h
Pantech Discover
14:17h
LG Nexus 4 E960
14:17h
Nokia Lumia Icon
14:15h
Motorola Moto X
14:06h
Motorola Moto G
13:41h
HTC One
13:38h
Huawei Ascend P7
13:36h
Nokia Lumia 520
13:33h
HTC One X+
13:31h
Sony Xperia C
13:29h
Xiaomi Mi 3
13:28h
Samsung Galaxy Alpha
13:20h
Apple iPhone 6
12:26h
The Xperia Z3 Compact stunned us with its stamina while browsing the web - it went on for nearly 15 hours before it finally ran out of charge. Speaking of, the phone has a power-saving feature called Stamina mode if you really need to stretch the remaining milliamps in the battery. The Galaxy Alpha has a similar feature, while the iPhone does not have anything of the sort.
Anyway, the iPhone 6 did a respectable 10 and a half hours - surprisingly, not much different time than it achieved in the call test. The Galaxy Alpha loses the fight with a 2-hour deficit to the iPhone. Keep in mind that for most phones lasting 8 and half hours is an amazing result - the 5.5" LG G3 only manages 6:40, for example.
Web browsing
Huawei Ascend Mate2 4G
16:41h
Sony Xperia Z3 Compact
14:52h
Samsung Galaxy S5 mini
13:14h
Sony Xperia C
12:45h
Nokia Lumia 1520
12:40h
Sony Xperia Z1 Compact
12:37h
HTC Desire 700 dual sim
12:30h
Sony Xperia T2 Ultra
12:17h
Sony Xperia Z3
12:03h
Nokia XL
11:54h
HTC Desire 816
11:48h
Sony Xperia Z2
11:32h
LG G2
11:22h
Sony Xperia ZR
11:20h
HTC One Max
11:20h
HTC Butterfly S
11:07h
Asus PadFone X
11:07h
LG G2 mini
11:02h
Nokia Lumia 1320
10:58h
Motorola Moto G 4G
10:52h
Samsung Galaxy Note 4
10:44h
Apple iPhone 6
10:29h
Nokia Lumia 630
10:18h
BlackBerry Q5
10:04h
HTC One (E8)
10:02h
Nokia Lumia 635
10:00h
Apple iPhone 5s
9:58h
HTC One
9:58h
Apple iPhone 5
9:56h
Samsung Ativ Odyssey I930
9:54h
Sony Xperia M2
9:48h
Samsung I9190 Galaxy S4 mini
9:47h
OnePlus One
9:46h
Samsung Galaxy Note 3 Neo
9:43h
Alcatel Hero
9:40h
Samsung Galaxy Core LTE
9:37h
Samsung Galaxy S5
9:36h
Xiaomi Mi 4
9:31h
LG G Flex
9:31h
LG G Pro 2
9:31h
Sony Xperia T3
9:23h
Samsung Galaxy Tab Pro 10.1 LTE
9:16h
Motorola RAZR MAXX
9:12h
Samsung Galaxy K zoom
9:10h
HTC One (M8)
9:06h
Samsung Galaxy Grand 2
9:05h
Apple iPhone 5c
9:05h
Apple iPhone 6 Plus
9:05h
Oppo N1
9:05h
Motorola Moto G
9:04h
Samsung Galaxy Note 3
9:04h
Samsung Galaxy S4 zoom
8:51h
Samsung Galaxy Note II N7100
8:48h
BlackBerry Q10
8:42h
Motorola Moto E Dual SIM
8:42h
Motorola Moto E
8:42h
Sony Xperia M2 Aqua
8:38h
Samsung Galaxy Alpha
8:25h
Nokia Lumia 810
8:20h
Asus PadFone 2
8:20h
Motorola Moto X
8:17h
Samsung Galaxy Mega 6.3 I9200
8:17h
Huawei Ascend Mate
8:17h
HTC One mini
8:12h
Xiaomi Mi 3
8:04h
Nokia Lumia 610
8:01h
HTC One X+
7:56h
Samsung Galaxy Grand Neo
7:43h
Motorola DROID RAZR M
7:42h
Sony Xperia E dual
7:42h
Samsung I8190 Galaxy S III mini
7:38h
Nokia Lumia 720
7:37h
Samsung I9295 Galaxy S4 Active
7:35h
Samsung I9505 Galaxy S4
7:24h
Huawei MediaPad 7 Vogue
7:23h
Motorola DROID RAZR MAXX
7:23h
HTC Radar
7:17h
Nokia Lumia 520
7:15h
Huawei Ascend P7
7:13h
Samsung ATIV SE
7:12h
LG Optimus GJ E975W
7:11h
Meizu MX3
7:09h
Samsung Galaxy Grand I9082
7:09h
Samsung Galaxy Express I8730
7:09h
Oppo Find 7a
7:09h
Sony Xperia M
7:09h
Motorola RAZR i XT890
7:06h
Sony Xperia J
7:06h
Samsung I9500 Galaxy S4
6:58h
Apple iPhone 4s
6:56h
Samsung P6800 Galaxy Tab 7.7
6:54h
Xiaomi Hongmi 1S
6:54h
Samsung Galaxy Core I8260
6:54h
HTC One V
6:49h
HTC DROID DNA
6:40h
Samsung I9105 Galaxy S II Plus
6:40h
Sony Xperia E
6:40h
Sony Xperia L
6:40h
For video playback the Xperia Z3 Compact pulls another 15-hour shift, beating the other two by a huge margin. It lasts nearly twice as long as the Galaxy Alpha and its 8 hour time. The Apple iPhone 6 does slightly better - 9 and a half hours - but it doesn't close the margin.
Video playback
LG G Flex
19:57h
Huawei Ascend Mate2 4G
18:01h
Samsung Galaxy Note 4
17:25h
Motorola RAZR MAXX
16:35h
Sony Xperia Z3 Compact
15:03h
Motorola DROID RAZR MAXX
14:17h
Samsung Galaxy Note 3
13:32h
Sony Xperia T2 Ultra
13:12h
Samsung I9190 Galaxy S4 mini
13:12h
Nokia Lumia 1020
13:12h
HTC One Max
13:11h
Sony Xperia C
12:53h
Samsung Galaxy Premier I9260
12:51h
Nokia Lumia 1520
12:31h
Samsung I9505 Galaxy S4
12:30h
BlackBerry Q5
12:28h
Huawei Ascend Mate
12:18h
Sony Xperia Z2
12:16h
Samsung Galaxy Tab Pro 10.1 LTE
12:10h
LG G2
11:51h
Sony Xperia Z3
11:47h
Samsung Galaxy Note 3 Neo
11:38h
Samsung P6800 Galaxy Tab 7.7
11:37h
Samsung I9500 Galaxy S4
11:29h
Samsung Galaxy Note II N7100
11:27h
OnePlus One
11:23h
HTC One (E8)
11:16h
Oppo N1
11:15h
BlackBerry Q10
11:15h
Apple iPhone 6 Plus
11:15h
HTC One (M8)
11:14h
Samsung Galaxy S5
11:05h
Samsung Galaxy S5 mini
11:02h
Asus PadFone X
11:01h
HTC Desire 816
10:34h
Apple iPhone 5s
10:31h
LG G2 mini
10:23h
Apple iPhone 5
10:12h
Samsung Galaxy K zoom
10:08h
Samsung ATIV SE
10:07h
Sony Xperia M2
10:04h
HTC First
10:03h
HTC One
10:02h
Motorola Moto X
10:01h
Sony Xperia Z1 Compact
10:01h
Nokia Lumia 635
10:00h
Nokia Lumia 630
10:00h
Samsung I9105 Galaxy S II Plus
10:00h
Samsung Galaxy Express I8730
10:00h
LG G3
9:57h
Sony Xperia T3
9:56h
Nokia 808 PureView
9:53h
Sony Xperia M
9:49h
Alcatel Hero
9:49h
Samsung I8530 Galaxy Beam
9:42h
Samsung Rugby Smart I847
9:34h
Samsung Galaxy S4 zoom
9:30h
HTC One S
9:28h
Xiaomi Mi 3
9:28h
HTC One S C2
9:28h
Samsung I9300 Galaxy S III
9:27h
Apple iPhone 4s
9:24h
Apple iPhone 6
9:24h
Samsung Galaxy mini 2 S6500
9:22h
Sony Xperia M2 Aqua
9:21h
Oppo Find 7a
9:19h
Nokia Lumia 1320
9:17h
HTC Butterfly S
9:03h
Motorola DROID RAZR M
9:00h
Sony Xperia E
9:00h
Samsung Ativ Odyssey I930
8:59h
Sony Xperia Z Ultra
8:45h
BlackBerry Z10
8:44h
Samsung Galaxy Grand 2
8:41h
LG Optimus G Pro E985
8:40h
Nokia N9
8:40h
Samsung Galaxy Mega 6.3 I9200
8:34h
HTC Butterfly
8:28h
Samsung Galaxy Note N7000
8:25h
LG Optimus GJ E975W
8:15h
Samsung Galaxy S III I747
8:14h
Motorola RAZR i XT890
8:11h
Sony Xperia J
8:11h
HTC One X+
8:11h
Samsung Galaxy Grand I9082
8:11h
Huawei Ascend P7
8:10h
Samsung Galaxy Alpha
8:05h
Samsung I9100 Galaxy S II
8:00h
Samsung Focus S I937
7:55h
Samsung S8600 Wave 3
7:52h
HTC Desire 500
7:50h
Samsung I8190 Galaxy S III mini
7:46h
Sony Ericsson Xperia neo V
7:45h
Apple iPhone 5c
7:41h
Huawei Ascend P1
7:38h
Asus PadFone 2
7:38h
Nokia Lumia Icon
7:34h
Samsung Galaxy S Blaze 4G T769
7:33h
HTC DROID DNA
7:30h
Samsung S7710 Galaxy Xcover 2
7:30h
Sony Xperia ZR
7:30h
Samsung Galaxy Note I717
7:30h
Samsung Galaxy Core I8260
7:30h
Sony Xperia SP
7:27h
Motorola Moto G 4G
7:27h
HTC One mini
7:23h
Nokia Lumia 610
7:23h
LG Optimus G E975
7:16h
The final tally shows a stunning 101-hour endurance rating for the Sony Xperia Z3 Compact. Small wonder with these individual times. And it's not just the battery capacity either - 40% more milliamp hours is a good start but the Z3 Compact opened up a bigger margin in some of the tests.
The Apple iPhone 6 and Samsung Galaxy Alpha have relatively similar endurance ratings but part of that is due to the efficient standby of the Galaxy Alpha. The iPhone beat it in two out of three tests with a decent margin.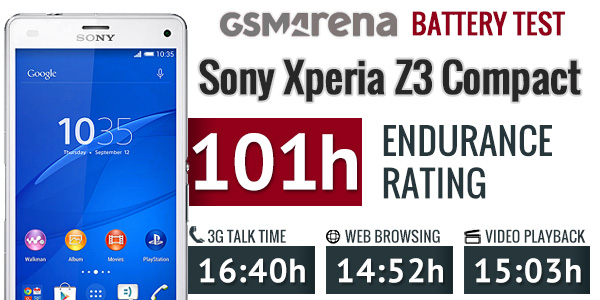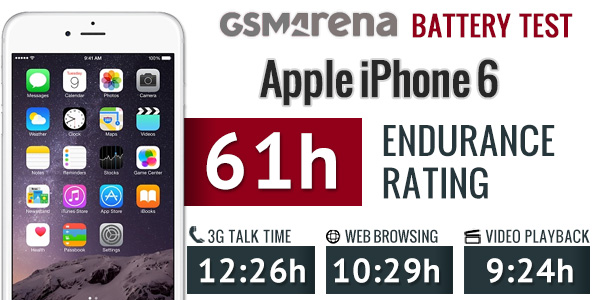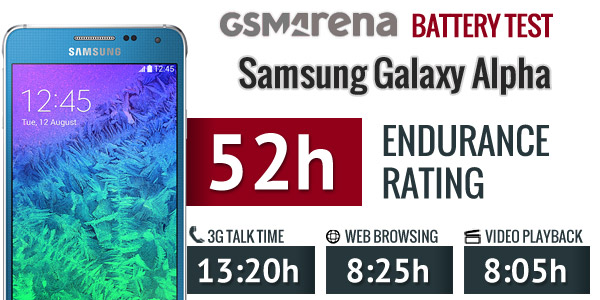 Winner: Sony Xperia Z3 Compact. It will last you four days of moderate usage, two days of heavy usage and we can't imagine a scenario where you kill it in a day under normal usage.
Runner up: Apple iPhone 6. Getting two days of moderate usage will be a breeze. Even with heavy usage you'll still get two days, though it might die on the second day before the night is out.
Third place: Samsung Galaxy Alpha. It achieves good results with what it has but most of the time it won't make it through two full days of heavy usage.