Three kings
iPhone 6 vs. Galaxy Alpha vs. Xperia Z3 Compact: Three kings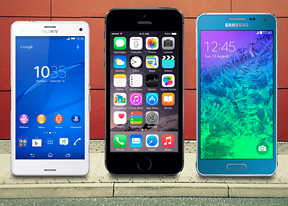 Multimedia
With cameras a major point of pride for each of our three phones, their gallery apps play a very important role. Each maker put their own spin with proprietary features.
The Apple iPhone 6 has a sort of mini social network built-in, thanks to the Shared photos feature. Photos are shared between you and your friends, you can invite friends and family to join in. Finding a photo is easy, they are organized by time and location into what Apple calls Moments. A cool option is the Recently deleted folder, which easily recovers accidental deletions.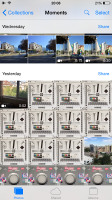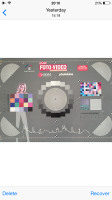 Photos app organizes photos into moments
Sony, the longtime camera maker, came out with Album. It syncs online albums (Sony's own PlayMemories as well as Facebook, Picasa and Flickr) and has handy options to share a photo on those networks too. Album also sorts photos by location and even by the faces in those photos. Automatic slideshows based on SensMe algorithms can easily turn an album into a fun video to show off.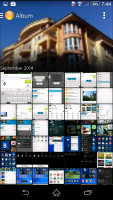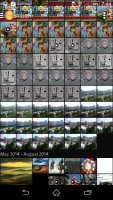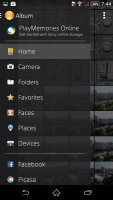 Album features online sync and automatic slideshows
Samsung's Gallery app also comes with online album integration (Facebook, Dropbox and Picasa) and can natively connect to DLNA devices. It can sort photos by faces like the Sony app too. As a reminder, Private mode unlocks a folder where you can keep sensitive photos safely.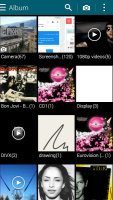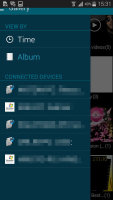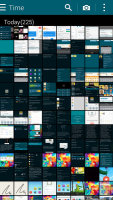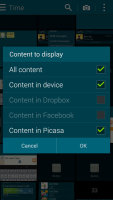 DLNA-enabled TouchWiz gallery with online sync
The Samsung music player is one of the most feature-rich we've seen. Highlights include the clever SoundAlive feature that shows an intuitive chart instead of a potentially confusing equalizer. A 7-band equalizer with additional options is there for the more experienced users or you can let the Adapt Sound feature test your headphones and your hearing and find the best settings automatically.
Easy playlist creation based on mod or music period is supported and Smart volume will make sure there are no jarring jumps in volume between tracks.
The Exynos 5430-based Samsung Galaxy Alpha features a dedicated Cortex-A5 processor core exclusively to decode and process audio.
Sony brings the legendary Walkman name to the table. It supports noise-cancelling headphones (including the ones that come in the Xperia Z3 Compact box) and has a manual equalizer too, plus a number of proprietary sound-enhancing features.
Dynamic normalizer is the equivalent to Smart volume. High-Res audio and the Digital Sound Enhancement Engine claim to improve the audio quality of low-bitrate songs, but we think that's just a gimmick - you can't upscale photos to improve their quality and you can't do the same with audio.
The Infinite button makes song-related searches easy - you can look for artist info on Wikipedia, song video on YouTube, song lyrics on Google and more.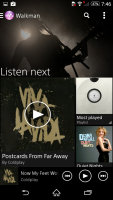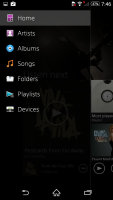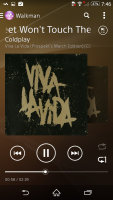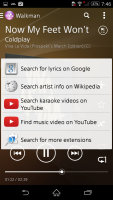 A beautiful music player with Infinite button for easy searching
The Sony Xperia Z3 Compact has an FM radio receiver with RDS support. If that doesn't give you the name of the song, you can always tap the TrackID button to identify it.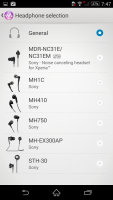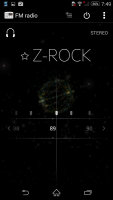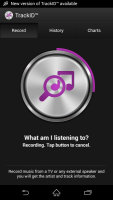 Noise-cancelling headphone support • FM radio with integrated track recognition
Whatever the source of the music, you can always use the front-facing stereo speakers on the Z3 Compact, which make for a better experience than the single speakers on the Galaxy Alpha and the iPhone 6. They don't sound as good as HTC BoomSound speakers but we suppose that is due to soundproofing in no small extent.
Of course, Sony is pushing its Music Unlimited service, which is a music store that can help you discover new tracks and artists with the Charts, New releases and Channels feeds but can be disabled if you prefer.
Apple is doing much the same with iTunes Radio - it's an ad-supported service (ads go away if you pay for iTunes Match) that helps you discover new music. If you hear something you like you can hit the Buy button. There's no equalizer here though.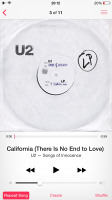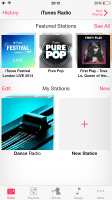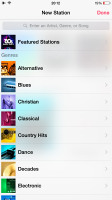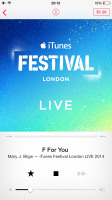 Apple's music player with iTunes Radio
The Samsung video player natively supports next-generation h.265 video (though our samples failed to play) and most current formats (not DivX or multi-channel audio though). There's excellent subtitle support too, the only thing missing is wired TV out, you have to use Wi-Fi based screen mirroring, which suffers from compatibility issues.
Sony's multimedia package is rounded off by the Movies app. It has HDTV-like functionality in that it automatically finds information on movie files stored on your device. Unfortunately that doesn't work with TV show episodes and subtitle options are more limited. There is MHL 2.0 support for HDMI-out with an adapter though. And if you watch on the phone, the front-facing speakers do a good job at directing the movie's audio towards your ears.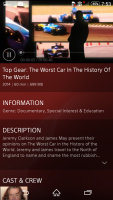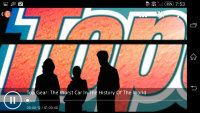 Sony takes the home theater route
Apple solves the format compatibility headaches by having you transcode all videos via iTunes. Or you can just buy a video from the iTunes store. TV out is there but the Lightning-to-HDMI adapters are pricier than MHL adapters and there's no subtitle support.
Winner: Sony Xperia Z3 Compact. Stereo speakers, noise-cancellation support, a cheap wired TV-out option, FM radio, excellent preloaded multimedia apps all add up to a victory for the Sony mini-flagship.
Runner-up: Samsung Galaxy Alpha. Samsung loaded each app with tons of features but somehow forgot about MHL. AdaptSound feature does wonders in making the most put of your headphones.
Third place: Apple iPhone 6. The new Photos app is great but we can still see the property limits of Apple's walled garden. The audio and video players are a bit light on features too.
Loudspeaker
All three phones scored an Average on our loudspeaker test but they are not equals, not exactly anyway. The Sony Xperia Z3 Compact has two speakers on its front so they project sound outwards when you lay it on a table. Both the Apple iPhone 6 and the Samsung Galaxy Alpha have a single speaker on their bottom, which makes the sound more directional.
| | | | | |
| --- | --- | --- | --- | --- |
| Speakerphone test | Voice, dB | Pink noise/ Music, dB | Ringing phone, dB | Overall score |
| Sony Xperia Z3 Compact | 65.9 | 62.1 | 73.5 | Average |
| Samsung Galaxy Alpha | 66.6 | 61.7 | 75.7 | Average |
| Apple iPhone 6 | 66.6 | 65.7 | 72.8 | Average |
Winner: Three-way tie. We already gave the Sony Xperia Z3 Compact props for a good sound experience in the music and video player in the previous chapter but as far as notification duties go, none of the phones deserves a win with Average results.
Audio output seems equally good on all three
Before we start with this one, we need to get something out of the way. All three contestants are excellent performers as far as their audio output is concerned and unless you are a proper audiophile and have a library full of high-bitrate audio tracks, you won't find much difference.
In the first part of our we hook up each smartphone to an active external amplifier and let them show their best possible output. The Galaxy Alpha posted the best scores here with no leak points to its performance whatsoever.
The iPhone 6 was doing great up until it came to the stereo crosstalk test where it produced only an average score. That left it behind the Sony Xperia Z3 Compact, which has slightly lower (but still excellent results) elsewhere, but no gaps to its performance. In terms of loudness the Galaxy Alpha and the iPhone 6 were inseparable, while the Xperia Z3 Compact was a notch behind.
Next we repeated the test with our standard pair of headphones. This time the Apple iPhone 6 and the Galaxy Alpha were almost identical in their performance, while the Xperia Z3 Compact had higher stereo crosstalk than either of them. And volume levels told the very same story, adding up to the following overall results.
| | | | | | | |
| --- | --- | --- | --- | --- | --- | --- |
| Test | Frequency response | Noise level | Dynamic range | THD | IMD + Noise | Stereo crosstalk |
| Apple iPhone 6 | +0.06, -0.02 | -94.0 | 93.9 | 0.0012 | 0.0065 | -73.4 |
| Apple iPhone 6 (headphones attached) | +0.11, -0.06 | -93.8 | 93.8 | 0.0022 | 0.099 | -65.1 |
| Samsung Galaxy Alpha | +0.01, -0.04 | -96.6 | 92.8 | 0.0058 | 0.0091 | -97.1 |
| Samsung Galaxy Alpha (headphones attached) | +0.04, -0.01 | -95.7 | 92.7 | 0.013 | 0.033 | -65.6 |
| Sony Xperia Z3 Compact | +0.02, -0.08 | -85.2 | 85.2 | 0.013 | 0.022 | -85.3 |
| Sony Xperia Z3 Compact (headphones attached) | +0.10, -0.01 | -85.4 | 85.4 | 0.020 | 0.045 | -45.1 |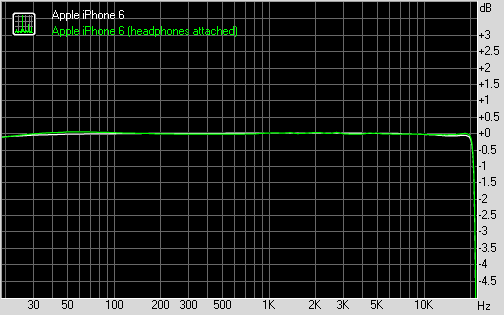 Apple iPhone 6 frequency response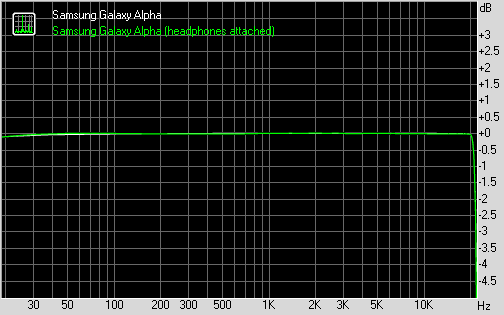 Samsung Galaxy Alpha frequency response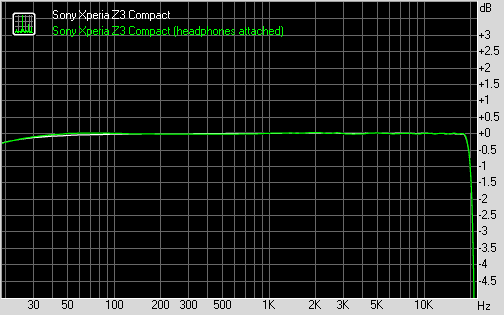 Sony Xperia Z3 Compact frequency response
You can learn more about the tested parameters and the whole testing process here.
Winner: Samsung Galaxy Alpha. Cleanest output and joint highest volume levels clinch this one for the Samsung handset.
Runner-up: Apple iPhone 6. While no longer the best around, the iPhone 6 is still an excellent audio performer and good enough for the second place here. It was as loud as the Galaxy Alpha, but its stereo quality let it down slightly.
Third place: Sony Xperia Z3 Compact. An excellent performer on its own, the Sony Xperia Z3 Compact came just short of its competitors here - its scores were a tad lower and so was its volume level, meaning it has to settle for the bronze medal.