Three kings
iPhone 6 vs. Galaxy Alpha vs. Xperia Z3 Compact: Three kings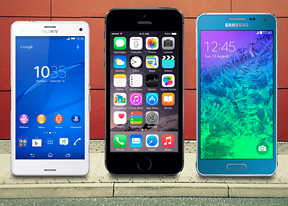 Camera features
Sony is the long time camera maker, Samsung has its own camera division as well. Apple's foray into digital cameras was long ago, enough to be forgotten, but the iPhone become the most popular camera model years ago.
The company has been using the same resolution - 8MP - for four years, but increased the sensor size last generation. For the 6 generation Apple included phase-detection autofocus for fast, accurate focus lock. The dual-LED flash has been reshaped (it's now round) but it still has two LED colors to mix and match in order to provide a more natural looking flash light.
Sony has stretched its camera tech too, the first 20.7MP sensor was introduced with the Xperia Z1. That's two generations ago but with Sony's fast release cycle this means only a year ago.
Samsung is using a 12MP sensor with 16:9 aspect ratio but it is yet to officially confirm that it's a homebrewed ISOCELL like the 16MP sensor of the Samsung Galaxy S5.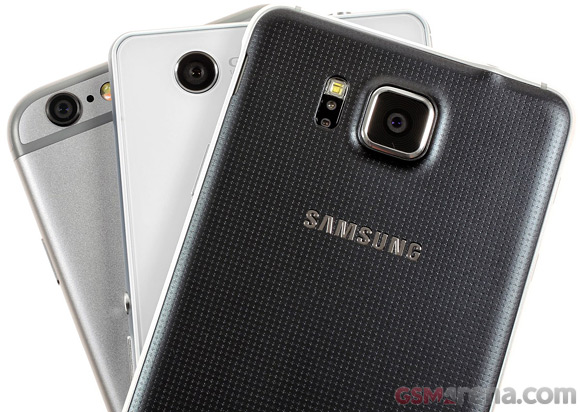 Along with the slightly improved image sensor, Apple also slightly improved the software. The company promises better digital image stabilization and higher resolution panoramas. It gives you slightly more control during shooting too, if you tap to focus you get a slider to adjust the exposure. This is in addition to the old option to lock focus and exposure.
Apple declined the invitation to the 2160p party, instead adding 1080p@60fps and 720@240fps modes. In slow-motion mode you can choose between 120fps and 240fps (both at 720p) but you need to go into settings to enable 1080p@60fps. UHD TVs are plummeting in price but Apple doesn't care. Stereo has been the standard for a century and Apple still doesn't care - we do though, mono sound is a major downside on such an expensive device.
Samsung took practically all camera modes from the Galaxy S5 and ported them to the Galaxy Alpha. The most useful modes include Dual Camera (picture-in-picture mode with front and back camera), Selective Focus (the trendy shallow depth of field effect) and Shot & more (which combines several effects in one shot).
The video department boasts 2160p@30fps as well as 1080p@60fps. High framerate modes are available at 720p resolution - 4x slow down at 120fps. An 8x mode is available too but that just halves the playback rate to 15fps instead of 30fps.
Sony is addicted to camera modes, more than even Samsung. You get Normal mode and Superior Auto, but also all sorts of other single use case options. The more interesting ones help you livestream video to Facebook or YouTube, the less useful ones (unless you give the Z3 Compact to a kid to play with) create 3D rendered dinosaurs or throw imaginary bombs into the scene, but can also add floating words in the image.
For low-light photography Sony has bravely come up with a special High ISO mode in the Z3 pair, so under special circumstances (8MP Normal mode) the ISO can go as high as 12,800 (you can't select it manually, it's only available in AutoISO mode when it's almost pitch dark).
Still camera quality
Apple and Sony are at the two extremes - barely any camera modes on the iPhone 6 and a ton of modes and sub-modes for the Xperia Z3 Compact.
The two major ones are Superior Auto (which downsamples the output of the sensor to 8MP and crops to 16:9 aspect ratio) and Normal mode (which does image processing at native 20.7MP resolution). We know from experience both modes can produce quite different results so we'll be including both. This also makes comparing the Sony with the 12MP Galaxy Alpha more fair.
Apple didn't change image processing much, the red colors still tend towards orange. White balance is good, but with a slight warm tinge. The iPhone 6 tends to expose for to the shadows so sunlit areas sometimes end up too bright or even overexposed.
The Samsung Galaxy Alpha doesn't have issues with the red channel but colors overall are oversaturated. White balance is the most accurate of the three. When viewing the image from up close, the signs of postprocessing are easy to spot. The camera underexposes shadows but still doesn't completely protect highlights from blowing out.
The Sony Xperia Z3 Compact ends up with a cool white balance and colors are fairly accurate but actually a bit undersaturated. The camera overexposes images slightly but less than the iPhone does.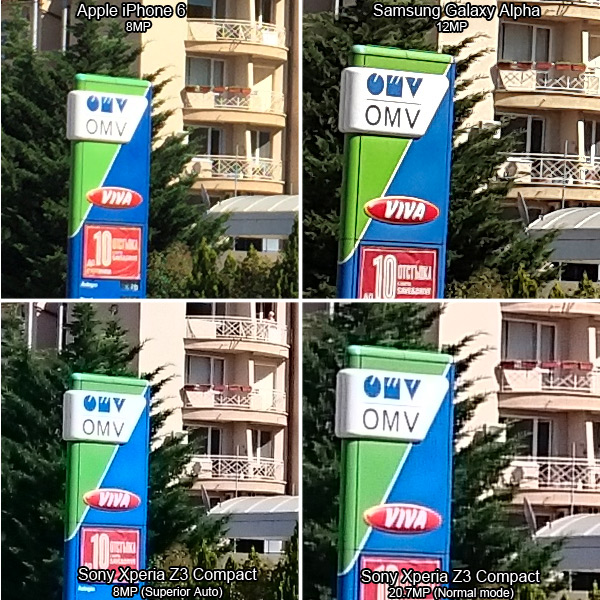 In terms of image quality the Samsung Galaxy Alpha comes out on top. Yes, Samsung turned up the sharpening dial quite high but the result is crisp text and good-looking foliage.
The Apple iPhone 6 image looks softer (but also less processed). Still, the lower resolution sensor misses out on detail captured by its competitors. Also in areas of lower contrast, the fine detail starts to blend together.
The 8MP Superior Auto photos from the Sony Xperia Z3 Compact have an edge over the iPhone in high-contrast areas but complicated detail like foliage doesn't look as good. The full resolution 20.7MP shots from Normal mode have more detail than the iPhone but it doesn't pop as much as on the Galaxy Alpha. And it's not for lack of sharpening either, you can clearly see oversharpening halos around darker areas of the Z3 Compact's image (they are more visible than in Samsung's photos).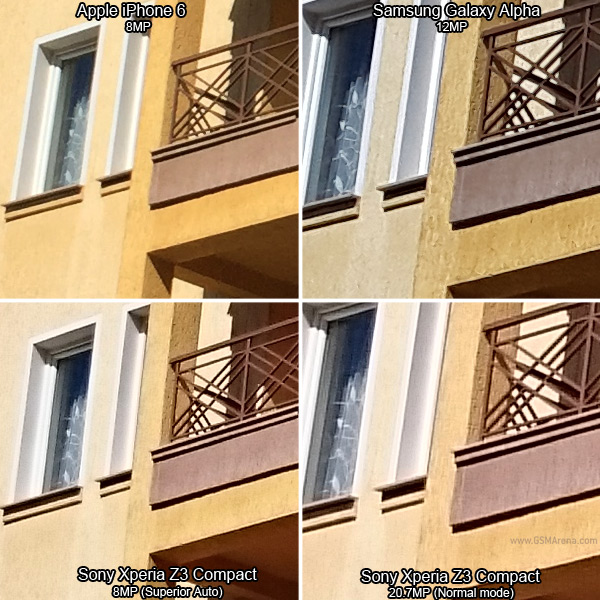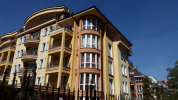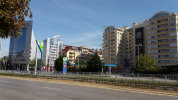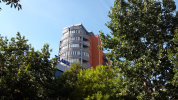 Samsung Galaxy Alpha camera samples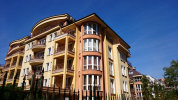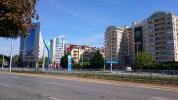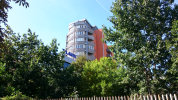 Sony Xperia Z3 Compact: Superior Auto and Normal mode samples
Winner: Samsung Galaxy Alpha. It brought the most detail out of our test scenes and offered an accurate white balance. Colors are on the saturated side and pixel peepers will spot processing artifacts but in general Galaxy Alpha photos are very good.
Runner-up: Sony Xperia Z3 Compact. The resolution advantage of Normal mode was not used to the fullest but it's a nice option to have. The 8MP Superior Auto shots will probably be used more often and despite some color issues they look slightly better than iPhone 6 photos.
Third place: Apple iPhone 6. The iPhone 6 camera is showing its age - detail is good for an 8MP shooter but the 8MP sensor is overstretching to match what the higher resolution sensors offer. Also the color rendering could use some work.