Many were expecting China to be one of the initial launch countries for the new iPhone 6 and iPhone 6 Plus, but that didn't happen. Following the announcement of the devices, there was much speculation as to why Apple didn't receive timely certification from the Chinese authorities for the new phones.
And though we might never know what took so long, the Cupertino company did finally get all the thumbs-up it needed in China, in order for its new products to go on sale. After the last certification was passed in late September, we learned that the official release date for the iPhone 6 in China would be today.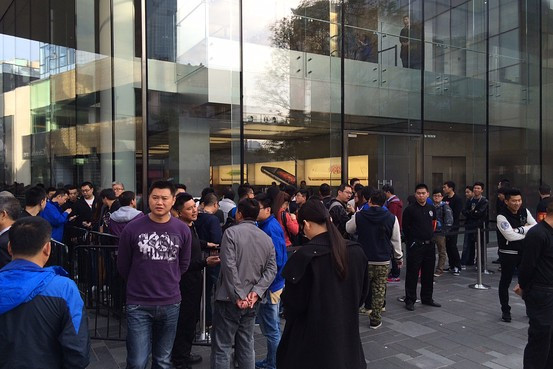 Since there were apparently 20 million pre-orders logged for the iPhone 6 and iPhone 6 Plus, you might have expected thousands of people lining up in the streets in front of Apple stores over there. But you'd be wrong, since the launch was mostly low-key - at least compared to past Apple releases in the country.
At the Beijing Apple store, only around 100 people waited in line this morning prior to its 8 am opening time. These were all customers who had pre-ordered the devices. The reason for the small queue has to do with the fact that the handsets have been available at carrier stores and in other places since midnight.
This calm and peaceful launch contrasts with what happened, for example, at the same Beijing venue in May 2011, when the white iPhone 4 got released. Then a fight between customers and employees broke out. And in January 2012, on the first day of iPhone 4S sales, a delay in the Apple store's opening led to something of a riot.
?
Seriously, in GSMArena, reading different comments of iphone fans and android fans arguing around each other are much more interesting and fun than the actual news. LOL Anyway my 2 cents, I've been using an android phone and an ipad mini for ...
t
there are many cheap but high spec substitutes on the market and some have very cool designs indeed. moreover androids are at least not inferior as they were before on performance.
K
20 million pre-orders says nah
ADVERTISEMENTS