The tri-platform throwdown
iPhone 6s Plus vs. Lumia 950 XL vs. Galaxy Note5 vs: The tri-platform throwdown
Introduction
Google's Android dominates the market in sheer numbers while Apple's iOS fights in the premium market and is winning the profit margin game. And then there's Microsoft's Windows 10 Mobile, trying to find its place under the sun. We've handpicked the best phablets from each of these platforms to put them head to head, focusing on the devices rather than the platforms they represent.
There will be several rounds, each focusing on a certain specific aspect - the screen, the battery life, performance, audio and the camera.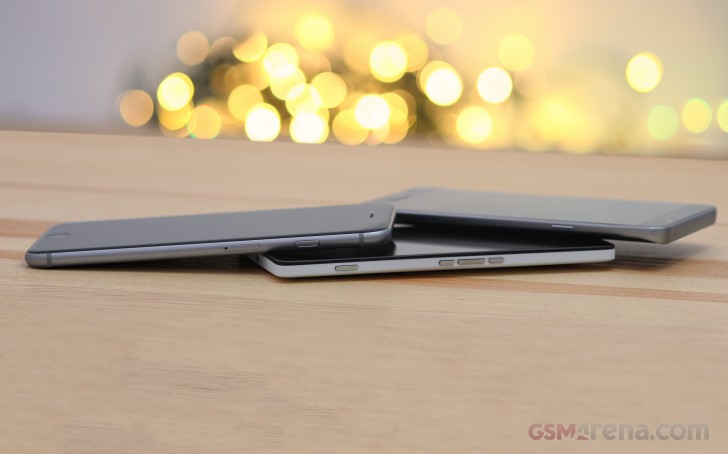 The Apple iPhone has defined the must-have smartphone experience for years, even when Androids win on features. If anything, the iPhone 6s Plus is more like an Android than ever before with a focus on higher numbers (12MP camera with 2160p video) and some advanced UI tricks (3D Touch).
Apple iPhone 6s Plus
All-metal unibody
3D touch
Fingerprint reader
Bespoke chipset with great performance
Finely tuned 12MP/2160p camera with OIS

Expensive (especially if you want storage)
Smaller, lower resolution screen (5.5" 1080p)
Thick bezels
No wireless charging
Mono audio recording in videos
No dual-SIM option
No RAW or manual shooting
The Microsoft Lumia 950 XL is the latest in the legendary PureView camera line with its hybrid sensor (4:3 and 16:9), ZEISS lens and full manual controls. Very much a Windows phone, the Lumia 950 XL promises access to Continuum for a desktop-like experience on a bigger screen and a unified app store.
Microsoft Lumia 950 XL
Continuum (desktop-like interface)
Iris scanner
20MP camera with ZEISS lens, tri-LED flash
Removable battery
microSD card slot
Excellent loudspeaker
Dual-SIM option

Limited app selection
No fingerprint reader
No mobile payment solution
Polycarbonate body doesn't feel premium
Battery life is not great (especially for dual-SIM)
The Samsung Galaxy Note5 is the latest device in one of the best-selling Android lineups, but many feel it was a step back from the power-user inclination the series was known for. You've heard it all before - sealed battery, no microSD slot, also this one took its sweet time coming to Europe.
Still, the Samsung-made screen and chipset are bleeding edge and as with all Galaxy flagships, the Note5 has more features per cubic centimeter than anything else out there.
Samsung Galaxy Note5
Metal and glass body
Fingerprint reader
Fast wireless charging
16MP camera with OIS
Heart rate and blood-oxygen sensors
Dual-SIM option

Not widely available in Europe for now
No TV out
Single-LED flash, protruding camera
S Pen slot design easy to damage
D
Well, I think the Lumia 950XL is a great phone. I love Continuum and think the screen and camera are fantastic. A couple of years ago, I went to all-Windows from all-Apple. But I'm going back to Apple (only for phone) to the iPhone 6S Plus (not...
O
These 3 phones represent the top of its respective platforms in terms of large screen products. I think the decisions, first and foremost, should first be decided by the platform itself. The software and ecosystem are the biggest differentiating...
?
I have both Sony Xperia Z3 Compact and Microsoft Lumia 950, and I must to say at Lumia has better image quality.