The tri-platform throwdown
iPhone 6s Plus vs. Lumia 950 XL vs. Galaxy Note5 vs: The tri-platform throwdown
Display
AMOLED screens are enjoying quite a popularity in the high end, but Apple is still sticking to LCDs. And why not, it has some of the best in the business. The Cupertino company is conservative with size and resolution, though, trailing the competition a couple of years in that regard.
The Lumia flagship line stagnated for a long while, but Microsoft has finally caught up, in both hardware features and size. The Lumia 950 XL has a 5.7"AMOLED display with QHD resolution matching the Galaxy Note5.
The iPhone 6s Plus has a smaller, 5.5-inch display, and due to its lower resolution - 1080p - it is behind on sharpness - 401ppi vs. 518ppi. The straightforward RGB matrix handles lower densities better, though, and the practical difference isn't huge.
The display is very bright, reaching nearly 600nits and the contrast is high at 1380:1. The black levels aren't perfect, but they are certainly commendable for an LCD.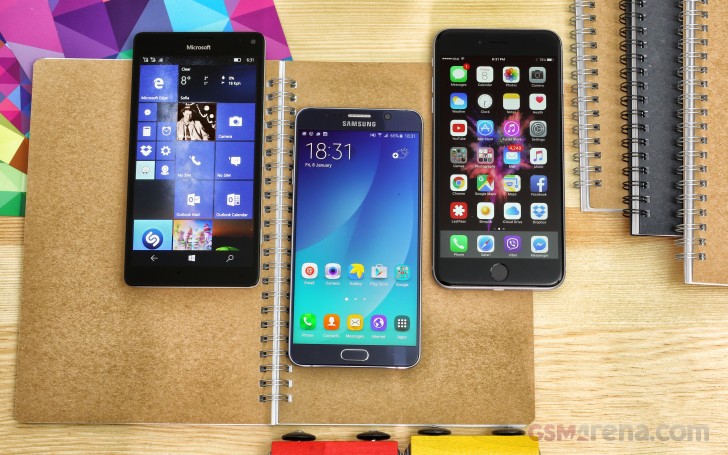 Still, if you want perfectly dark black pixels and amazing contrast you need an AMOLED display. The screens on both the Note5 and 950 XL are very bright compared to other phones, but the maximum power is not directly available to users.
The Samsung Galaxy Note5 lets you do as high as 440nits on manual, but if you leave it on Auto it can go up to 620nits in particularly bright environment. The Microsoft Lumia 950 XL is much more conservative on manual and goes up to 335nits. In Auto mode however, it tops the Note5 though, going over 700nits.
The Auto mode is designed to prolong the life of the OLED and will never run it at full blast for too long. This easily explains the cap in manual mode, but there's also the consideration of battery life - you don't need 600-700nits most of the time.
Display test
50% brightness
100% brightness
Black, cd/m2
White, cd/m2
Contrast ratio
Black, cd/m2
White, cd/m2
Contrast ratio
Apple iPhone 6s Plus
0.10
150
1563
0.43
590
1382
Samsung Galaxy Note5
0.00
183
∞
-
439
∞
Microsoft Lumia 950 XL
0.00
115
∞
0.00
335
∞
Samsung Galaxy Note5 (max auto)
-
-
-
-
620
-
Microsoft Lumia 950 XL (max auto)
-
-
-
0.00
705
∞
Sunlight legibility is a balance between the screen's brightness and the reflectivity of its glass. The Lumia 950 XL features the ClearBlack tech from the Nokia days - a polarization filter that is supposed to reduce reflections and glare.
Even with its lower max brightness output on manual (and we test on manual since Auto can be unpredictable), the Lumia scored almost as high as the Galaxy Note5. With both phones set to Auto brightness, you'll never have to squint at your display.
The Apple iPhone 6s Plus managed an excellent score too though it had to lean on its higher brightness here. Typically OLEDs have an advantage on this test, but we've seen LCDs on iPhones go higher (3.838 for the iPhone 6).
Sunlight contrast ratio
Samsung Galaxy S6 edge+
4.615
HTC One A9
4.274
Samsung Galaxy S6 edge
4.124
Samsung Galaxy Note5
4.09
Huawei Nexus 6P
4.019
OnePlus X
3.983
Oppo R7s
3.964
Samsung Galaxy J7 outdoor
3.879
Samsung Galaxy J2 outdoor
3.873
Samsung Galaxy A8
3.859
Apple iPhone 6
3.838
Microsoft Lumia 950 XL
3.837
Motorola Moto X (2014)
3.816
Apple iPhone 6s
3.783
Meizu Pro 5
3.781
Vivo X5Pro
3.706
BlackBerry Priv
3.645
Apple iPhone 6s Plus
3.53
Microsoft Lumia 950
3.512
Oppo R7 Plus
3.499
Samsung Galaxy J7
3.422
Meizu MX5
3.416
Oppo R7
3.32
Samsung Galaxy J2
3.235
Motorola Moto X Play
3.222
Lenovo Vibe Shot
3.113
LG Nexus 5X
3.092
Huawei Mate S
3.073
Microsoft Lumia 640 XL
3.065
Apple iPhone 6 Plus
3.023
Samsung Galaxy Note
2.97
HTC One S
2.901
Sony Xperia Z5
2.876
Microsoft Lumia 550
2.851
Sony Xperia Z5 compact
2.784
LG V10
2.744
Sony Xperia M5
2.69
Xiaomi Mi 4i
2.641
Xiaomi Mi 4c
2.574
Microsoft Lumia 640
2.563
Motorola Moto G 4G
2.546
Sony Xperia Z5 Premium
2.525
Sony Xperia M4 Aqua
2.503
Motorola Moto G
2.477
Huawei G8
2.471
Sony Xperia Z
2.462
Xiaomi Mi 4
2.424
Huawei Honor 7
2.406
ZUK Z1 by Lenovo
2.382
HTC One E9+
2.305
Sony Xperia C5 Ultra
2.253
Xiaomi Redmi Note 3
2.249
Sony Xperia C4 Dual
2.235
Motorola Moto G (2014)
2.233
LG Nexus 5
2.228
Huawei P8
2.196
Xiaomi Redmi Note 2
2.166
OnePlus Two
2.165
HTC One X
2.158
Archos 50 Diamond
2.134
Xiaomi Redmi Note
2.119
Huawei P8lite
2.078
Moto G 3rd gen max manual
2.026
Sony Xperia E4g
1.972
OnePlus One
1.961
BlackBerry Leap
1.892
Meizu m2 note
1.892
HTC Butterfly
1.873
ZTE Nubia Z9 mini
1.759
Sony Xperia U
1.758
Asus Zenfone Selfie
1.68
Motorola Moto E (2nd Gen)
1.675
ZTE Nubia Z9
1.659
Motorola Moto E
1.545
Sony Xperia M
1.473
Xiaomi Redmi 2
1.311
Sony Xperia C
1.283
Meizu MX
1.221
AMOLED has come out as the leader of accurate colors, quite the turnaround from its usual reputation. The Samsung's Super AMOLED display is the current leader in color accuracy.
With an average deviation in color reproduction (deltaE) of 1.1 in Basic color mode, the Galaxy Note5 has perhaps the most accurate color output we've seen yet. Even the maximum deviation is very low at just 2.2. Note that this is with the Basic screen mode. The Photo mode produces a punchier image (we like it for its higher contrast), but increases the average deltaE to 4.8.
The Microsoft Lumia 950 XL isn't doing too shabby in this respect either. It's almost equally good as it has an average deviation (deltaE) of only 1.6 and a maximum deviation of 2.9. Keep in mind that anything under 3 is considered properly calibrated output so these two are stellar. The Color settings on the Lumia lets you tweak the color output to a subjectively punchier look as well.
Then there's the Apple iPhone 6s Plus, which has some room for improvement with an average deltaE of 4.1. It's better than the LG V10 we tested last week and the AMOLED-packing Nexus 6P did even worse, so it's certainly among the better performers out there, but it's color output is not calibration grade.
| | | | |
| --- | --- | --- | --- |
| | Apple iPhone 6s Plus | Microsoft Lumia 950 XL | Samsung Galaxy Note5 |
| Average deltaE | 4.1 | 1.6 | 1.1 |
| Maximum deltaE | 7.4 | 2.9 | 2.2 |
Both the Lumia 950 XL and Galaxy Note5 are protected by Gorilla Glass 4 while Apple dropped the Corning product for Ion-strengthened glass. It should be more resistant to scratches, but more prone to shattering.
The Big New Thing with the 6s generation is 3D Touch. It extends the usual touch detection with pressure sensitivity, allowing iOS to distinguish between light and strong presses. This feature si used for executing gestures in the UI (called Force Touch), which reveal contextual options from app shortcuts or calendar appointments or can be used for precise cursor adjustment or for previewing links in various apps. We find the usability and general usefulness of 3D Touch is questionable and feels more like a beta feature at this stage.
The Samsung Galaxy Note5 has pressure sensitivity too, but that only works with the S Pen stylus. The pressure sensitivity works amazingly for sketching drawings or handwriting on the screen. Even content preview effects similar to the iPhone's are possible by hovering the stylus. The technology is mature enough and it's been regarded as an industry standard.
The Microsoft Lumia 950 XL doesn't do anything tricky with its display or its touch layer.
Winner: Samsung Galaxy Note5. A very bright display with perfect color calibration. The manual mode gives you a wide range of brightness, but Auto extends that further. The second digitizer adds advanced functionality.
Runner-up: Microsoft Lumia 950 XL. Excellent color calibration matched with a very high Auto brightness. The manual mode is more conservative than the Note5's, but even then, the sunlight legibility is great.
Third place: Apple iPhone 6s Plus. Very bright display, but with no "turbo boost" from Auto mode like the other two. Color calibration can use more work. The 3D Touch feature still feels like a beta feature at this point in time.