The tri-platform throwdown
iPhone 6s Plus vs. Lumia 950 XL vs. Galaxy Note5 vs: The tri-platform throwdown
Battery life
Vanity among smartphone makers leads to thinner handsets at the cost of battery life. Rarely have we see an 8-9mm phone or a maker that pulls off a miracle and creates a thin phone with a high capacity battery.
This generation of iPhone 6s Plus had its battery capacity shrunk even further from 2,915mAh to 2,750mAh - and that came without the benefit of thickness.
The Samsung Galaxy Note5, on the contrary, has got a modest bump in battery capacity and now goes up to 3,000mAh in total.
The Microsoft Lumia 950 XL has a 3,340mAh, but also has the thicker profile among the three.
The Apple iPhone 6s Plus may have the smallest battery, but it has arguably the best mobile chipset on the market (a bespoke chip by Apple's internal team). This way the Apple phablet is able to match the Galaxy Note5 in Endurance rating and even outlasts it when browsing the web or watching a video. The talk time isn't great, but we don't see it becoming an issue.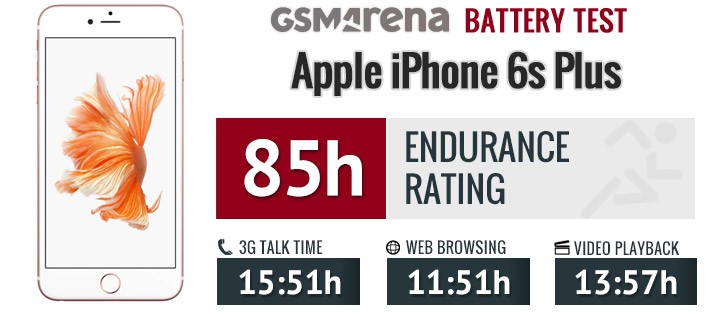 The Microsoft Lumia 950 XL has the highest battery capacity, but the standby power draw of the Snapdragon 810 chipset is too high. This only gets worse if you have the dual-SIM model with both slots occupied.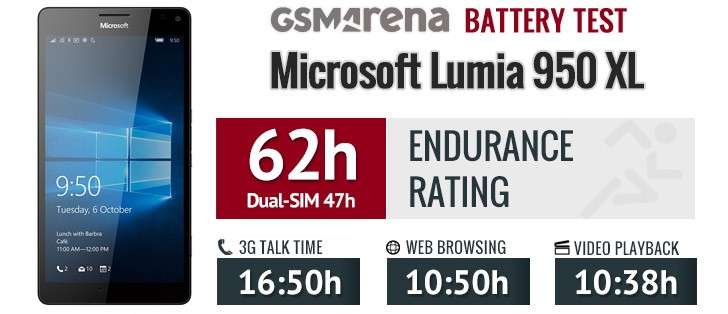 The Samsung Galaxy Note5 aced the talk time test and had a strong showing on the other two.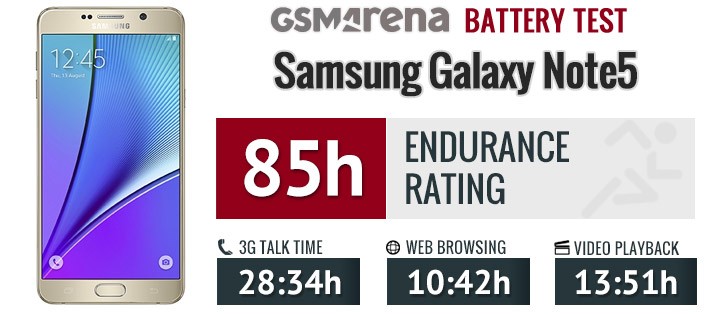 For filling up the battery, the Apple iPhone 6s Plus comes with a less powerful 5W charger, but it will make good use of a more powerful iPad charger if you have one around.
The Microsoft Lumia 950 XL is packaged with a faster 15W charger. The Samsung Galaxy Note5 has its own 15W charger though the standards differ (5V/3A for the Lumia, 9V/1.67A for the Galaxy). Both of them support wireless charging (omitted from the Lumia in some regions).
The Galaxy Note5 is the first with fast wireless charging, though - it's almost as fast as the wired charging (1h for a full charge with a cable, and 1h 20m - when on a wireless charger). Also, it supports two standards - Qi and PMA - while the Lumia supports only Qi.
Winner: Samsung Galaxy Note5. While the Endurance race against the iPhone may be called a draw, topping up the battery of the Note5 is just so much faster. Even wireless charging is faster than Apple's anemic charger.
Runner-up: Apple iPhone 6s Plus. It goes to show that you can achieve great battery life by using a combination of a custom chip and a custom OS even without a large battery.
Third place: Microsoft Lumia 950 XL. Heavy users may not feel much of a difference in battery life, but more sparing use won't tangibly increase the time between charges. The power wasted on standby adds up pretty quickly. Fortunately, it's only one among the three that has a removable battery so you could potentially carry a spare.
Loudspeaker
All three phones have just the one loudspeaker. That didn't stop the Microsoft Lumia 950 XL from achieving an Excellent score with great performance across the board and an exceptionally good one with a loud ringtone.
The Samsung Galaxy Note5 managed an Average rating in this test with a bright spot in the ringtone department, but for music or for use as a hands-free it's no stronger than the iPhone 6s Plus, which only scored a Below Average mark.
| | | | | |
| --- | --- | --- | --- | --- |
| Speakerphone test | Voice, dB | Pink noise/ Music, dB | Ringing phone, dB | Overall score |
| Apple iPhone 6s Plus | 65.8 | 65.1 | 64.6 | Below Average |
| Samsung Galaxy Note5 | 65.3 | 64.6 | 73.5 | Average |
| Microsoft Lumia 950 XL | 74.9 | 75.7 | 84.3 | Excellent |
Winner: Microsoft Lumia 950 XL. Even the weakest numbers from this speaker top the other two. It's so loud that we can almost forgive the lack of a second speaker.
Runner-up: Samsung Galaxy Note5. Just barely, though. If you look at the table, you'll notice mostly the same performance as the iPhone.
Third place: Apple iPhone 6s Plus. At least, with the Note5 you can pick a loud ringtone. Even a loud tune doesn't do much to help the iPhone 6s Plus's case.
Audio quality
When it comes to audio output quality, we saw three great performances in the first part of our audio test. The Galaxy Note5 and Lumia 950XL p[ractically aced all aspects, while the iPhone 6s Plus only slightly faltered in stereo crosstalk. The higher volume gives the Microsoft smartphone the win here while the other two being tied in that aspect lets the Samsung phablet grab the silver medal.
Plugging in a pair of headphones caused the most damage to the Microsoft Lumia 950XL output, equaling its volume with the other two and adding some distortion and what turned out to be the biggest stereo crosstalk. The iPhone 6s Plus was affected to a lesser extent while the Galaxy Note5 output remained virtually unchanged. With the Microsoft flagship sinking to the bottom in this important test, it's gold for Samsung and runner-up for Apple.
Here go the results so you can do your own comparisons.
| | | | | | | |
| --- | --- | --- | --- | --- | --- | --- |
| Test | Frequency response | Noise level | Dynamic range | THD | IMD + Noise | Stereo crosstalk |
| Apple iPhone 6s Plus | +0.05, -0.02 | -93.4 | 93.4 | 0.0018 | 0.0069 | -71.1 |
| Apple iPhone 6s Plus (headphones attached) | +0.15, -0.11 | -90.2 | 92.8 | 0.0031 | 0.139 | -59.9 |
| Nokia Lumia 950 XL | +0.01, -0.08 | -91.6 | 91.7 | 0.0035 | 0.012 | -89.3 |
| Nokia Lumia 950 XL (headphones attached) | +0.48, -0.07 | -90.4 | 91.5 | 0.011 | 0.293 | -55.6 |
| Samsung Galaxy Note5 | +0.04, -0.01 | -93.6 | 93.5 | 0.0024 | 0.0076 | -94.7 |
| Samsung Galaxy Note5 (headphones attached) | +0.02, -0.05 | -93.1 | 93.2 | 0.0023 | 0.030 | -84.1 |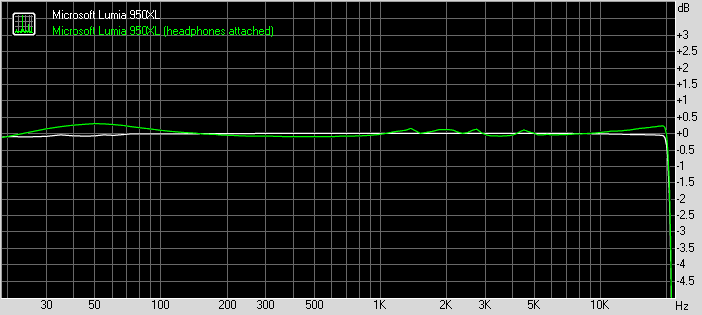 Microsoft Lumia 950 XL frequency response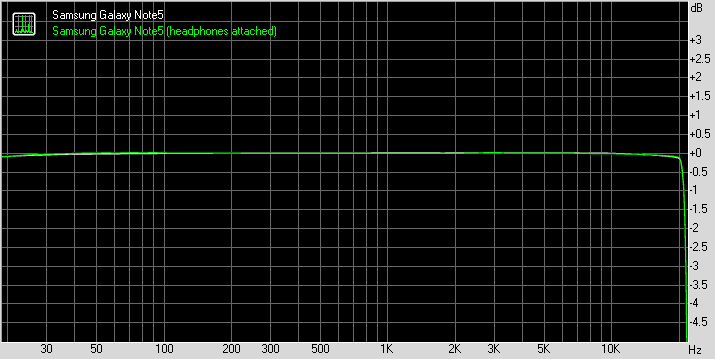 Samsung Galaxy Note5 frequency response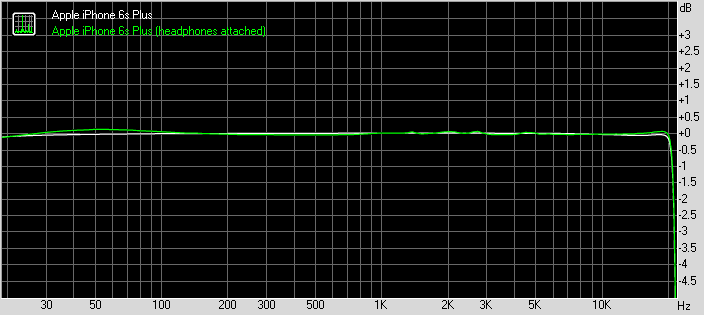 Apple iPhone 6s Plus frequency response
You can learn more about the tested parameters and the whole testing process here.
Winner: Samsung Galaxy Note5. Second best on account of its slightly lower volume in the first test and first on the more important headphones-in test. It was a tough battle but the Samsung phablet edged it out.
Runner-up: Apple iPhone 6s Plus. Third in this comparison, but still excellent with an external amplifier and second with headphones. We give it the nod over the Lumia 950XL here, but feel free to consider this reversed if you use your phone to power your car/home audio system more often than using it with headphones.
Third place: Microsoft Lumia 950XL. A flying start, but it couldn't handle headphones as well as the other two. Still an excellent performer overall, though.