Double positive
Apple iPhone 6s Plus vs. Samsung Galaxy S6 edge+: Double positive
Introduction
3D Touch or curved Edge screen? Metal or glass? LCD or AMOLED? iOS or Android? Speed and silky-smooth response or heavy-duty multitasking? These are the questions and no one's got better answers than you. And if the answers consistently put you on this or that side of the line, you know all there is to know.
Yet, Apple or Samsung? Having looked at each in depth, we know for sure that the side-by-side comparison will be even more exciting. No lengthy introductions needed, get ready for the spectacle.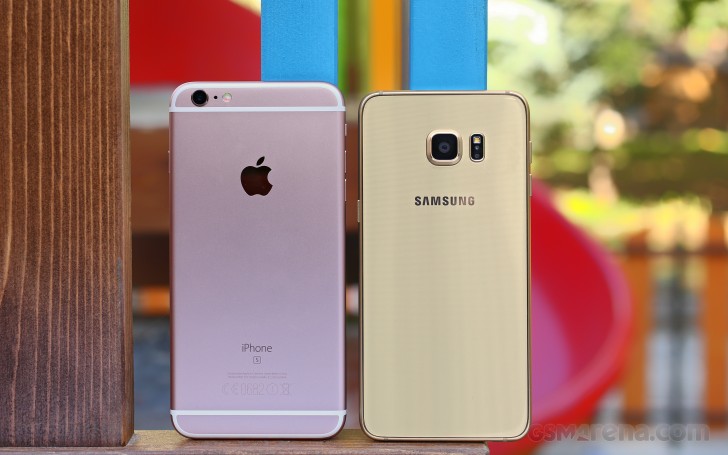 Even though it looks exactly like the one from last year, the Apple iPhone 6s Plus is a massive upgrade on the inside. It's powered by a blazing fast A9 chip and delivers a long overdue camera upgrade on both sides. The pressure-aware display tech, faster Touch ID, and a tougher aluminum chassis complete their season's tally.
Samsung on the other hand, had a 6-month old device that wasn't in desperate need of an upgrade. That's what you'd think though while Samsung knew a phablet was due in time for Apple's big release this year.
The new S6 edge+ just got a bigger screen compared to the S6 edge - 5.7 inches of curved Quad HD AMOLED, and kept the hardware package intact: an Exynos 7420 powerhouse, a great 16MP camera, a plethora of sensors and superb design.
Apple iPhone 6s Plus over Galaxy S6 edge+:
More powerful GPU
Pressure-aware 3D Touch display
Live Photos functionality
Higher resolution slo-mo video: 1080p@120fps
128GB version
Faster fingerprint sensor
Dual-LED flash vs. single LED
Samsung Galaxy S6 edge+ over Apple iPhone 6s Plus:
Bigger, sharper and curved display - 5.7" QHD vs. 5.5" 1080p
Higher resolution still camera - 16MP vs. 12MP
Stereo sound in video recording
General-purpose NFC connectivity
Heart rate and oxygen saturation sensors
Slightly higher battery capacity
Wireless charging support
Faster LTE category
Optional dual-SIM
USB Host support
So, Samsung or Apple? In the coming pages, this big question will be stripped of all intangible forces at play such as brand loyalty and investment in the ecosystem - and will boil down to the physical experience and aesthetic perception of metal, glass, screen and camera resolution, interface and design.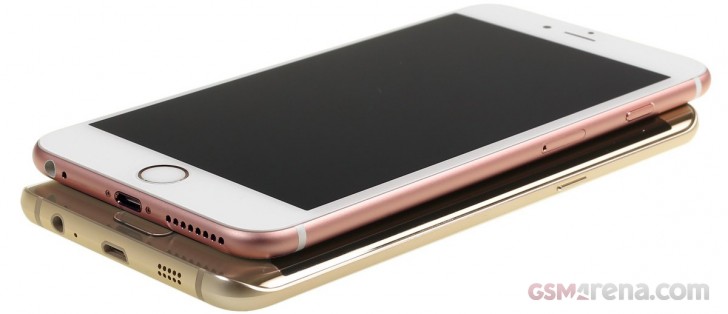 We have a couple of fine phablets fully prepared for action. Two of the finest smartphones and cameraphones one can get if price is of no object. Let's get to it, shall we?
E
Yeah Samsung s6+ is more powerful u can't compare with I phone 6 Samsung all the way
?
samsung is the best company