Different kinds of flagship display
Both of them 5.5 inches in diagonal, the displays on the Apple iPhone 7 Plus and Google Pixel XL couldn't be any more different.
The iPhone 7 Plus sports a FullHD IPS LCD panel, perhaps for the last generation before a rumored transition to AMOLED. That means a 401ppi pixel density and a standard arrangement of equal number of red, green and blue subpixels per pixel.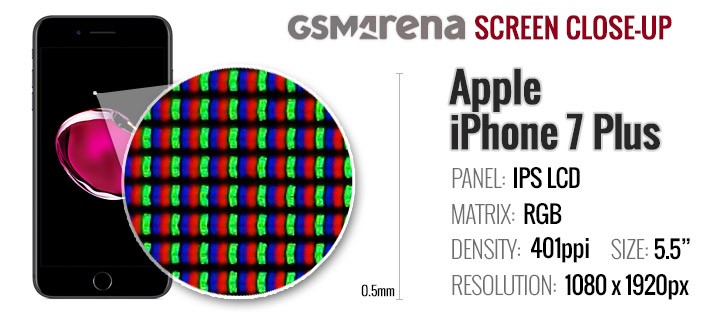 The Pixel XL, on the other hand, like many a Nexus before it, relies on an AMOLED display. The Android realm requires big-name flagships to sport QHD resolution and the Pixel XL complies, making for a 534ppi pixel density, though with the caveat that it uses a diamond pixel arrangement, with half as many (though larger) red and blue subpixels as green ones.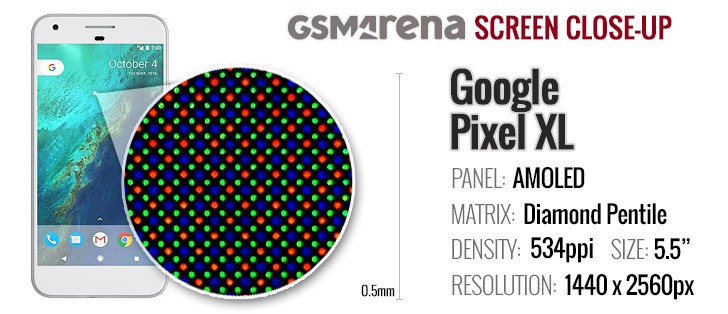 In terms of brightness, the iPhone 7 Plus can go much higher than the XL in manual mode, and even more so in Auto. There's no beating the Pixel XL's infinite contrast, but the iPhone does a really great job for an LCD panel. Apple's phablet can also be as dim as 2.4nits, so it should be easier on your eyes in the dark, compared to the Pixel's 6.7nits.
Display test
100% brightness
Black, cd/m2
White, cd/m2
Contrast ratio
Apple iPhone 7 Plus
0.41
573
1398
Apple iPhone 7 Plus (max auto)
0.50
681
1362
Google Pixel XL
0
432
∞
As for sunlight legibility, you'd expect the Pixel to excel and it does indeed. With a sunlight contrast ratio of 4.164 it's among the best in our all-time chart, right up there with the dead Galaxy Note7. The iPhone 7 Plus isn't quite up to the same standard, though it is one of the best LCDs in this respect. That said, the smaller iPhone 7 fares markedly better under direct light.
Sunlight contrast ratio
Samsung Galaxy S6 edge+
4.615
Samsung Galaxy S7 edge
4.439
OnePlus 3
4.424
Samsung Galaxy S7
4.376
HTC One A9
4.274
Samsung Galaxy Note7
4.247
Samsung Galaxy A3
4.241
Google Pixel XL
4.164
ZTE Axon 7
4.154
Samsung Galaxy S6 edge
4.124
Samsung Galaxy Note5
4.09
Huawei Nexus 6P
4.019
OnePlus X
3.983
Vivo Xplay5 Elite
3.983
Oppo R7s
3.964
Apple iPhone 7
3.964
Huawei P9 Plus
3.956
Samsung Galaxy A7 (2016)
3.918
Samsung Galaxy C5
3.911
Samsung Galaxy C7
3.896
Samsung Galaxy A5
3.895
Samsung Galaxy J7 outdoor
3.879
Samsung Galaxy J2 outdoor
3.873
Samsung Galaxy A8
3.859
Samsung Galaxy A9 (2016)
3.817
Motorola Moto X (2014)
3.816
Samsung Galaxy J7 (2016) outdoor mode
3.802
LG V20 Max auto
3.798
Xiaomi Redmi Pro
3.798
Sony Xperia XZ
3.795
Samsung Galaxy A5 (2016)
3.789
Apple iPhone 6s
3.783
Meizu Pro 5
3.781
Microsoft Lumia 650
3.772
Samsung Galaxy J7 (2016)
3.756
Oppo F1 Plus
3.709
Vivo X5Pro
3.706
Sony Xperia X Compact
3.694
Apple iPhone SE
3.681
Samsung Galaxy A7
3.679
Meizu PRO 6
3.659
BlackBerry Priv
3.645
Apple iPhone 7 Plus
3.588
Apple iPhone 6s Plus
3.53
Samsung Galaxy J3 (2016)
3.523
Samsung Galaxy J3 (2016) outdoor mode
3.523
Acer Jade Primo
3.521
Microsoft Lumia 950
3.512
Oppo R7 Plus
3.499
nubia Z11
3.466
Samsung Galaxy J7
3.422
Meizu MX5
3.416
LG V20
3.402
Oppo R7
3.32
Xiaomi Mi 5s
3.276
Samsung Galaxy J2
3.235
Sony Xperia X Performance
3.234
Motorola Moto X Play
3.222
Huawei P9
3.195
Lenovo Vibe Shot
3.113
Motorola Moto X Force
3.105
LG Nexus 5X
3.092
Huawei Mate S
3.073
Microsoft Lumia 640 XL
3.065
Sony Xperia X
2.989
Samsung Galaxy Note
2.97
Huawei Mate 8
2.949
Xiaomi Redmi 3S
2.913
Sony Xperia XA Ultra
2.906
LG G5
2.905
HTC One S
2.901
Xiaomi Mi 5s Plus
2.884
Sony Xperia Z5
2.876
Microsoft Lumia 550
2.851
Xiaomi Redmi 3 Pro
2.803
Sony Xperia Z5 compact
2.784
LG V10
2.744
Xiaomi Redmi 3
2.735
Sony Xperia M5
2.69
Huawei P9 Lite
2.679
Vivo V3Max
2.659
Xiaomi Mi 4i
2.641
Sony Xperia XA
2.609
Xiaomi Mi 4c
2.574
LeEco Le Max 2
2.567
Microsoft Lumia 640
2.563
Lenovo Moto G4
2.544
Oppo F1
2.528
Sony Xperia Z5 Premium
2.525
Huawei Honor 7 Lite / Honor 5c
2.506
Sony Xperia M4 Aqua
2.503
Oppo F1s
2.481
Motorola Moto G
2.477
Lenovo Vibe K5 Plus
2.473
Huawei G8
2.471
Huawei nova
2.467
Sony Xperia Z
2.462
Lenovo Vibe K5
2.459
Huawei Honor 7
2.406
Sony Xperia E5
2.386
ZUK Z1 by Lenovo
2.382
HTC 10
2.378
Samsung Galaxy J5 (2016)
2.378
Huawei nova plus
2.329
HTC One E9+
2.305
Alcatel One Touch Hero
2.272
Apple iPhone 4S
2.269
Lenovo Vibe K4 Note
2.254
Sony Xperia C5 Ultra
2.253
Xiaomi Redmi Note 3 (MediaTek)
2.249
Sony Xperia C4 Dual
2.235
Xiaomi Mi Note
2.234
Motorola Moto G (2014)
2.233
LG Nexus 5
2.228
Huawei P8
2.196
Huawei Honor 6
2.169
Xiaomi Redmi Note 2
2.166
OnePlus Two
2.165
HTC One X
2.158
LG Aka
2.145
Xiaomi Redmi Note 4
2.145
Archos 50 Diamond
2.134
Xiaomi Redmi Note
2.119
Xiaomi Mi 4S
2.095
Acer Liquid X2
2.084
Huawei P8lite
2.078
Moto G 3rd gen max manual
2.026
Xiaomi Mi Max
1.996
Sony Xperia E4g
1.972
OnePlus One
1.961
Meizu m3 note
1.923
BlackBerry Leap
1.892
Meizu m2 note
1.892
HTC Butterfly
1.873
ZTE Nubia Z9 mini
1.759
Sony Xperia U
1.758
Asus Zenfone Selfie
1.68
Motorola Moto E (2nd Gen)
1.675
ZTE Nubia Z9
1.659
Jolla Jolla
1.605
Motorola Moto E
1.545
Sony Xperia M
1.473
Xiaomi Redmi 2
1.311
HTC Desire C
1.3
Sony Xperia C
1.283
Meizu MX
1.221
Sony Xperia E
1.215
Color reproduction is where the two devices differ immensely. The latest-gen iPhone is the single most accurate smartphone screen we've tested with an average DeltaE of 1.3 and a maximum DeltaE of 2.7. Compare that to the Pixel XL's average 5.4 and red way off with a DeltaE of 13. That's in the default mode, though - from developer options you can enable an sRGB mode where average DeltaE drops to 2.6, still not as good as the iPhone. Whether color accuracy is vital on a mobile display, is a different matter, it's just worth knowing that the iPhone 7 Plus is the leader in this respect.
Apple calls the display on the iPhone 7 Plus a Wide color gamut display, which is the company's way of saying it supports the DCI-P3 color space, 25% wider than the commonly adopted sRGB color space. That way the iPhone 7 and 7 Plus join the iPad Pro 9.7" and recent iMacs in supporting the DCI-P3 color space aiming for a standardized color reproduction across the entire product portfolio.
The Pixel XL doesn't bother with accuracy, but is big on VR. Launched alongside the smartphones, the Daydream View headset is the fanciest of them all - it's designed with comfort and fashion in mind, comes in a variety of colors, and even has wireless controller to go with. Not to mention it will work with multiple phones and not just the Pixels. As for Apple - it's at least a year until we see any efforts in this area, if at all.
Display winner: Pixel XL. AMOLED punch or sRGB accuracy, it's your call. Add to that the higher resolution and VR support and this one is easily in the Pixel's favor. The iPhone's unparalleled color accuracy just isn't enough.
Battery life
The iPhone 7 Plus packs in a 2,900mAh battery, the largest on an iPhone to date. Meanwhile, the Pixel XL retains the 3,450mAh capacity of the Nexus 6P, though a year later the SoC should be more efficient, and the display is now a little smaller.
The iPhone 7 Plus scored a combined endurance rating of 75 hours in our proprietary test sequence, while the Pixel XL's result is 3 hours more. The numbers in the individual tests show a few principal differences though, and depending on your usage pattern, one phone may last you substantially longer than the other.
Take voice calls for example. The Pixel XL took more than 33 hours to deplete its battery in our 3G call test - that's some 85% longer than the iPhone 7 Plus.
With the display on, the two phones take one victory each in our two tests. The iPhone 7 Plus outlasts the Pixel XL by more than 4 hours in the Wi-Fi browsing discipline, while also beating the 6s Plus by an hour and a half. The Pixel XL's 9:20h endurance isn't disappointing, strictly speaking, but the iPhone 7 Plus is simply outstanding.
Not so in video playback, where the Pixel XL will be left playing for more than 3 hours after the iPhone 7 Plus has called it quits. It's not a calss-leading result, the 11 hours, but it's more than enough, while the iPhone is somewhat underperforming in this respect.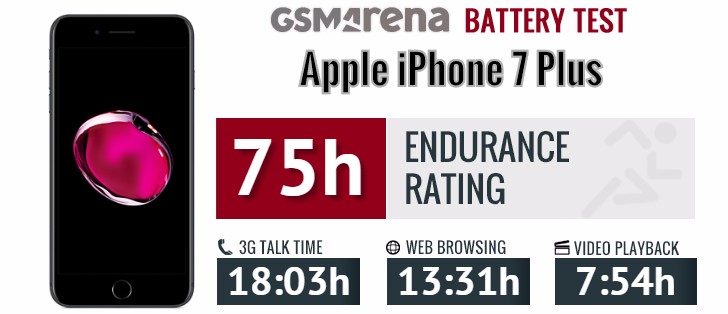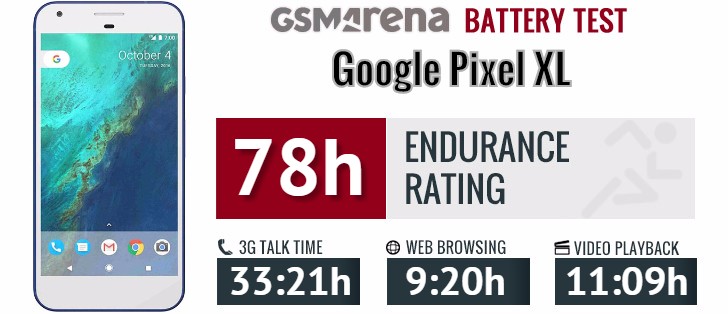 The battery testing procedure is described in detail in case you're interested in the nitty-gritties. You can also check out our complete battery test table, where you can see how all of the smartphones we've tested will compare under your own typical use.
Battery life winner: Tie. Depends on your usage patterns, obviously, but in summary the iPhone lasts longer in web browsing, while the Pixel excels at video playback and voice calls.