iPhone 7 smokes the Galaxy Note7 in this 'Battle of the Sevens' speed test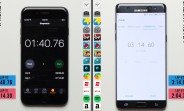 A beast of a chipset Apple has come up with for the iPhone 7. The A10 Fusion powers Apple's latest in a 'Battle of the Sevens' speed test of the usual type that the folks at PhoneBuff do.
Well, if you've been following their tests, the results of this latest VS shouldn't come as a surprise - after all, the iPhone 6S demolished the Galaxy Note7 in the same drill a few weeks ago. It's more of the same now, with the latest iPhone crossing the finish line before the Note7 had even made it through lap 1.
While at 3 minutes and 14 seconds the Note7's total time is about 24s slower than what it showed against last year's iPhone, those seconds wouldn't have made a difference. Watch the video below to see the selection of apps in the test and to find out just where the Note7 loses the race.
A more to the point comparison comes our way from youtuber SuperSaf TV - Note7 versus the iPhone 7 Plus. It's the same thing basically - he runs the apps one at a time and checks how they load back from RAM afterwards. There's no clock this time, but the iPhone 7 Plus is still visibly quicker to do cold starts, games in particular. Do try to launch the camera on the iPhone as fast as the double-press on the Note7's home button, though.
D
It's an Apple lobbyists propaganda. This is the biggest foolishness i have heard for a long time and this type of foolish keeps coming back. It's an Android Vs iOS speed test (mobile OS). You're talking about two completely different operating s...
D
Note7 is faster than iPhone7. Live with that GSMA. On app by app speed test None7 beats iPhone 7 in everything except of the games(specially optimized for iOS and just ported on Android) Check it out. That's why your favorite iBuff-Buff make se...
@
with an exploding material on it??? so advance wow galing!!!!! i would rather choose cheaper phone than high end with a BOMB threat......