iPhone 8, 7 Plus measured up against Android flagships in this speculative render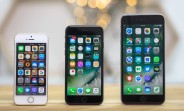 The current trend sweeping the smartphone design field is creating "bezel-less" phones. That allows makers to give consumers what they want (big screens) without going over the limit of what they can handle (literally, what they can hold in their hand).
Here's a size comparison of flagships past, present and future, compiled by @OnLeaks. Note the iPhone 8 (second from the left). It's about the size of a Google Pixel or a Huawei P10, but its screen size is unknown - the latest rumors say its screen will cover the whole front of the device.


Phone size comparison (by @OnLeaks)
This new generation iPhone is said to have an OLED screen, 5.8" in diagonal (and likely with a wider than 16:9 aspect ratio). The home button/fingerprint reader will give way to a function area. Those are the expectations anyway.
Here's the iPhone 8 from a few more angles.
d
So you hate apple/iPhones but you spend your time reading articles about them? You need a life, that's pathetic lol
?
When it will relies and what will be the Indian price
D
Since January this year. I had a Galaxy S6 prior to that. Easier to hold, but not there yet. I've had many large phones and always prefer the smaller ones, including when I put them in my pocket, they don't hurt compared to large phones which touch...