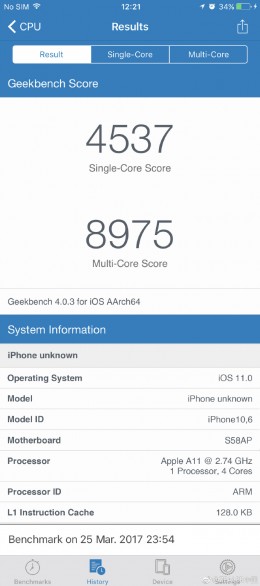 While it may arrive later than you'd want, the iPhone 8 is shaping up to be a beast when it comes to the raw performance of its chipset. Today a leaked screenshot surfaced in China purporting to depict the results obtained by the iPhone 8 after running Geekbench 4.0.
You can see that screenshot to the left, and if you're a benchmark fanatic you already know what those numbers mean: the iPhone 8 has absolutely destroyed the competition.
Let's take them one by one. Its single-core score of 4,537 is 30% better than what the iPhone 7 was able to achieve. What about the Android competition, you ask? Well, the closest any of those has come is Samsung's Galaxy S8 with 1,945 (that's not a typo). So the iPhone 8's performance is more than twice as good in this metric.
The iPhone 8's multi-core score is 8,975, which is 58% better than its predecessor's. The Android device that's scored the best here so far is the Galaxy S8+ with 6,338. That means the next iPhone performs 41% better than its most important Android-based competitor.
Of course it should be noted that benchmarks aren't necessarily indicative of real-world experience, at least not fully. So don't take this to mean that the iPhone 8 will automatically be that much better than the S8 duo in day-to-day tasks. However, these results prove that Apple's focus on creating the most powerful mobile chipsets hasn't taken a hit over the past year or so, while developing the iPhone 8.
An important mention is that it's not impossible to fake such a screenshot - it's very easy in fact. So by all means, don't take any of this for granted.
Anyway, if we do choose to believe the leaked image, then also note that the iPhone 8 will come with a screen resolution of 2,800x1,242, which makes for an incredibly odd 20.2:9 or 2.25:1 aspect ratio. And yes, that's even taller than the 18.5:9 Samsung went with for its S8.
The prototype in question runs iOS 11 as you'd expect, and it identifies itself as "iPhone 10,6" - for comparison, the iPhone 7 is "iPhone 9,1". The A11 chipset that powers the new model has a 2.74 GHz quad-core CPU, and 128KB of L1 cache. The iPhone 7's A10 Fusion only goes up to 2.34 GHz, so some of the performance differences between these are coming from the fact that the clock speed has been increased by 17%.
V
No android chipset come even close in single score to iPhone 6s, it is getting embarrassing. Galaxy s16 might reach iphonex8 numbers :) I hate iPhones, but bowing against they chip division, they are the best
R
What are you trying to say?
R
stop smoking weed dude!!!!! Best comment ever
ADVERTISEMENTS