iPhone 8 teardown lays out its guts, results in average repairability score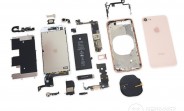 You've already seen the new iPhone 8 scratch, burn, and bend tested, and now it's time for us to get a look at its internals - literally. iFixit has created another comprehensive teardown, and its victim was the iPhone 8 this time around.
The handset became available today, and this information should help those that are looking to repair it on their own at some point. The iPhone 8 gets a 6 out of 10 repairability score (10 being easiest to repair). That's one point less than what the iPhone 7 Plus managed last year.
The iPhone 8 provides straightforward access to the two components that are most likely to be repaired, namely the display and battery. You do need proper tools and knowledge, but performing such replacements is definitely possible. Wireless charging, a new feature for an Apple device, means there will be less strain on the Lightning port, which is good because in the past that's been a common point of failure.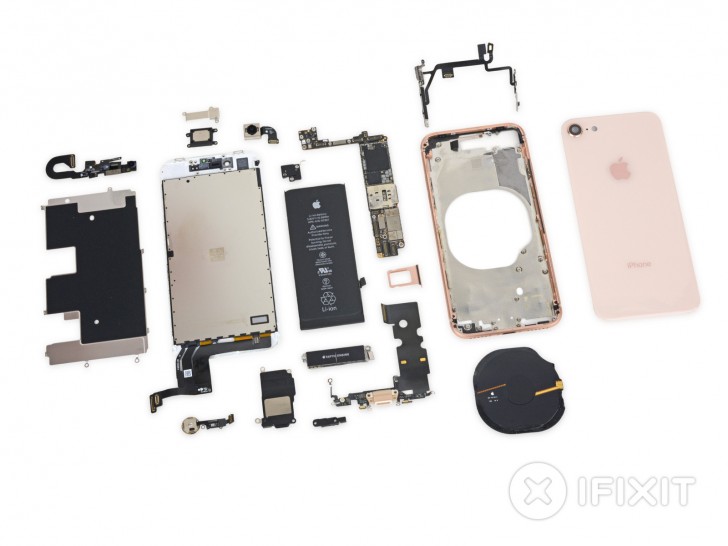 Water and dust seals do complicate repairs overall. On the other hand, the water and dust resistance of the phone means you aren't likely to ever need to perform difficult liquid damage repairs. The iPhone 8's battery connector has common fasteners, but up to four different driver types will be needed for many repairs.
During the official introduction of the iPhone 8, Apple claimed it has the most durable glass ever put on a smartphone, but whether that will prove true in the real world remains to be seen. Either way, replacing the glass back cover is likely to be very difficult. The handset's lower components "lie trapped under a fussy combination of brackets and delicately folded flex cables", according to iFixit, which is a definite disadvantage when it comes to repairability.
The iPhone 8 has a 1,821 mAh battery, smaller than its predecessor's 1,960 mAh cell. The camera sensor is bigger than the iPhone 7's, but since it has the same resolution it means its individual pixels are larger. This probably helped it climb straight to the No.2 spot in DxOMark's rankings for smartphone shooters. The iPhone 8 boasts 2GB of RAM, Qualcomm's MDM9655 modem, and an NXP NFC module.
?
Must be Sony like all others
L
So, what's the camera's sensor?
?
Wonder what apple fans who were denigrating Qualcomm would have to say about the modem on their phones...?