iPhone 8 to be out in October-November with iris scanner, sans side-mounted TouchID
The famed and hyped iPhone 8 with its near-bezelless OLED display can't seem to keep itself out of the news, not even for a day. A new report out of Asia, based on supply chain sources, now tells us that this model will only start shipping in October or early November (in very limited numbers), though it will probably be unveiled alongside the iPhone 7s and 7s Plus at a launch event that's slated to occur on September 7, 8 or 9. Those devices may be released on September 17 (but that's a Sunday and Apple usually starts sales on a Friday, so take this with a grain of salt).
The sometimes rumored hypothesis of Apple placing the fingerprint scanner inside the side-mounted power button in the iPhone 8 (which is bigger than in previous models) is being contradicted this time around. Apparently the official cases for the phone don't have a hole for that button so the probability of TouchID hiding in there is low. As is, by the way, that of Apple figuring out how to make it work underneath the screen.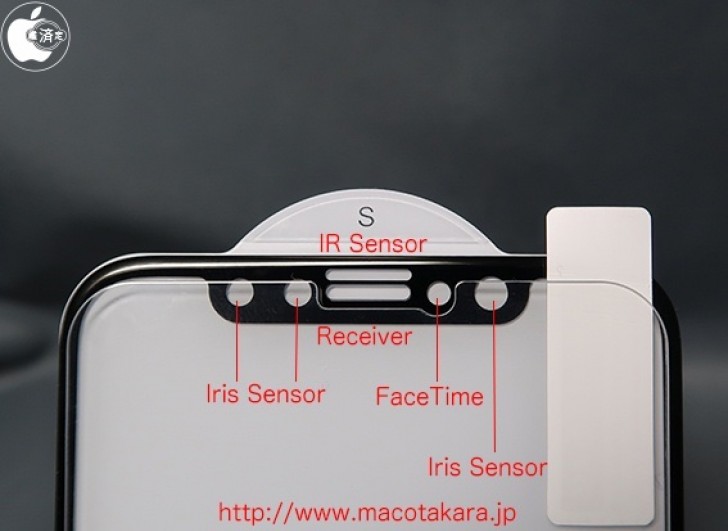 So according to this rumor, either Apple places a fingerprint sensor on the back of the handset, or skips one altogether. The latter route might be what it chooses, considering that the iPhone 8 may feature an iris scanner. The image above shows a purported screen protector for the device, and as you can see it has way too many sensor holes for a phone without an iris scanner. Whereas if such a setup is in, all of those cutouts suddenly make sense. The system could be called FaceID.
The iPhone 8 will only have a black front fascia, which means there's a distinct possibility that it will only be offered in one color version - black. With its glass back, it will support Qi wireless charging, a first for Apple.
p
Apple admits that the power button with fingerprint on the Sony is the best,compliment for Sony.
?
The iPhone 8 prototypes are as ugly as hell. The screen has two horns? The camera still juts out creating the rocking effect whenever it's laid flat, only this time it's an aesthetically displeasing vertical style. On top of that, there's no headphon...
?
Oh my god! Just stop! You are lambasting Apple for copying the S8 design? Then what about Samsung copying Xiaomi or Sharp? Yeah. Let's just forget everything about it because according to samsheeps, Samsung is the god. Samsung is always the first whe...
ADVERTISEMENTS