Exactly as rumored, Apple announced the new monstrous 16GB version of the famous or better yet notorious Apple iPhone. Currently the new Apple iPhone 16GB is available through the Apple store and AT&T stores in USA. The European carriers offering the iPhone are a bit slow to catch up in active promoting - they are expected to start offering it as of tomorrow - the 6th February 2008.
The Apple iPhone is probably the single most controversial mobile phone in the industry and it's changed the US mobile market beyond recognition. We are not going to elaborate on its features but we'll better concentrate on its price tag right after this graphic jump.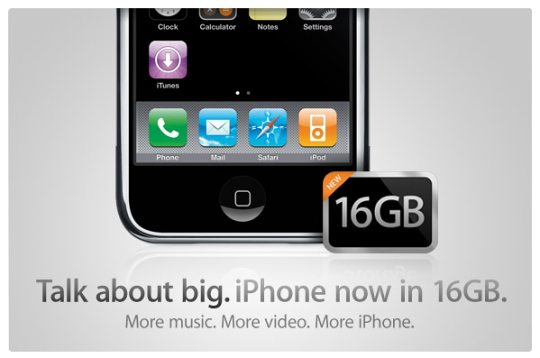 The latest Apple iPhone 16GB will be sold for USD 500 before taxes, while the current 8GB model will be selling for the same USD 400 price (again before taxes). If you ask us, it's simply a matter of time before Apple's CEO Steve Jobs announces the next price cut just as he did with initial iPhone 4GB/8GB models.
As far as European carriers are concerned, the only details we have now, is that O2 UK will be selling the new 16GB model for GBP 330, which is around EUR 440 or USD 650. You probably already know that the iPhone is selling with a hefty European premium here at the Old Continent (some serious tax burden as it seems).
The other interesting announcement today is that the iPod Touch, the iPhone's cousin, also has received a doubled storage space. The new iPod Touch 32GB will be selling at a USD 500 price tag (before taxes). The 16GB version which has been available for quite some time retains the USD 400 price, along with the 8GB model, which is still priced at USD 300.
The new Apple iPhone 16GB is already available for purchase.
R
Wow, now a days 16GB is a bit much for a phone in the US, even 8GB is alot. I have an 8GB and I got it around a week and a half before this became official. But I'm not gonna return my 8GB for this. Oh and to those who say the audio quality sucks, tr...
?
I just wanted to take this moment to say "Down to the iPhone". I hope Meizu comes out with their phone soon and blows them away.
B
Great i really apriciate thier efforts to make this owsem BIGGIG 16
ADVERTISEMENTS