According to BTIG Research, the iPhone is the top-selling phone at Verizon and AT&T. This result comes from asking 250 Verizon and AT&T stores around the US.
Even though the iPhone 4 was launched on Verizon's network just five months ago it is already their top selling phone. 51% of the Verizon stores said that the iPhone 4 was their top selling phone while 38% said that it tied with an Android phone, which would usually be the Samsung Droid Charge or the HTC Thunderbolt. This, despite being over a year old now and very close to the launch of a newer model.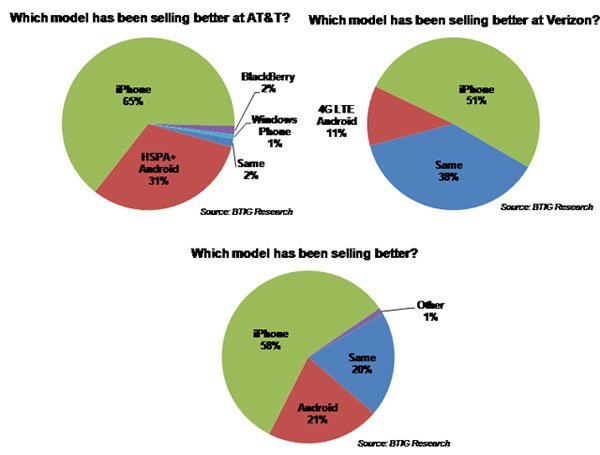 At AT&T stores, the iPhone was again in the lead, with 65% of the stores saying it was their top selling phone while 31% said that it tied with an Android phone.
What this means is that as a platform iOS may be trailing behind Android in terms of market share in the US but as a single model it outstrips almost every Android smartphone out there.
As for other platforms, they can be barely spotted in the diagram above. Only a handful of the stores that were asked, that too only those belonging to AT&T, said that a BlackBerry or a Windows Phone 7 device was the top-seller. This points to a lack of interest in both the platforms, with the former struggling to survive and the latter struggling to find its feet.
?
funny thing is... i asked you a simple question which you seem to keep avoiding.. 'And until iphone 5 is released, fanboys need to realise that they're behind the curve'... again..all i stated before you started name calling was, of course it is ...
?
Having spent 5 1/2 years in the mobile phone business, I have made my way through quite a scary amount of phones myself, all high-end. Both android and iPhone have fast become common things, I see people here compare iPhone to a Rolls Royce, come on ...
?
'simple minds'...Resorting to the equivalent of name calling is neither interesting or rational. Practice what you preach...
ADVERTISEMENTS