The iPhone inabilities have been a matter of discussion at least as much as its virtues. Unfortunately, video recording (or better yet the lack of it) has often been a subject of criticism. But that will surely become a thing of the past since the developer's beta of iPhone OS 3.0 is supposedly sprinkled with clues that video recording will definitely be coming to the upcoming iPhone 2009.
It's this time of the year again, and with Apple's next announcement in June nearing, not a day goes by without some new iPhone rumors surfacing. Rumors are always to be taken with a pinch of salt, but this one seems as solid as a rock.
The iPhone 2009 is rumored to have a better 3.2 megapixel camera in store for us but no matter the megapixel count, it will almost certainly support video recording as the following camera screenshot reveals. Video recording has never been a part of the originally announced iPhone OS 3.0 new features, so it's highly possible that iPhone 2G and 3G will most probably be left out in the cold.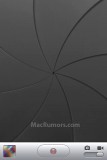 Screenshot of the updated camera application by MacRumors.com
Boy Genius Report have also gotten their hands on quite a few screenshots of the developer's beta OS, and one of their shots confirms video recording as well.
There are other yet undocumented 3.0 features as well - voice dialing (or perhaps even full-on voice commands), a digital compass (the most reasonable translation of "magnetometer"), as well as some changes to the UI, including an accessibility menu and OpenGL ES getting bumped to version 2.0 (it's the 3D library used by the iPhone SDK).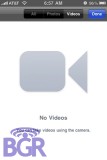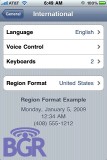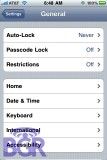 iPhone OS 3.0 Beta screenshots from Boy Genius Report
Unfortunately, there's no info on the captured video specs. Thanks to some unofficial third-party applications, the iPhones have already been able to record video in CIF resolution at 15-20fps. We really hope that the iPhone 2009 will do better than that.
We've already covered the most notable new features of the iPhone OS 3.0 version and only time will tell if these newfound capabilities will remain in rumor-land or they will make it to the new iPhone 2009 along with (hopefully) the old ones.
Sources: MacRumors and Boy Genius Report
K
Worms in your apples guys? Lol why bother trying to make something more than it seem? The iphone is over rated wash out ur eyes and the dust from your underused brains and you will be able to start to notice. Why call iphone the jesus phone? I know w...
?
you may sell 5 nk5800 units but how many do you get back in returns?
?
We sell 8-10 iPhones a week, 5-6 Blackberry Storms no 5800's at all, 1-2 N96's 4-5 N95 8GB, 5-6 E71's, 8-10 6210's, all on contracts. The RRP of the 5800 with 'comes with music' is exactly the same as an iPhone 3G 16GB, we don't sell them yet. ...
ADVERTISEMENTS