Today Apple released the new iPhone firmware 3.1 update along with the new iTunes 9. Bug fixes, changes to the AppStore, easier synchronization process and fixing a modem exploit are part of the features list.
The long rumored iPhone OS 3.1 has arrived bringing some new stuff to the iPhone and iPod Touch family. iTunes has also gotten a brand new 9th version offering extended functionality.
One of the most important changes is the iTunes app on the iPhone will have access to a Ringtone store (more than 30000 titles there already) available for 1.29 US dollars each.
Further on, Apple AppStore has been granted with a new Genius feature, which recommends you applications based on your currently installed and purchased software. This will ease the app search through the huge AppStore database, which continues to grow.
The new version of iTunes will also offer an easier syncing to Apple devices thanks to the many new controls and whole new interface. App syncing, for instance, is more user-friendly than ever, allowing you to arrange the apps on the iPhone/iPod Touch screens directly from iTunes.
The OS 3.1 for iPhone and OS 3.1.1 for iPod Touch are already available through iTunes and you can go for it just now. Here is the complete change list of fixes:
Improved syncing for music, movies, TV shows, podcasts, and photos
iTunes U content organization
Redeem iTunes Gift Cards, codes, and certificates in the App Store
Display available iTunes account credits in the App Store and iTunes Store
Save video from Mail and MMS into Camera Roll
Option to "Save as new clip" when trimming a video on iPhone 3GS
Better iPhone 3G Wi-Fi performance when Bluetooth is turned on
Remotely lock iPhone with a passcode via MobileMe
Use Voice Control on iPhone 3GS with Bluetooth headsets
Paste phone numbers into the dialpad
Option to use Home button to turn on accessibility features on iPhone 3GS
Warn when visiting fraudulent websites in Safari (anti-phishing)
Improved Exchange calendar syncing and invitation handling
Fixes issue that cause some app icons to display incorrectly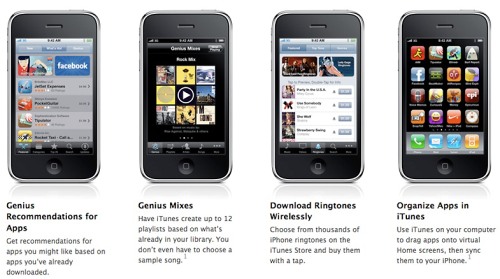 There are some other small things that were spotted in the iPhone OS 3.1 beta a couple of months ago and it's strange why they are not included in the official changelog. Currently we still cannot confirm those - perhaps you would fill in in the comments:
iPhone vibrates once upon entering the icon moving mode
Updated AT&T profile to 4.2
Updated modem firmware to 5.08.01
Improvements to OpenGL and Quartz.
New APIs to enable third party apps to access videos and edit them (meaning video editing applications coming your way).
"Fraud Protection" toggle has been added to settings under Safari.
iPhone boot time is now faster.
As you can see there is no ground shaking features added into this new update. Except for the fact, of course, that the 3.1 upgrade will update not only the operating system, but also the modem firmware, fixing the last known exploit used for unlocking the iPhones of all walks of life. It is also believed that once upgraded through the ordinary way you may not be able to unlock or jailbreak your device ever again.
iTunes 9 is available for free download for Windows and Mac along with the iPhone/iPod Touch OS 3.1 updateable through iTunes.
A
is it going lock if i download iTunes 9.0 ?? how to avoid update farmware
O
THANK GOD!! Someone finally buried this stupid argument. Move on people, jeez.
?
Come now, don't look so sour =(. We all have our flaws *hugs iPhone and N97*
ADVERTISEMENTS