The Apple iPhone SE is a 6s in a 5s body, but Chipworks dug into the internals and it turns out the story is more complicated than that. It straddles multiple generations - from the iPhone 5 selfie camera to the iPhone 6s chipset, a whopping four generations.
The Apple A9 chipset is brand new and the SK Hynix-made LPDDR4 2GB memory matches the 6s as well. The NFC, audio chips and motion sensor are from that generation as well. The storage appears to be from the 6s as well, but an earlier 19nm chip instead of the 15nm being shipped now.
The Qualcomm modem from the earlier iPhone 6 model while the touchscreen controller goes back to the iPhone 5s.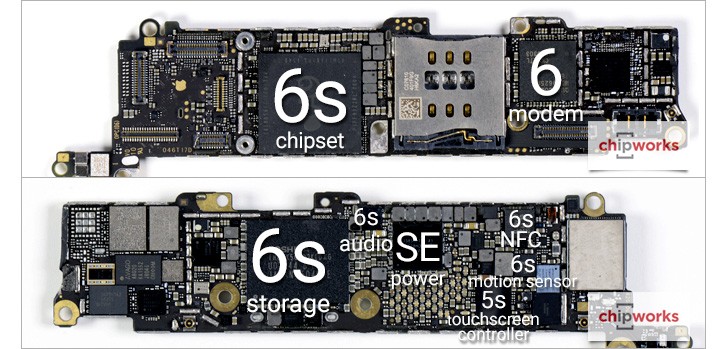 Using the images and info from Chipworks, I labeled the parts on the motherboard with the iPhone generation they come from.
D
I agree there's lack of innovation there like wtf apple? nothing new on this phone, but it has some nice specs for a reasonable price, and i like the design but it think apple should've tweaked it a little bit.
?
more fandroids on every iphone article. it shows the immaturity of these fandroids when commenting on sumthing unrelated to them. must feel insecure. IF YOU DONT LIKE SUMTHING, JUST IGNORE IT. simple.
D
It depends from user to user... Actually sheepies don't do anything with thk iPhones that's why their phones doesn't hang..
ADVERTISEMENTS