iPhone SE's durability gets tested in another video, see it swim, tumble, bend, and drop onto a sidewalk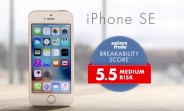 Love watching torture-test videos of the newest smartphones? Then you'll definitely enjoy this one. Coming just a few days after the first such video for the iPhone SE is a new one, with a slightly different focus. While last week we've shown you how Apple's latest 4-inch device has managed to withstand scratching, burning, and bending, this time around it faces an almost entirely new set of challenges.
The common thing between the two videos is the bend test, though today's showing is a lot more scientific. We don't just get a 'pass' or 'fail' evaluation, but we find out that the iPhone SE bends when 160 pounds of pressure is applied to it, which is 10 pounds less than the iPhone 6s and 20 pounds less than the iPhone 6s Plus. The SE reaches catastrophic failure at 178 pounds.
You can also see it being submerged, and losing audio immediately under five feet of water. It got bricked in less than a minute, which is a lot sooner than the bigger iPhone 6s (which survived for 30 minutes), and the 6s Plus (dead after around ten minutes).
The iPhone SE is then put through the paces of a "tumblebot", and it faces the pavement on a sidewalk - several times, no less. In the end, it's received a 5.5 score for breakability, placing it in between the iPhone 6s (with a score of 4) and the 6s Plus (with 6.5).
D
Well your theory is only applicable for budget android phones and if you compare the android phones which are as much as expensive as apple iPhone 5 se (slave edition) than you will see ever flagship android phone is very much capable to handle Hd ga...
R
What I feel is ..... its utterly useless wrecking a new piece of technology which is so expensive... rather best hand over these phones as a gift or a lucky draw to someone than breaking , scratching, dumping it in water or trying to damage the hands...
Y
really? as far as i can remember there are a lot of games, HD games that some Android devices are not able to support, why? because even if Apple has low resolution, it's CPU, GPU and RAM can support more than what most Android phones can -AndroidU...