When you cross two expensive brands you get a hybrid with an even bigger price tag. We don't know what it says on that price tag in the case of this special edition iPhone X for Bentley.
It's a limited edition, you can see that the unit in the photo is #19 out of 100. We kind of dig the look of 18K gold on black glass, though we're not sure about Bentley logos completely displacing Apple's.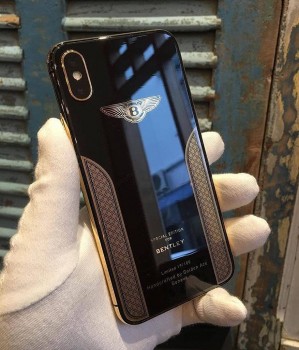 Apple iPhone X Bentley Limited Edition
That worry is above our pay grade, however, we couldn't even find this model on the Golden Ace website. We suppose this means all 100 units are sold out (or perhaps they are tied to buying a Bentley).
Well, you're probably too late to buy one, but how do you feel about gold inlay? The iPhone's back is pretty barren and perhaps it could use a little pizzazz.
D
NOW thats a 1000$ phone i wouldnt mind paying for...even though a phone like GioneeM2017 got a better "rich ppl look" and wayy better battery technology
s
Apple shuts down your CPU to save energy so I guess there is a resemblance somewhere in there but some do it for reducing polution while others do it to inflate their pockets...yes, resemblance
G
I don't think people who can afford it will worry about this.