The Snapdragon 888-powered iQOO 7 has appeared on AnTuTu with a score of 752,935 points, which is 17,496 more than what the chipset scored on a Qualcomm reference device with 12GB LPDDR5 RAM and 512GB UFS 3.0 storage onboard.
The iQOO 7, on the other hand, used the same amount of LPDDR5 RAM but has 256GB of UFS 3.1 storage. However, it is worth noting that the unit that ran the benchmark test is a prototype and we can still see performance differences with the retail version.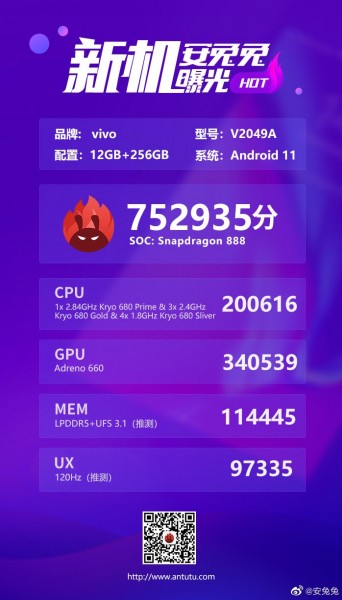 In addition to revealing the RAM and storage amount, AnTuTu also confirmed that iQOO 7 will pack a 120Hz screen but didn't reveal its diagonal.
We don't have the full specs of the iQOO 7 yet, but we know the smartphone will feature a triple rear camera. It's rumored to ship with a 4,000 mAh battery, and 3C confirmed the smartphone will support 120W charging.
You can expect to learn more about the iQOO 7 as we inch closer to its January 11 unveiling.
J
http://www.antutu.com/en/doc/119646.htm#:~:text=to%20Android%20version%3F-,Why%20the%20scores%20of%20Antutu%20iOS,not%20comparable%20to%20Android%20version%3F&text=To%20put%20it%20simply%2C%20the,version%20or%20cross%2Dplatform%20comparison. ...
o
ahh yes of course i forgot the refresh rate of a phone is the deciding factor of whether it's good or not. I would much sooner take a top of the range phone with 60Hz than a build-a-bear quality mid range with 120Hz slapped on top for the buzz w...
ADVERTISEMENTS