iQOO Neo3 5G gets 600,000+ AnTuTu score, will have a 144Hz screen with adaptive refresh rate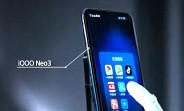 The iQOO Neo3 5G has an ambitious goal – to become the most affordable phone that offers the speed of the Snapdragon 865 chipset. And that's fast, 600,000+ points on AnTuTu fast, as you can see in the screenshot below. This score was achieved with 8GB of RAM on board as well as 256GB of speedy UFS 3.1 storage.
While this is not the highest AnTuTu score we've seen, it's still a pretty impressive result considering that this phone is targeting a price point of CNY 3,000 or lower (€390/$425) as that's how much the Redmi K30 Pro costs.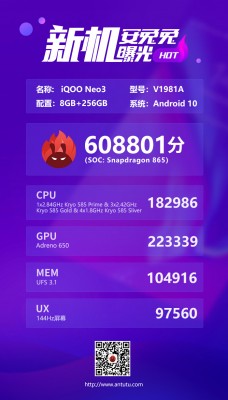 iQOO Neo3 5G gets a 600,000+ score on AnTuTu
And while the K30 is also powered by the S865 chip, it doesn't come anywhere close to the 144Hz refresh rate of the Neo3 – in fact, there's only one phone that can match it and it's not even competing in this category. All other high refresh rate mobile screens out there are either 90Hz or 120Hz.
Even more interesting is that this will be the first phone to support adaptive refresh rate. The phone will automatically adjust the refresh and touch sampling rates to match the frame rate of the currently running app or game.
Outside of games, the screen will instantly go into 144Hz mode when you touch it to ensure that the UI is as smooth as possible (and then drop back to 60Hz to reduce power usage while nothing is happening).
The display will also use Qualcomm's LTM tech ("local adaptive tone mapping") that boosts the darker parts of the image to improve visibility under bright sunlight.
The iQOO Neo3 5G will be unveiled on April 23 (that's a week from now).

Source 1 (in Chinese) | Via 1 | Source 2 (in Chinese) | Via 2
C
I want to know about iqoo neo 3s touch response time
Y
Thanks! Good to see another fellow consumer not buying into marketing hype before doing their research (or has prior knowledge about the topic). You are right, we have to always be vigilant against rampant false marketing nowadays. Especially wh...
?
I don't understand why the price of my device is remotely in question here? As long as I have a 120hz device to experience it myself and a 240hz monitor to compare to, I should be good. I get why the insults. People like you spend 2 (maybe 3?) m...