There is barely any time left before the official announcement from Apple and, yet, the rumors won't stop swirling, folks. Wall Street Journal reported that Apple's latest smartphone creation will be exclusively offered by Sprint Wireless in the United States.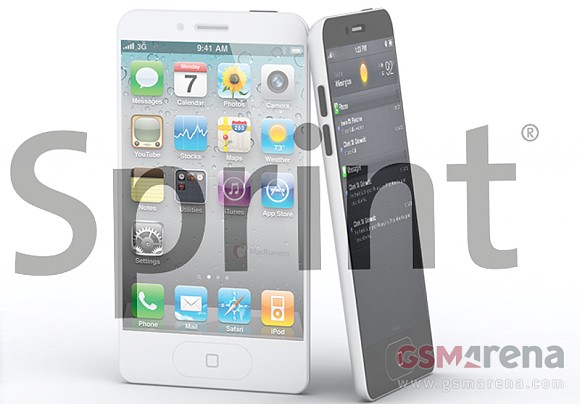 According to WSJ, Sprint Wireless will receive the WiMax equipped iPhone 5 on its shelves, while its competitors from AT&T and Verizon Wireless will have to make do with the upgraded iPhone 4S. Globally, the iPhone 5 is expected to be an HSPA+ device.
In case you were wondering how such a deal could possibly happen, we are going to answer you with a number - $20 billion. This is the amount of money which Sprint is going to spend on iPhone devices over the next four years. The amount of money equates to roughly 30 million iPhones.
Word has it that Sprint will not profit from the transaction until 2014. In plain words, the yellow-colored wireless provider will bet its entire future on the iPhone.
Out of the four major wireless carriers in the United States, Sprint is the only one which offers unlimited data to its customers. Add an iPhone 5 to the mix and there is a potentially fortune-turning combination for you. The carrier surely needs one after reporting fifteen consecutive quarterly losses.
There have been rumors about Sprint carrying the iPhone 5 in the past, but this is the first time when exclusivity is mentioned. Normally, we would have dismissed this report but, this time, the zeros are way too many, so it might well be the case.
The beans will be officially spilled tomorrow. In the meantime, feel free to tell us what you make of the WSJ report in the comments section below.
f
does any one know when the iphone 5 will be released in south africa because i have so many customers ask about release dates
M
It will be release by sprint by Oct.14 but we can pre-order it at Oct. 7
w
Sprint is going to do the same thing like what AT&T did in the past. AT&T had unlimited data for the iphone up until they made enough customers or subscribers like in the millions, once AT&T made their mark or "revenue"..that is...
ADVERTISEMENTS