Thanks to some anonymous tipster a few images are now available online that show what appears to be a Samsung Galaxy S5 mini. The smartphone looks very similar to a Samsung Galaxy S5, using the same dotted back panel, a heart-rate monitor under the camera lens and even the water-repelling rubber padding underneath the back panel. There even looks to be a fingerprint scanner under the home button.
Looking at the back panel it appears to cover more of edge of the phone compared to the Galaxy S5 and the battery is smaller, which adds some credence to the info that it's a mini version.
While the images can be an elaborate hoax it seems perfectly believable for Samsung to release a mini that so closely resembles the bigger version. And now that the Samsung Galaxy K Zoom has been official since last month and the Galaxy S5 Active is official since today we're pretty sure this one is coming shortly.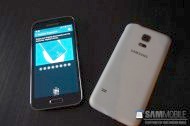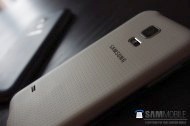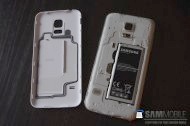 Samsung Galaxy S5 mini (click to expand)
We've heard about it having a 4.5" display of 720p resolution along with an 8 MP camera, IP67 certification and a heart-rate monitor. We've even seen official support pages.
The device in the images doesn't appear to have a flap cover on top of its microUSB port, which puts a question mark on the water resistance claims.
According to the source, the Galaxy S5 mini will not have a Snapdragon 400 but rather a new, yet unannounced, Exynos 3 Quad (Exynos 3470) chip with a quad-core 1.4 GHz processor with Mali-400 MP4 GPU and 1.5 GB of RAM.
M
I almost got the z1 compact but would prefer a phone that You can access the battery and I think only this S5 mini will tick in the box...
g
maybe the sony sales is not that good on compact :( so why invest in that when you can fool people with S5 name. 99% of the customers dont care and dont know the hardware diff. they are marketing victims
T
I hope this info is false. Looks like thick bezels and I wont buy anything with a fingerprint scanner.