Italy is the first lucky country in Europe to get the Xiaomi Mi 4. The device has entered pre-order stage and is planned to ship in August.
You'll need to cough up €394.90 to get a 16GB Xiaomi Mi 4 in either white or black color. The 64GB unit is said to be coming later and so is the one that offers LTE connectivity - the current offer has LTE checked off.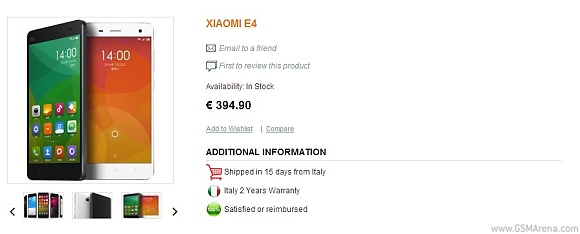 The Xiaomi Mi 4 is a very highly anticipated flagship even before you consider the favorable price - around €100 or €150 less than its similarly spec'd direct rivals.
The Xiaomi Mi 4 commands a 5" 1080p display, Snapdragon 801 AC with a quad-core 2.5 GHz processor, 3GB of RAM and the Adreno 330 GPU. There is a Sony-made 13 MP snapper on board that can crunch UHD video recording and a 1080p-capable 8MP selfie snapper on the front.
The Android version is the latest currently available - Android 4.4.3 KitKat - with Xiaomi's Miui on top.
The only major issue is the dodgy availability outside of Asia - Xiaomi is using distributors (as is the case in Italy) to offer the device outside of China and some users may feel unsure of future support of their new device.
D
That's really expensive, if I buy it directly from China the price is only around 250€. Seems like Europeans really ripped off here you might be even better off importing it yourself and pay import tax. Ridiculous. Nevertheless xiaomi phone...
A
Just make sure you make Cyanogenmod available to this phone. MIUI is not for everyones tastes, tries too much to be an iPhone rip-off, which ends up compromising your product for those who really like the true Android experience!
?
There is no specific phone tax in Europe. What you want to say is taxes in general and in this case the VAT (value added tax). There are also sales taxes in US and other countries which vary from state to state. The price announced in Europe always i...