Granted, the xpPhone look more like a tablet than a mobile phone, but the cellular call feature is all there and that makes it a phone all right. Huge 4.8 touchscreen, QWERTY keyboard, AMD processor, 512MB or 1GB RAM and both SSD and HDD storage are the best bits of its hardware.
In Technology Group or ITG is the China-based manufacturer that stands behind the xpPhone. Well, it may sound like another iPhone wannabe, but it is definitely not. The xpPhone is way more powerful than a smartphone. It's more like a netbook with phone capabilities.
As a beginning let's see what's inside this gadget - AMD Super Mobile processor, 512MB or 1GB RAM, from 8 to 64GB SSD plus from 30 to 120GB HDD (yes both included), 1.3 megapixel camera and various ports - VGA, USB, earphone, microphone, dock connector and SIM slot.
Controlling the xpPhone will be more than easy thanks to the 4.8-inch WVGA TFT touchscreen and the sliding-out QWERTY keyboard, accompanied with D-pad on the left and numpad on the right side. Right in between there is also a small touchpad, while the two mouse buttons are right next to the D-pad.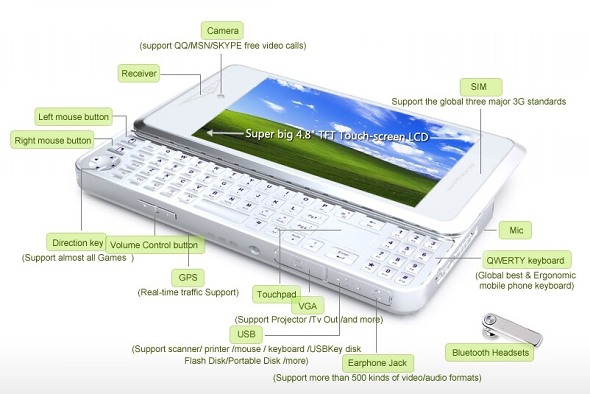 Full pack connectivity is also onboard - Wi-Fi, quad-band GSM or CDMA, HSDPA/HSUPA thanks to the built-in 3G modem, Bluetooth, GPS and optional WiMax. The bands and frequencies will vary for the different countries and carriers (currently listed for AT&T, Vodafone and Orange).
Considering the fact this fellow runs Windows XP (we think it might be good idea to test it with the new Windows 7 too), the battery life seems strong enough - 5 hours talk time or 5 days of standby, while using it as a regular netbook gives you 7 to 12 hours of power autonomy.
Update: ITG didn't publish the physical dimensions of the device so we used the official photos to calculate them, based on the screen size. It turns out that the xpPhone will measure about 158 x 75 x 16 mm. Added to the weight of 400 grams it's certainly one of the largest phones we have ever seen.
The ITG xpPhone will be available in white, red and black colors, but the price and release date remain unknown. You can pre-order it right now, directly from the company official web site. No payment is required at this stage, just filling a form.
C
Im posting this Dec. 2014... I want and ITG xp phone and I cannot get a lead using google, amazon or eBay. Can you please give me some UK stockists. many thanks. ps. that is the model with the keyboard.
M
Where can buy this Xp phone?
ADVERTISEMENTS