LG Mobile's official Twitter account for Saudi Arabia has confirmed that the Android 4.4 KitKat update will arrive for the local LG G2 smartphones by the end of this month. This marks the beginning of the update rollout we knew was coming in this quarter after it hit the Korean G2 units at the end of November.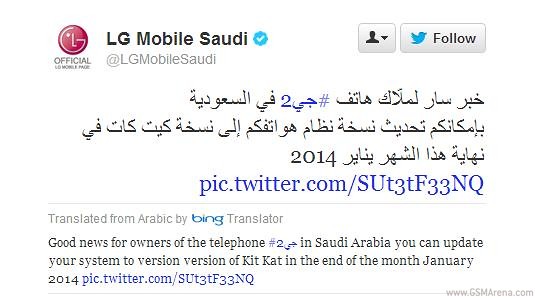 There's no official word for LG G2 smartphones outside of Saudi Arabia but we're guessing things will gradually start after this.
KitKat brings changes mostly on the performance side, plus some slight alterations in the settings menu and the white on gray status bar icons. Here's a video of a KitKat-kitted LG G2.
Thanks for the tip, Ahmed Tarek!
c
My G2 phone can't switch on or off and I only got this last month. It just has FIRMWARE UPDATE on the screen. Does this have anything to do with what I'm reading about the update plan????
D
It's was posting wrong and have been and the update is about Lii and here is the update https://twitter.com/LGMobileSaudi/status/423431487849902081/photo/1
a
Pues va a ser que no twitter.com/LGMobileSaudi/statuses/423434906488672256 Not kitkat for G2 not kikgat for L2 just knockknock on on LII We apologize for the previous wrong tweet regarding G2 Kit Kat upgrade schedule,the date was for upgradin...