It's official: OnePlus 5T will be announced on November 16, available on November 21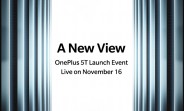 Following many weeks of leaks, rumors, and speculation, today OnePlus has finally revealed when it's announcing its next smartphone. The grand unveiling of the OnePlus 5T will take place in Brooklyn on November 16 at 11 AM local time (4PM GMT). The date has already been leaked and the company itself teased New York City as the location, but it's good to have the official confirmation.
The event will be livestreamed across the world, of course. If you want to be there when it happens, you'll have the chance to buy a ticket to attend. These will go on sale through a special page on the OnePlus website on November 8 for $40 each.
The OnePlus 5T will become available to order in North America and Europe on November 21. For "early birds in India" there will be a flash sale on the same day, while officially it will be out in the subcontinent on November 28. The phone will reach China on December 1.
OnePlus has already told us that it's keeping the 3.5mm headset jack in this handset, and countless rumors and leaks have pegged the 5T as being the first product from this company to come with an 18:9 touchscreen and very small bezels. This should have 1,080x2,160 resolution. The device will be powered by the Snapdragon 835 chipset, paired with up to 8GB of RAM and 128GB of storage. Dual 20 MP cameras will be on the back, while for selfies you'll get a 16 MP sensor. The OnePlus 5T is expected to run Android 8.0 Oreo.
D
I don't see the point of this phone since it uses the same SoC/RAM/ROM etc, it's better to wait for 845 devices this late in the game.
?
Microsoft should acquire a Android phone manufacturer like OnePlus and keep making Android phones with better integration options for Microsoft services. But first Microsoft should get rid of bugs in their own software and use real programmers ...
?
not worth waiting for ...... by the time it's actually available ..... the prices of s8 or s8+ is just about the same .... and oneplus is always inferior in some way .... so why even bother ?
ADVERTISEMENTS