At some point of time we have all come in contact with the bloated mess that is iTunes. Over the years, the app has come to encompass all of Apple's services, from movies, music, apps, books, podcasts, ringtones, and more. But with the latest update, Apple has streamlined the app somewhat, making it far less cluttered.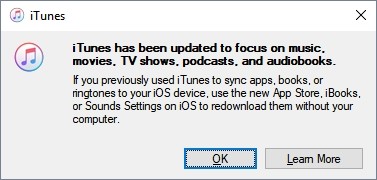 In the latest update rolling out to macOS and Windows users, iTunes has now lost support for apps, books, ringtones, iTunes U and Internet Radio. Going forward, you will only be able to manage music, movies, TV shows, podcasts and audiobooks. Apple recommends you now use the respective apps on your iOS device to manage the removed items.
One could say that the iTunes is still doing more than what it should be but there has been a rumor for a while now that iTunes could be going away in the future in favor of separate apps for music, movies, podcasts and TV shows on the Mac. When they could happen is as yet unknown and also what the fate of the Windows version will be. We will just have to wait and see.
M
You can. ADB? Ever heard of? USB-Debugging: ON (In developer settings) Plugin your phone (PC / Laptop) > CMD > adb shell > pm uninstall -k --user 0 Now?
M
iTunes is a pile of steaming t@rd and I use it every day. I hate it, with a passion. But it's the only thing on my Mac to listen to music with. Yes, I know there are alternatives... the only saving grace for iTunes is that it integrates with the O/S....
D
Never used itunes for anything and I have had iphones for 4 years