Introduction
The Jaybird X2 is a pair of wireless Bluetooth earphones designed for fitness enthusiasts. The headset is the successor to the company's Jaybird BlueBuds X. In reality, the two models aren't all that different, but that's not such a bad thing as the BlueBuds X is one of highest rated Bluetooth earphones around.
The premise is simple; the X2 is a headset designed primarily to be worn while working out and as such has a very minimal footprint and try to get out of your way as much as possible. In that pursuit, they have all the electronics built within the speaker enclosures themselves, while also being sweat-resistant and designed not to pop out while you're running. Oh, and you can take calls on them easily.
But you could have gotten all that from their website. Let's see what the headset is like in real life.
Design
The design of the X2 is nearly identical to that of the original BlueBuds X. It's a roughly two feet long thin flat cable with speakers on either end. Not the first product to use this design but before I get into anything else, letís just stop for a second and appreciate how the engineers managed to fit so much into such a small form factor.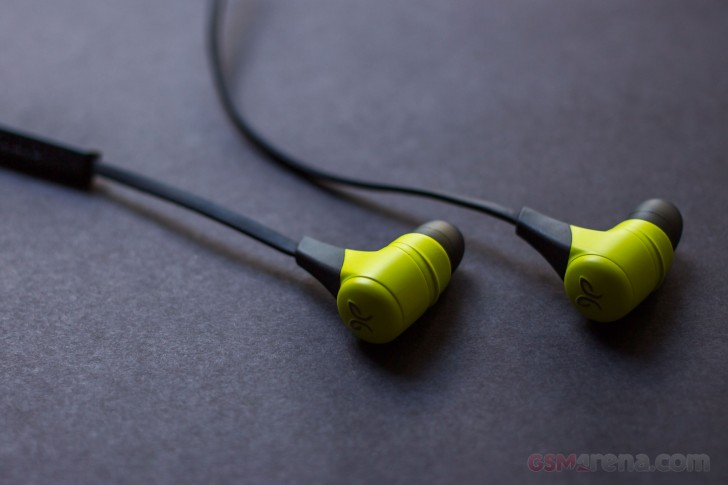 When you first try to put them on, you realize there is no marking for left and right speakers. It is because the earphones are designed to be worn both in an under-the-ear and an over-the-ear style and because the drivers are angled inwards, you have to switch them around when you move from one to the other position.
Unfortunately, this results in an immediate problem, and that is the channels don't switch when you wear them upside down. It's only when you wear them in an under-ear style do you get the correct channel for each ear. It is not so much of a problem if you are listening to music, but using them for watching videos with stereo sound is downright confusing at times.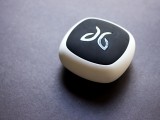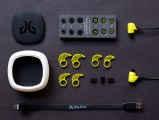 The fancy retail carrying box fits all the bits and piece
Once you figure out the left speaker from the right (the right one is the one with the controls near it), you then have to consider choosing between six different ear tips. Three of these are silicone, and the other three are Comply foam ear tips. For those not familiar with foam ear tips, you first have to squeeze them before inserting in your ears and once inside, the foam expands and takes the shape of your inner ear, which gives a tighter seal and is more comfortable on your ears. The foam ear tips also lack the annoying suction pump feeling of traditional silicone ear tips when you insert or remove them and are more comfortable. The problem is the foam can be damaged easily and isn't exactly sweat resistant, so for working out, it would be preferable to use the silicone ear tips.
The other thing you have to consider putting on are the ear fins, which fit inside your outer ear and keep the earphones securely in place. In my testing, I found the Jaybird X2 to sit quite firmly in my ears, and I didn't have to worry about them popping out every few minutes.
The last thing you would have to consider is the cord management clips. You get three with the earphones, of which one is spare. Even though the cable between the speakers is not long, you can still make it shorter by running it through the clips. It's important not to make it too short because, as I found out, it can severely restrict your sideways head movement and also makes it harder to use the controls. I found I could skip using these, and it was still fine.
Coming to the earphones, they are made entirely out of plastic and come in a variety of colors. They are slightly longer than most earphones, as you can imagine, but not so long that they stick out too much from the side of your head (although you do feel them if you place your head sideways on a pillow while wearing them).
The right speaker has a flap on the back with the microUSB port for charging, and also an LED status indicator.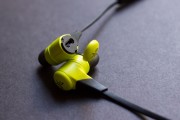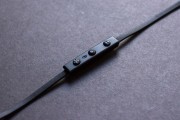 The charging port and the remote control
Below the right speaker is the remote control. It has three buttons that can do various functions. The middle button is for power and also play/pause, and the other two are for volume or for skipping tracks. How the controls work isn't immediately apparent, and there is no user guide in the box either, which means you have to head over to the website for the details.
Once you figure out how to pair them, you will be greeted by a female voice assistant called Jenna. It's not much of an assistant and mostly just tells you things like "Power on", "Headphones connected", "Battery low", etc. Other than the voice, there is also a whole lot of nondescript beeping that happens when you press the buttons, which is hard to decipher without a proper guide.
The earphones come with a rubber case in the box. The case design is a bit odd, and again, it's not immediately apparent how you open it (see a pattern here?). Once you figure out you squeeze it till the lid pops out, you will find all the mentioned stuff, including a short microUSB cable for charging.
As mentioned before, the Jaybird X2 is sweat resistant, so you don't need to worry about damaging them. However, itís not waterproof, so you can't use it in the rain or while swimming.
Sound quality
Bluetooth headphones and sports headphones are two types of headphones, which are not renowned for their audio quality. Considering the Jaybird X2 is both, I had my expectations set accordingly.
Perhaps because of that, or perhaps because the headphones are just that good, but the Jaybird X2 did impress me with its sound quality. Jaybird claims it is using a custom implementation of the standard Bluetooth SBC audio codec, which it calls Shift. There is no aptX support, however.
Before I put them on, I was expecting a bass-heavy sound, as that's usually how most earphones are setup these days. Oddly enough, that wasn't the case. The Jaybird X2 has a fairly well-balanced sound that is clearly more focused on the clarity than just pumping bass. The sound is bright and airy, two things you don't usually expect with Bluetooth headphones, and the bass is lean and tight. The sound naturally favors vocals and instruments, and you're more likely to listen to instrumentals and classical music on these than EDM or dubstep.
That is at odds with the nature of these earphones. Being designed to be used while working out, one would assume the sound would be tailored to suit music that people typically listen to while working out, generally fast, bass-heavy tracks. It's not that the Jaybird X2 lacks bass, but it's not exactly the kind to get you pumped up. The sound is clearly designed to be a bit more neutral and balanced, which is a curious choice for fitness earphones. No wonder on their website they advise you to use the equalizer on your phone and set it to bass boost if you prefer bassy sound.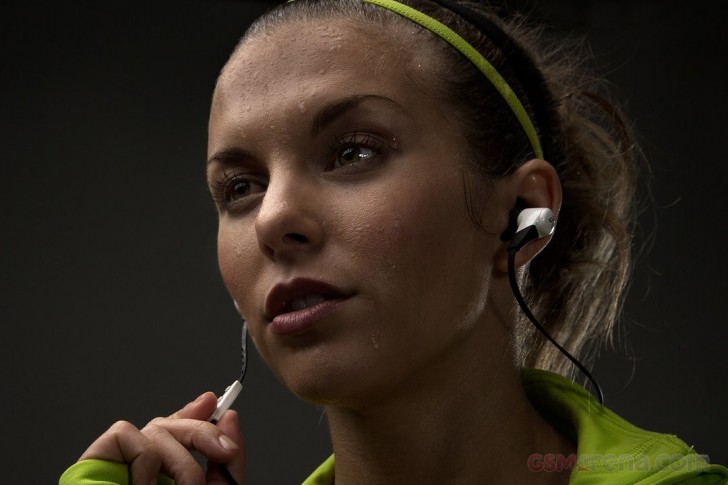 Because of this nature of the sound, I found the earphones were more at home, well, at home. Usually, you wouldn't use a pair of fitness or Bluetooth headphones while you're at home, as you probably have a more comfortable or way better-sounding pair of headphones. But because of the good sound and the minimal footprint, I found myself using the Jaybird X2 way more at home for listening to music or even watching a movie on a tablet.
If you choose to wear them during your daily commute, you'd be glad to know that despite the lack of active noise canceling, the Jaybird X2 will block a fair amount of background noise for it to not be an issue while listening to music.
One of the minor annoyances with the Jaybird X2 is that there is a fair bit of microphonics with the cable, that is, every time the cable rubs against you, you can hear it loud and clear in your ears. Fortunately, this is only annoying when nothing is playing and ceases to be an issue once you start listening to audio.
The call quality on the Jaybird X2 is decent. None of the callers reported any issues hearing us despite the non-ideal position of the microphone way past your ear.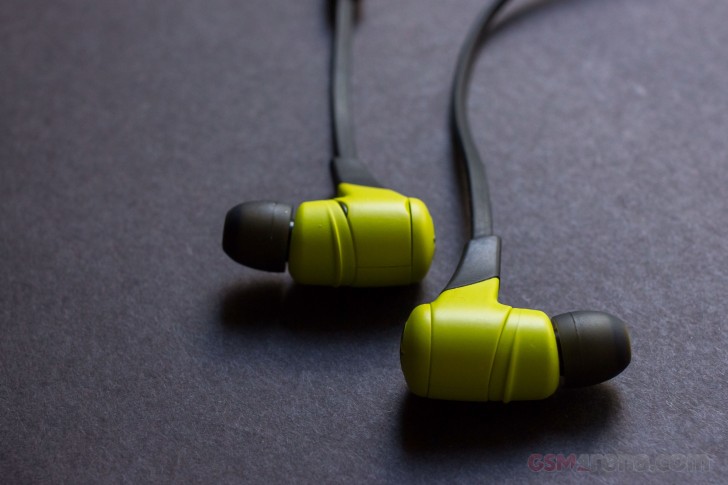 I tested the Jaybird X2 with a bunch of devices. It works best with iOS devices, as then the volume on the headset and the device syncs perfectly and you can adjust the device volume with the buttons on the earphones and the other way around.
With Android, the device and earphone volume remain separate, so you first have to max out the volume on the device, and then adjust it on the earphones, and if you change it on the device, it won't sync it with the volume on the earphones as on iOS. Also, on iOS, you can see the battery level of the earphones in the notification area. Unfortunately, it doesn't move smoothly, and goes from 100% to 60% to straight 10% before dying.
Another issue I noticed while using the Jaybird X2 with Android devices is the lag while playing videos. None of the devices I tried could keep the audio and video in sync, with the sound coming out with just a slight delay, but long enough to make the video unwatchable.
There is no delay on iOS, however. It must be noted that this issue is not limited to the Jaybird X2, as several Bluetooth audio devices have issue keeping sync with video on Android devices.
Battery life
As you can imagine, the Jaybird X2 headphones do not have a massive battery inside. The company claims 8 hours of life on a full charge, but in my testing, I got around 6.5 hours repeatedly, which means you might have to charge them around twice in a week. The earphones can charge from any USB adaptor and takes around two hours to charge completely, which is an oddly long time for such a small battery. While charging, the earphones switch off and cannot be used.
Verdict
As I mentioned in the beginning, the Jaybird X2 deserves credit for just being as small as it is while still being fully functional. On top of that, the sound quality is great, the earphones fit securely, are sweat resistant, and the battery life is decent considering the size. There are some minor niggles, and a bit more attention to detail is required. Also, some might find the bass a bit lacking but that's something that can be fixed easily with an equalizer preset.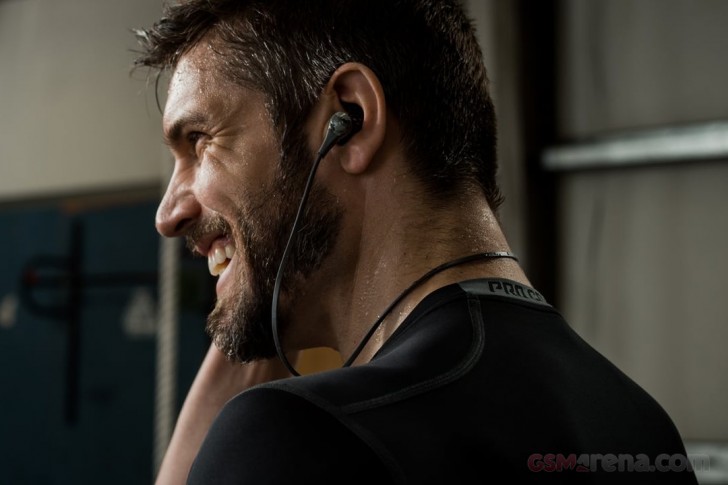 The Jaybird X2 is priced at around $150 in the US, which is about right for this product. The important thing here is that the Jaybird X2 aren't just good Bluetooth earphones or good sports earphones but just good earphones in general, and if you're looking for a pair for your phone then it's worth considering these over traditional earphones.
Review unit sourced from Headphone Zone.
j
DO NOT WASTE YOUR MONEY for any price! I have tried many BT earbuds...these by far sound the best and the connection is great (NO SKIP at all on any BT input device I have used), BUT reliability and durability are very POOR! I have been through 3,...
J
Thanks for a great and honest review. I have just purchased one of these. Haven't even actually put them on yet as they are just finished charging. Have to say I am very surprised about the Over / Under options what with the switching from left to...
k
Can the battery be changeable if its dead ????????????