The latest Android distribution have been released and things seem to be moving in the right direction. For starters, the Jelly Bean figures have nearly doubled since same time last month, from 6.7 percent to 10.1 percent this month. Unfortunately, it still remains a fairly small number.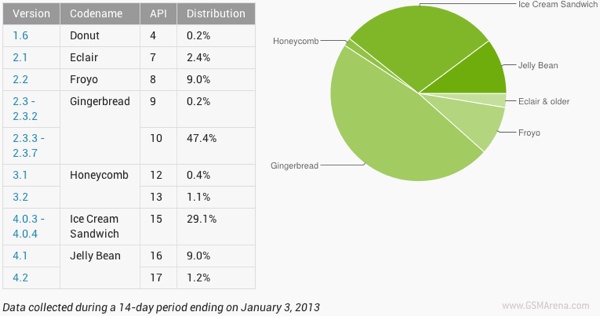 Meanwhile, the now outdated Ice Cream Sandwich grew from 27.5 percent to 29.1 percent whereas the now thoroughly outdated Gingerbread dropped from 50.8 percent to 47.6 percent, which is still a massive number whichever way you look at it.
Hopefully, with more and more devices getting the latest update and new devices coming this year, we would see a greater drop in the pre-ICS versions of Android.
D
Well, not everyone wants to upgrade from a stable OS which they are familiar with
ADVERTISEMENTS