Continuing their monthly tradition, Google has released the Android distribution figures, which lets us take a look at how the various versions of Android are doing.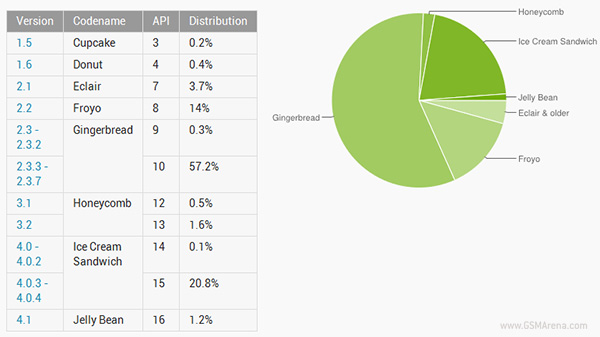 Looking at the chart above we can see that Jelly Bean percentage has risen from 0.8% last month to 1.2%, disappointing but not surprising considering how few devices are running this right now. Ice Cream Sandwich has grown from 15.9% to 20.9%, which is pretty good.
Unfortunately, still a staggering 57.5% of Android users are on Gingerbread, down from 60.6% last month, and 18.3% users are on an even older version of Android.
Other stats show that a massive number of Android users still prefer devices that fall in the Normal display size, that is around the 4-inch mark, with hdpi resolution, that is between 200-300 ppi.
You can find the complete details in the link below.
E
Froyo here too. Samsung only cares about Galaxies.
E
Wow...does that mean 0 percent will have Key Lime Pie? SMH.
Y
I'm using an old SGS1. Just went from GB to ICS a week ago, because previous edition ROMs are stopped being developed and all devs try to make the newest ROMs work (JB). There were some kinks here and there, but for most part my phone is OK. Sh...
ADVERTISEMENTS