Hot on the heels of the Galaxy S IV announcement, Samsung mobile chief J.K.Shin has spoken to WSJ, sharing his insights on the current state of the company, the smartphone market and what lays ahead for the months to come.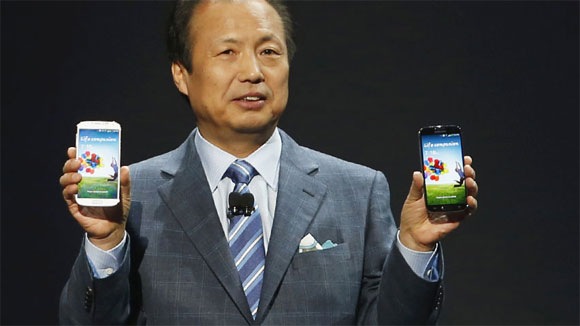 Asked why New York was chosen for the Unpacked event, Shin answered:
We're now a global player in the smartphone market and a global company, and the U.S. is an important market for us. This is the first time we're holding our "unpacked" event in New York... Innovation is what will get consumers to buy new devices. I don't dwell on market share numbers, but I'm not satisfied with our market share in the U.S.
The Samsung Mobile chief also revealed that in the making of the Galaxy S4, the company has filed around 120 patents related to the UI and software in general. However, focusing on the high-end spectrum of the smartphone market, hasn't put Samsung's attention away from the low-end phones.
We're quite active in the low-end smartphone market and we will continue to compete in this area. In the U.S. for example, our main focus is selling the Galaxy line of high-end smartphones.

But we've also been selling phones as cheap as $19 through a contract with Verizon Wireless. AT&T and T-Mobile also offer smartphones for $50 to $100 in the U.S. market.

We're also pushing out new models in India, the Middle East, Africa, Eastern Europe, Russia and Central America. We will continue to develop new models for the low-end market.
Shin spoke very positively about Google and mentioned the great relationship Samsung has with the search giant, refuting earlier rumors of trouble in Androidland. We like Android and we plan to continue our good relations with Google. I don't think it's correct to say that there's friction, Shin added.
He also noted that Windows OS-running smartphones and tablets "aren't selling very well", albeit it wasn't mentioned how is Samsung's relationship with Microsoft going to continue over the course of the year.
As for the in-house built Tizen and Bada, Shin said that the company "is in the process of merging Bada with Tizen.". Additionally, he spilled some beans regarding a future phone running the Tizen OS - it'll hit the market in Q3, 2013.
When asked about the smartphone market in general, Shin noted the tough economy in China and Europe, but remained hopeful:
Market competition is intense but it has always been like that even three to five years ago. With economies in China and Europe slowing down, we don't expect market conditions to recover in the first half of this year and even the second half of the year is a bit uncertain.

But we aim to grow faster than the overall smartphone market this year and expect shipments to be higher than 400 million units this year. We've already sold 50 million units of the Galaxy S III since its launch last year.
Sadly, Samsung Mobile's chief doesn't see flexible displays coming out anytime soon, as "that's still far off".
?
With Tizen founded by Samsung and Intel, with Intel developing new mobile chipsets and optimising them for Android and with Android roughly equating Samsung, I'd say Tizen has no chance to gain any meaningful market share. It's already been almost 2 ...
?
JK sound like DK to me in fast and furious Tokyo drift lol.
B
440m USD in advertising and "Must-have-the-fastest-gadget" mindset of the young people will sell S4. All the kudos to Samsung, they did achieve amasing results over the last couple of years, but...what's the point of 8 cores, 1080p scree...
ADVERTISEMENTS