Join Xiaomi's India Mi Community for a chance to win a invite to the Mi Max announcement.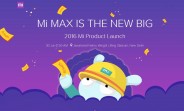 Xiaomi has been gathering momentum on the Indian market lately, which culminated in the official launch of the India Mi Community today. The platform has been undergoing a 500-person beta test since June 14 and today it is live. The website is a place for customers to share feedback, participate in discussions, contests and also organize for launch events.
Considering the traditionally high level of user involvement in the existing Xiaomi community, this new chapter should have no shortage of enthusiasts either. Still, as an extra incentive, Xiaomi is offering early Mi Community subscribers a chance to win invites for the the Mi Max launch, which will be held on June 30 at the Jawaharlal Nehru Weight Lifting Stadium in New Delhi.
The event will also offer the official announcement of the MIUI 8 Global ROM and a few lucky attendants will be receiving a special free goodies bag and a surprise gift, as well. Perhaps the Mi Max itself? So, be sure to sign up at the source link below.
S
I'm a big fan of MI.....(Redmi) So that's why Superb Phone Slim Design, Ultimate Sound Quality etc. Recently I already use MI Max Phone (Gold)..........Thanx........
?
It is very good xiaomi mobile phone