Apps include Android support
On install, the Jolla will ask you which of the core applications you would like to install on your device, and which to keep on their Store. This is a great way for you to keep applications you don't need off your device, as we all know well from other platforms how much of a pain bloatware can be.
By default, the Jolla only needs the Settings, Messaging, Phone, People, Browser, Camera, Store and Gallery apps to work. The "Jolla Essential apps" which you have the option of adding during startup (or anytime later from the Jolla app store) include Notes, Clock, Calendar, Media, Documents, Maps, Calculator, Mail, Microsoft Exchange, and Android Support.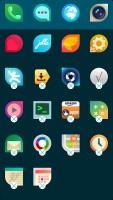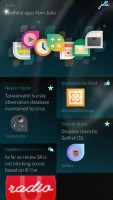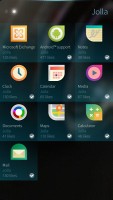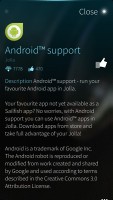 Sailfish only needs 8 apps by default • Gettings the rest from the Jolla Store is easy
As you may have noticed by that last one, Sailfish also provides support for installing Android applications, which is a great way of extending the capabilities of the Jolla smartphone. Jolla's own store currently supports about 70 apps, so incorporating the larger app selection of the Yandex app store (installed when you install Android support from the Jolla Store) or the Amazon app marketplace is a much needed and welcome bonus.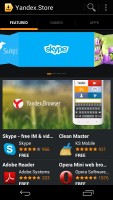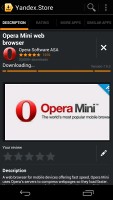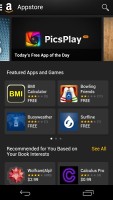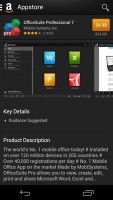 Installing Android applications from the Yandex and Amazon app stores
Google Play is not currently supported by the Jolla smartphone, so you won't have official access to the "real" Android app store or Google's own apps.
Finally, you get the option to sideload .APKs as previously confirmed by Jolla. You need to use the beta file manager which is available as an optional download to open the packages for that to work.
Settings provide limited customization options
The settings screen can be accessed from the lockscreen Pulley menu, or through the dedicated Settings app. The main screen features toggles and shortcuts to a number of quick toggles of your choosing, underneath which are a pair of sliders for screen brightness and ringtone volume. Settings are divided into categories for system, apps, and user accounts.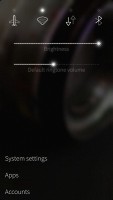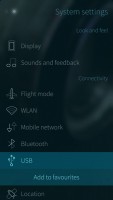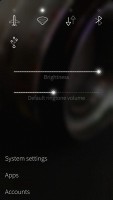 The settings menu features editable quick shortcut icons
Sailfish provides the standard amount of things you can do with your device, including connectivity options, sync and notifications, device lock, updates and more. It is, however, limited in terms of customization, allowing you only to adjust sounds, screen brightness, and timeout in the 'Look and feel' section. You can add a custom background "Ambience" image, which will automatically change the primary interface color as well, but that's about it.
Accounts include your garden variety social networking profiles, as well as Google and XMPP standards. Adding an account will incorporate it into the Jolla's interface, enabling notifications and status updates to show up in your events page, as well as calendar events and more.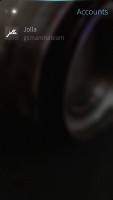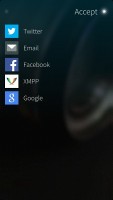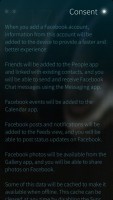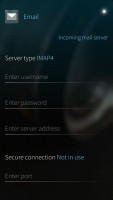 Adding your various accounts is easy and seamless
App settings are also very well thought out, as a press on the Apps button will open up an overview of your Launcher interface with all of the apps with editable settings highlighted. This is a great way to see which apps have hidden settings and adjust them easily from one location.