Is it strange that we think the Samsung Galaxy A3 (2017) is adorable? It just looks so tiny after months of bigger than big slabs. This one is smaller than the iPhone 7, something few premium Androids can claim.
This color option is also close to our heart - dark as the Black Sky at night, it makes everything flow together smoothly. On the front, the Super AMOLED display almost merges with the black frame, making the clock of the Always On Display seem to float into the void.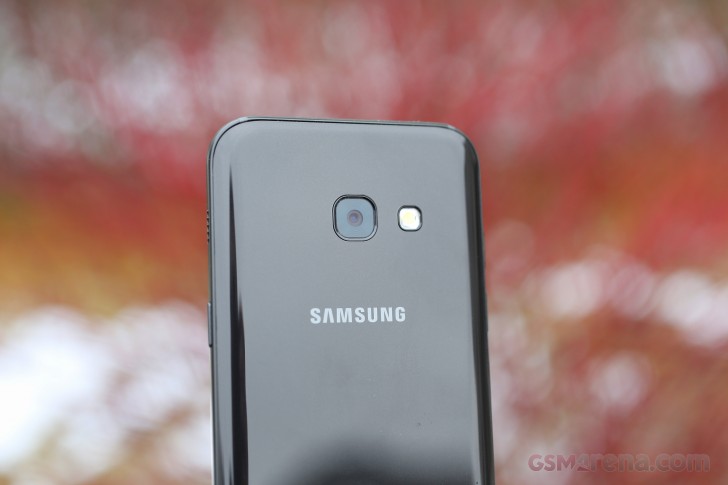 AOD is not the only thing that the Galaxy A3 (2017) loans from the Galaxy S7, the overall design is nearly identical. The front Gorilla Glass has beveled edges, while the one on the back is more thoroughly curved on the sides.
The body of the phone is a few mills shorter and narrower than the 4.7Ē iPhone and weighs about the same. Itís waterproof too with a higher rating (IP68, so it can go deeper). The screen size is no coincidence, it matches the iPhone (pixel density is similar, too - 312 ppi for the Samsung and 326ppi for teh iPhone 7).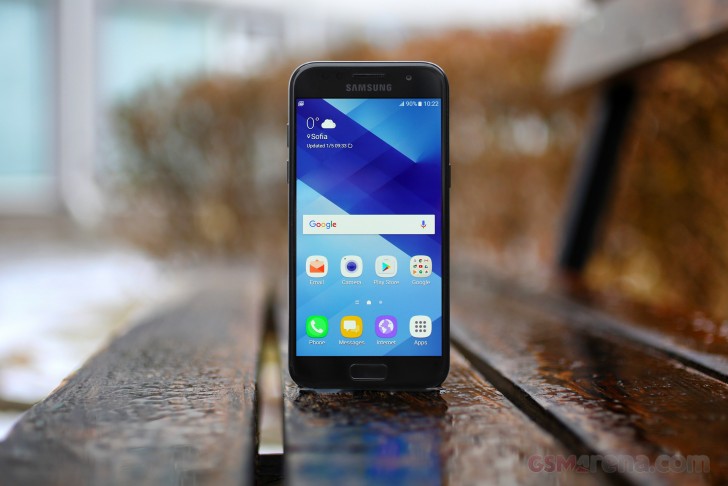 The hardware Home key is also a fingerprint reader that enables Samsung Pay (over NFC or MST, Magnetic Secure Transmission). Samsung is trying to poach would-be iPhone buyers by making the parallels quite clear (as well as the difference in price).
Right off the bat we can think of two deal-breakers. The first is the 13MP camera, which tops out at 1080p video. The lens has a decently bright aperture (f/1.9) but thereís no OIS. The 8MP/1080p selfie camera is much closer to the iPhone standard.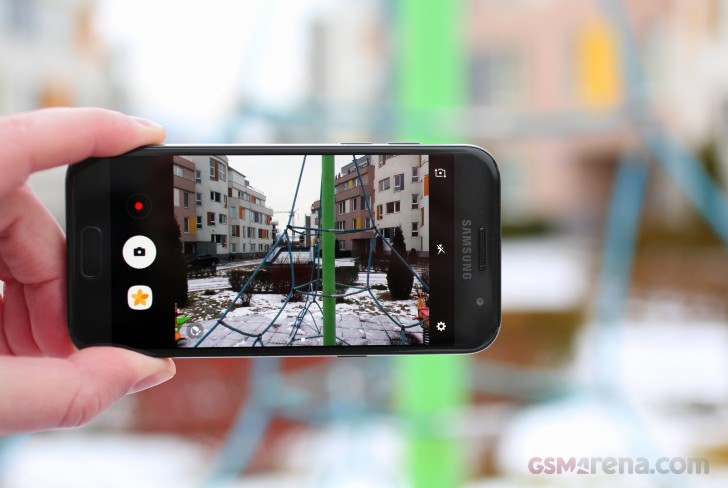 The second is the platform - Android 6.0 with TouchWiz is a bit old. Itís not too much to ask that 2017 models donít launch with the 2015 version of Android, is it? The phone is powered by the Exynos 7870 Octa chipset (built on 14nm), which offered stellar battery life in the Galaxy J7 (2016) but not amazing performance.
Thereís a scarcity of subcompact smartphones with a premium feel but affordable price. At Ä330, the Samsung Galaxy A3 (2017) is less than half the cost of an iPhone 7 but at first blush it can make a good argument that itís almost as good.
D
Have just bought an A3 (2017) to replace my S5 mini. Am really pleased with everything except there's NO NOTIFICATION LED LIGHT. This is so annoying - I don't want the "always on display" feature so have disabled that. I often have the phone on silen...
?
Agree with anonymous, wouldn't have got it had I realised there was no LED, now I'm stuck with it for two years. Grrr
D
Fully loaded features, but no notification LED!!! I hope "Always On Display" cover that, otherwise an application can be created to simulate led at top of screen ;)