The latest smartphone manufacturer sales metrics provided by consumer analytics firm Kantar Worldpanel show that Android has increased its US market share by over 11 points compared to last year, for the three month period ending in July. Most of this gain comes at the expense of iOS, which has lost 11.8 points over the same period.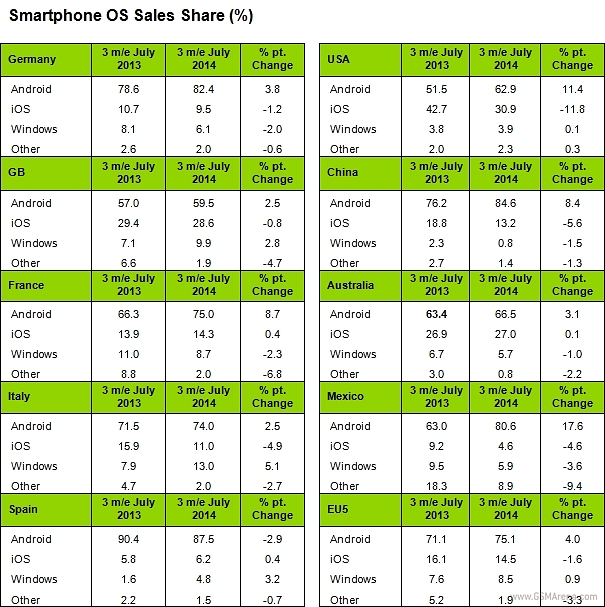 Growth in other markets is equally impressive, with sales in countries like Mexico breaking the 80% mark - a 17.6 point increase over the 3 month period ending in July 2013. China has also seen a healthy boost in OS sales, with Android gaining 8.4 points to rest at 84.6% - all at the expense of competing mobile OSs like iOS and Windows Phone, which lost 5.6 and 1.5 points, respectively.
This latest increase in Asia is attributed by Kantar to local handset manufacturers like Xiaomi and Huawei, with the former boasting a whopping 31.6% share in China. The trend is expected to continue internationally as well, as these players are expected to continue their expansion into outside markets. Not all local brands have seen success, however, as ZTE, Lenovo, and Oppo have all seen their shares drop.
The big five European markets - Germany, UK, France, Italy, Spain - reflect the same strong Android presence with a 4 point increase over last year. This is attributed largely to Samsung, which saw sales of its Galaxy S5 flagship in the UK take 11.5% of all handset sales, making it the best-selling unit in the UK.
Windows Phone also saw increases in key markets, attributed to recent models like the Lumia 630 and 930. Great Britain, Italy, and Spain all saw healthy increases in WP sales figures, with the latter coming even at the expense of Android.
?
Do I need to say it again? Naaaa, wouldn't make any difference...you still won't get it.
?
Lol - You should heed your own advice. Learn to follow the entire thread. I said they are made there. Now what do you think she meant? Maybe she should answer? Oh wait, you already did.
?
LoL - Learn to follow the entire thread. I said they were.