The latest mobile operating system usage data from Kantar Worldpanel is out and the numbers show that Windows Phone is enjoying a slight rise in its market share in Europe. Year-on-year, Microsoft's mobile OS gained 0.7 percent points for the three-month period ending in August.
Interestingly, a large part of Windows Phone's success comes at the expense of iOS. Apple is losing traction in Germany, Italy, France and the UK. The largest drop is in Italy, where iOS currently takes 10.6%, down from 13.8% from a year ago.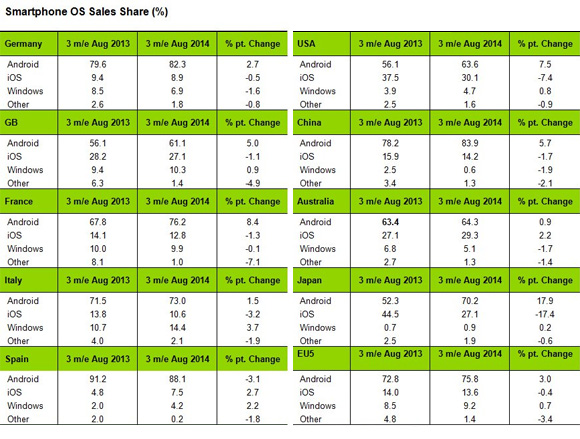 Part of the good news for Microsoft is that in the UK, a key market for the company, Windows Phone has jumped the 10% mark and is at 10.3%. As for Android, it is also marking a significant increase in usage, save for Spain. There, it has declined to 88.1% down from 91.2% in the three months ending in August 2013.
However, things aren't all sunshine and roses for Windows Phone, as in China the mobile OS stands at just 0.6%, a 1.9 percent points decline from the same period last year. There's also a 1.7 percent points drop in Australia. In the US, things look up with a slight 0.8 percent points increase to 4.7%.
Across the board, Android is marking significant progress distancing itself from the pack. In Japan, Google;s OS has eaten a significant chunk of the iOS market share in a matter of an year. Android now stands at 70.2% market share up from 52.3% since last year, while Apple was 44.5% and now is down to 27.1%.
A
.. until Windows Phone over takes them, just like Android did. Besides, Microsoft is making money off of every Android phone made. As budgets get tighter, the common person will be looking for a balance of pricing, and capability. Once, Microsoft ...
D
i was a big fan of windows after my first windows phone Lumia 800 and then Lumia 630 for my wife but my phone got damaged and i was looking for a better camera phone which come under 20k and my hope was Lumia 830 will be the best option which i can a...
t
you're right; this was the lowest month for Apple's sales. Plus Android 5 and Android One is around the corner as well. The last six months were a golden window of opportunity for Windows phone, although in the end it gained nothing much. It gets ver...
ADVERTISEMENTS