Kantar has an early present for Microsoft – the preliminary smartphone OS market share numbers for November (check the October numbers here). Windows Phone continues to show a strong presence in Italy, where it held 15.6% of the sales for the month, outselling iOS which only had 10.6% of the market.
The iPhone 5s and 5c brought some fresh blood to the iOS landscape, so the expectation was that other platforms will drop during the holiday shopping frenzy under pressure by the new iPhones.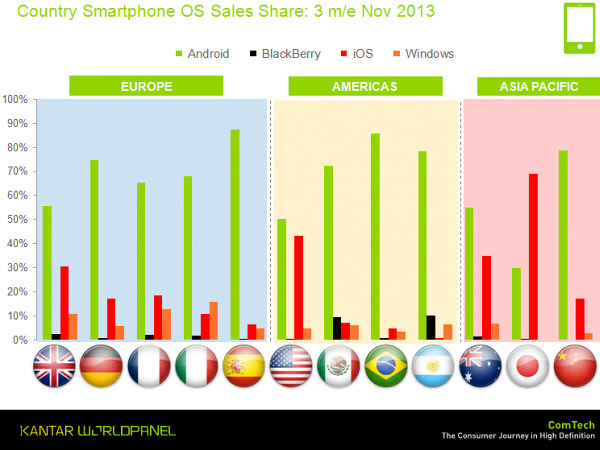 Besides Italy, Windows Phone stood its ground in the important (for Microsoft) US market and in Germany too. It did drop a little over a percentage point in the UK and its position in China declined also.
As before, Android dominates most markets except Japan and the US, where iOS is still going strong.
?
Actually Microsoft troll, MS is considering giving both Windows RT and Windows phone OS for free... And they don't have Windows phone 6.X OS, that is Windows Mobile 6.X. And please try to use proper English if you want to be a troll...
t
You're crazy dude... Before android there was a thing called: windows phone 6.x Thankfully its now death. The only reason this WP is alive is called Nokia. When Nokia tried to jump off WP wagon to android, microshaft bought them, good business move, ...
t
Never going to happen... Too much greed from microshaft. LOL