Market analyst company Kantar Worldpanel has released its report for the 3-month period ending in October 2013. The study saw Windows Phone climb past the 10% market share mark in Europe.
This is double what the OS had for the same period of 2012. Back then Microsoft's mobile operating system was at a 4.7% market share. According to Kantar, most of the phones running WP were from the low-end spectrum, but that's hardly a surprise considering that Lumia 520 alone accounts for about a quarter of all WP devices.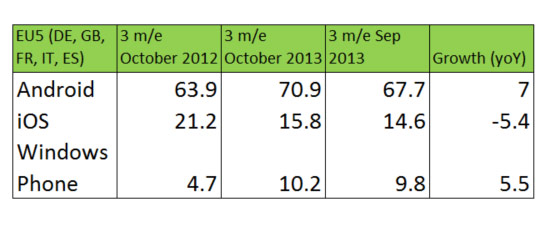 According to Dominic Sunnebo, Global Consumer Insight Director at Kantar Worldpanel, 75% of Nokia Lumia phones sold in the UK for the quarter were Lumia 520 and Lumia 620 phones. The trend is similar in other EU markets, too. Windows Phone marked its biggest bump in Britain, where its market share rose 7.4 points to 12% in October.
Android also achieved a year-over-year growth of 7 points in the top 5 EU markets. Google's OS went from 63.9% to 70.9% market share in a year.
The report points out that Apple is doing tremendously well in Japan and the US, where it has 76.1% and 52.8%, respectively. However, things aren't so rosy in the EU5 region (Germany, UK, France, Italy and Spain), where the Cupertino company only had a market share of 15.8%.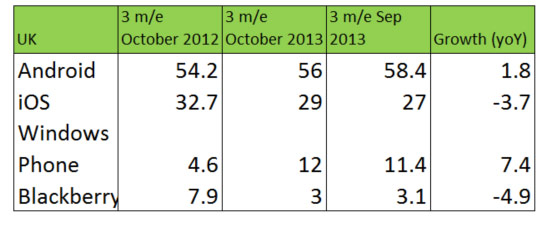 It seems the iPhone 5s and iPhone 5c launch hasn't gone too great for Apple. Last year, when the company introduced the iPhone 5, it's market share in EU5 was 21.2% for the same period. Apple marks a slight market share drop in Australia as well - from 32.9% in September to 30.8% in October.
?
No guy,WP wont vanish,deal with it.
?
Why u mad guy?Watchout 2014,we'll witness the rebirth of Nokia with Microsoft!
ADVERTISEMENTS