Outside of luxury device manufacturers such as Vertu, phone makers haven't so far used sapphire glass to protect those sensitive touchscreens. That said, Apple has long been rumored to debut the new material in its upcoming iPhone 6, though the most recent mumblings have questioned whether that would actually happen.
Regardless, Apple has been beaten to the market by Kyocera. That company's new Brigadier smartphone got launched by Verizon today alongside the LG G Vista we already reported on. And the Kyocera Brigadier is the first handset priced for mere mortals that sports a sapphire display.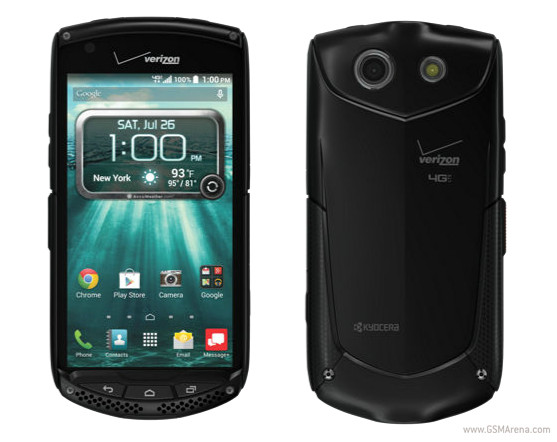 Kyocera has even created and registered a new trademark just for this achievement - hence, it's calling it Sapphire Shield.
As most of Kyocera's smartphones launched recently have been, the Brigadier is rugged too. In terms of raw specs, it's nothing to write home about as you'd expect, but it's a decent mid-ranger nonetheless.
It has a 4.5-inch 720p touchscreen, an 8 MP rear camera with LED flash, and a 2 MP front-facing camera. It's powered by a Qualcomm Snapdragon 400 chipset with a 1.4 GHz quad-core CPU, aided by 2GB of RAM.
The Brigadier has 16GB of built-in storage, and it supports microSD cards. It comes with LTE data connectivity, and a non-removable 3100 mAh battery. It runs Android 4.4 KitKat.
The phone is IP68 certified, and it also adheres to the Military Standard 810G in terms of ruggedness. It's protected from dust, shock, vibration, temperature extremes, rain, low pressure, solar radiation, salt fog, humidity, and it can withstand being immersed in water too.
Verizon will hand you a Kyocera Brigadier if you agree to part with $99.99 of your hard earned cash and sign a two-year contract. The price sans contract is $399.99, and through Verizon Edge you can get it for nothing upfront, followed by 20 monthly payments of $19.99.
a
i like this phone very much...i am planing to bring this phone in india..pls..tell me..can i use normal idian sim card in this phone..for calling and 3G network....is this phone supporting to 3G network...pls..replyyyy thanks.
.
how I can buy this mobile in India? it need any kind of unlocking ?
s
I go through all the review ..and I decide to bye this phone. this will be the rooking smart phone because of it's features . on one can compete it ... any one tell me that when It will be available in India?? and what will be the actual price...